Zodiac Sign
Our Absolute-Must Clothing Item Based On Zodiac Signs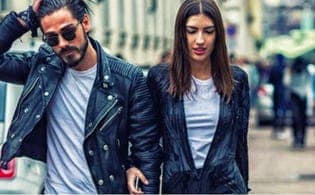 How you dress not only gives the world a glimpse into your personality, but it also has a positive effect on you. When you look good and you know it, your confidence will be boosted. You'll feel that you've dressed for success!
Sometimes, having a specific clothing item that always makes you feel like you can conquer the world is worth investing in. But what clothing item would be best suited to you based on your astrological sign? Is it your classic little black dress that doesn't show too much skin? If you're a Taurus, this one's perfect for you because it's flattering while never going out of style. Or, is it a pair of six-inch stilettos? If that sounds more up your alley, then you're the same as Scorpio who loves to live in a bold way.
If you're looking for something to wear that will take your day from average to amazing, check out your astrological sign's must-have clothing item for inspiration and you'll find the perfect clothing item for your man's sign, too.
24 

Aries Guy: A Crisp White Tee

The Aries guy is always in style, but without being too loud or trying too hard. That's why a crisp white T-shirt that looks good when worn in a variety of different ways hits all the right notes, every time.

It makes the Aries guy always look polished and ready to impress, whether he's going on a first date at a club or hanging out with his mates at the park.

But, his white tee might not stay pristine for long — as pointed out by Star Sign Style, the Aries guy is a daredevil, so you'll find him in the middle of the action. He's not afraid to get his hands dirty!
23 

Aries girl: Black Skinny Jeans

The Aries woman is always in style, no matter what she's wearing. She has a magic touch that elevates humble black skinny jeans into something worthy of being on a runway. As reported by PopSugar, although the Aries woman's signature pieces might be considered low-key, she has the ability to team them up with other items in fashion-forward ways. So, for example, she'll wear skinny jeans with trendy boots or a gorgeous handbag, taking her look to a new level.
22 

Taurus Guy: Graphic Tee

The Taurus guy is pretty down-to-Earth when it comes to fashion and prefers to stick to classic pieces. He doesn't go out of his way to be stylish, but he's smart in how he dresses. His go-to item of clothing is a cool T-shirt that has something unique on it, whether it's a funky design or memorable pattern that he's loved for years. Whether he wears this tee over jeans or underneath a blazer, it will always keep him looking striking and creative.
21 

Taurus Girl: Sequin Skirt

The Taurus girl might be practical in her daily life, but she loves a bit of sparkle and shine in her wardrobe. However, she's not the type to make her appearance OTT. She'll rock the right dosage of sparkle by choosing only one sparkly item to make the best first impression.

That said, she certainly doesn't shy away from being bold.

She also chooses items that feel nice as she's quite a sensual person, so sequins and soft fabrics like suede are a great combination to make her feel feminine.
20 

Gemini Guy: Leather Jacket

"Walking into a closet of a Gemini can feel confusing to most," reports Astrology Club.

"They have a wide variety of styles and to many it may seem very sporadic."

That said, everyone needs a fashion staple or two, even the Gemini guy who loves wearing lots of different looks. A stylish leather jacket provides the perfect style staple for when the Gemini guy wants to experiment with different clothes and trends. He loves it because, unlike some other items, it never goes out of fashion.
19 

Gemini Girl: Oversized Coat

Since the Gemini girl's style preferences change all the time because she loves to keep things trendy and eclectic, it helps to have one item that she can wear no matter what fashion mood she's in. Enter the classic, yet stylish, oversized coat.

It's proof that one's style staple doesn't have to be in a neutral color or cut.

A patterned coat will go beautifully with lots of different colors and styles, while keeping the Gemini woman at the forefront of fashion.
18 

Cancer Guy: A Cozy Zip-Up Sweater

You might know that guys born under the sign of Cancer are nurturing people. Well, when it comes to fashion, they love to feel nurtured too. This is why they're likely to choose soft fabrics to wear. As Elsa Elsa reports, they also like to show off any chest muscles they have, which is why a sweater's the perfect must-have clothing item for them. By zipping it down a bit, they can show off their assets while feeling confident in their soft and warm fabrics.
17 

Cancer Girl: A Vibrant Red Dress

Women born under the Cancer sign are often drawn to the classic fashion items because these display their traditional streak. However, they also love to dress in striking colors, so don't be surprised when you take a peek inside their wardrobe and find candy colors everywhere.

A red dress that's not too revealing or OTT is perfect for the Cancerian who loves to look elegant when she leaves the house.

Best of all, it can be worn at night or day, whether the event is casual or more formal.
16 

Leo Guy:  Bright Jacket

Leo is one of the boldest astrology signs. People born under this sign love being the center of attention and getting appreciative looks everywhere they go — even if it's just when taking a walk to the corner cafe to buy a coffee.

Since they want to be remembered, a striking yellow jacket is therefore perfect for the Leo guy who craves being at the forefront of fashion.

Yellow is also a good choice because it represents the sun, and social Leo is ruled by the fiery planet!
15 

Leo Girl: Patterned Dress

The Leo woman is unafraid to go all out with mixing and matching clothing, such as prints, which always make a statement. Her go-to fashion item is her beautiful patterned dress that's filled with bright colors.

It's most likely to have been sourced from a thrift store or exclusive boutique because she loves to find rare, beautiful pieces.

As Cafe Astrology reports, a Leo woman is classy and sophisticated. She'll never look common in her style choices because she has such excellent taste.
14 

Virgo Guy: Your Go-To Khakis

If you have a Virgo man in your life, you'll know that he places high standards on himself. He has a strong need to look neat and perfectly put-together, and he goes all out with his fashion choices to achieve this.

Although a pair of khakis might seem boring as a signature clothing item, it says a lot about him. It reflects that Virgo is a perfectionist who likes clothing items with clean lines.

Khakis are also classic items that look good with lots of different shirts and tees, giving the Virgo an endless supply of attractive looks.
13 

Virgo Girl: Vintage Dress

The Virgo woman is drawn to clothing that's feminine while being a bit traditional, and with a lot of attention to detail. That's why a gorgeous vintage dress is perfect for her and she'll choose it on days when she needs to feel her best. As reported by Cafe Astrology,

"Minimalist, sophisticated, and cool, [the Virgo woman's] fashion sense reflects her perfect personality. She prefers simple, clean lines which are tailored to fit well and to last more than one season."

By focusing on acquiring fashion staples that never go out of style, she'll have the perfect capsule wardrobe.
12 

Libra Guy: Fashionable Tie

The Libra guy has got a natural sense of style and knows what clothing works together without having to put in too much effort when getting dressed in the morning. He loves his statement ties as they pull together his whole outfit while giving him something eye-catching in his appearance. It can also transform a classic look into something trendy. Elsa Elsa reports that the Libra man most likes being well dressed without looking like he's overdressed. One or two accessories are all he needs to achieve that.
11 

Libra Girl: A Dress Worn Over Pant

The Libra woman is a pro at knowing how to put a twist on the latest trends. As Glamour reports, she knows how to blend in or stand out, bringing balance to every situation.

This is reflected in her wide variety of clothing choices, from her classic jeans all the way to her trendy dress. And why not combine the classics with the seasonal trends in one outfit when she wants to cause a stir?

It's the perfect way for Libra to solidify her own unique take on fashion, making her a trend-starter instead of a follower.
10 

Scorpio Guy: Suspenders

The Scorpio guy likes to make a statement, not just with his personality but with what he chooses to wear. He wants to be creative when putting his look together, which is why suspenders are perfect for him. The bonus of wearing them is that they draw attention to his body, such as his arms or chest muscles. He's never one to follow the crowd. As Star Sign Style reports, it doesn't matter what his group of friends are wearing. The Scorpio guy will always know exactly what he wants, whether it's considered trendy or not.
9 

Scorpio Girl: Statement Boot

The Scorpio woman is bold and drawn to statement fashion items. If she's going to wear it, she's going to make sure that it rocks! One of her favorite items is a pair of stunning high boots with transparent heels. In a world of plain, neutral-colored boots that everyone pulls out of their wardrobes during the cold months, these will bring creativity and effortless glamor to any outfit she chooses, while making her appearance more eye-catching. As Astrology Club reports, Scorpio isn't afraid to set the bar and do fashion differently. She's a style icon!
8 

Sagittarius Guy: A Well-Fitted Blazer

Although fiery by nature, the Sagittarius guy can seem a bit practical when it comes to the clothing he wears. For example, he'll choose a structured blazer as his signature item that never goes out of style. However, he's not afraid to choose bright colors or patterns for it. As Wear and Cheer reports, the Sagittarius man loves colors like purple and turquoise. There's also room for a bit of whimsy. Sagittarius men sometimes like to be cutting edge, while others are a bit slapdash. Just like in the rest of his life, Sagittarius likes to keep his options open.
7 

Sagittarius Girl: Floaty dress

The Sagittarius woman feels most at home in a floaty, feminine dress. This is because she loves effortless elegance while preventing her look from becoming OTT. As reported by Astrology Club, it doesn't matter if the Sagittarius woman is wearing jeans or a dress, she likes to maintain a style that's both clean and simple. Besides for feminine items of clothing, pretty accessories also go a long way to bringing her look together, such as delicate necklaces or dainty stack rings.
6 

Capricorn Guy: Turtleneck

The Capricorn guy loves his preppy clothing staples. One of his favorite things to wear is a turtleneck. Yeah, it might sound a bit plain, but it's all part of how he likes to live by the rules — not just in life, but also in the fashion he chooses to wear. He'd rather be practical and safe than go OTT. But that doesn't mean he's boring. Wear and Cheer reports that his wardrobe will be filled with earthy tones, such as brown and green, and that although he is conservative in his clothing choices, this doesn't mean that he's out of style. He just knows what looks good and he sticks to it.
5 

Capricorn Girl: A Preppy Cardigan
The Capricorn woman is traditional, with a love for the classic items. A firm-favorite is her cardigan that can be worn for years to come and always makes her look good. She has a penchant for preppy pieces and some vintage items are thrown in, too. As Glamour reports, Capricorn women always look successful.
They like old-school favorites, like pearls and tweed, and can "throw together a classic combo in a hurry."
This also has the effect of making them stylish all year round.
4 

Aquarius Guy: Floral-Print Shirt

The Aquarius guy likes to live according to his rules, and he's the type of guy who's unafraid to make a statement with his fashion choices. He brings lots of color into his wardrobe, which is why a bright floral shirt is just perfect for him. As Trendy Like Me reports, the Aquarius guy doesn't like to wear suits and ties, but if he's forced to, he'll make sure that they're filled with patterns to spice them up more. It's all about being bold!
3 

Aquarius Girl: Animal-Print Pants

Women born under the sign of Aquarius love dressing in unique ways and aren't afraid to be bold with their choices. While other people might not think of wearing animal-print pants with a T-shirt or denim jacket, for example, Aquarius pushes the fashion boundaries to find her style sweet spot! On the subject of animal prints, they're her trusty items come rain or shine. In her opinion, animal print is the new neutral! In fact, she was probably wearing animal print before it even became trendy or mainstream, which is often what happens with the trends, as reported by Trendy Like Me.
2 

Pisces Guy: Baggy Hoodie

The Pisces man is artistic and deep, and he chooses clothing items that allow him greater freedom of mind. He dislikes wearing anything restrictive. As Star Sign Style reports, what might happen is that when you see the Pisces guy, he looks dressed as though he's just come out of a period of slumber! His clothing is relaxed, while being effortlessly cool, so his favorite item of clothing is probably his baggy hoodie. It always makes him look good, even if he's been spending so much time on creative activities that he hasn't had a chance to go clothes shopping.
1 

Pisces Girl: Lace Top

The boho fashion trend is perfect for the Pisces woman because she's so creative and unique. Astrology Club reports that the Pisces woman loves to wear clothes that reflect her romantic personality. The site adds that the Pisces woman will choose clothes that are feminine, delicate, and soft. So, that's why a pretty lace top is right up her alley.  Whether worn over trendy jeans or a boho skirt, it's a must-have that always makes her feel and look sophisticated.