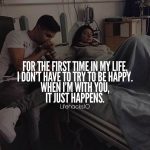 Proposals are best when they sweep you off your feet by surprise. But, sometimes it's better to know what's ahead of us so we can prepare. And well, it can happen that because of the fact they are keeping a secret from you, which is something they don't usually do, they can seem a little bit distant. To ease your worries and prepare for the upcoming proposal, look for these signs that he is going to propose.
1. He mentions marriage frequently
Something that was never part of his vocabulary is now a frequent word in it. He is discussing topics with you that are connected with marriage and the wedding itself, trying to figure out if you're up for it, too. He is probably nervous about popping the question, so he's using any excuse to mention marriage to check how you feel about it. This one is usually a really good sign that he's about to get on one knee.
2. He seems distant and nervous
He's so worried that you will find out about his big plans, that he's constantly nervous around you. It's also because he's not used to hiding things from you and let's face it, this is a HUGE thing which he's trying to hide. He will also cover his phone and act all mysterious because there is a great chance he's looking for a ring online and is trying to hide it from you. Usually, we tend to assume only the worst when our partner gets distant, but if you noticed other signs from this list too, you can start planning your wedding.
3. He's been saving up money
You can notice that he is trying to save some of the money. He's already making sacrifices for the two of you and your future. He will cut out any of the unnecessary expenses and that's because he's trying to save up for the ring of your dreams.
4. He brought up the subject of the two of you moving in together
If you two are living separately and he mentioned more than once that you should move in together, it's a great sign that he's preparing for something big. It's also a way for him to find out how you really feel about proposal. Moving in together is a great free trial before you decide to get the real deal aka marriage.
5. He's making extra plans
If he's all mysterious about an upcoming date or weekend trip for the two of you and he's promising you something big, that could be his perfect date for the proposal. He insists that he plans the whole thing and all you have to do is to be there with him. Is there a better sign that he wants to be your forever and always?
6. All of a sudden everyone is so interested in your ring size
Whether it's him or some of your friends and family, it is inevitable that a question about your ring size will pop up. He will look for help from your friends to be sleeker about it or he will take matters straight into his hands and ask you himself. Either way, this is a surefire sign he's looking for a ring.
7. He's meeting up with your friends and family
If he's meeting up with them behind your back, he could be looking for more information about your dream proposal and looking for approval from your parents. He's looking for their help because he wants to make sure that he does everything right. So, if he's meeting them in secrecy, don't worry about it—unless you're not interested in getting married. Whops.
8. He's suddenly sentimental
Often when men want to get married, they get all sentimental. He will visit 'memory lane' every once in a while, and keep talking about how it's good to be with you and how you're the best thing that happened to him. And it's because he truly means it. The ring in his pocket is proof that he does.
9. He talks about the future and kids
He keeps talking about future plans and you are always part of them. And if you're up for children, he will often mention them and discuss possible baby names. It's something he does unconsciously because his mind is so occupied with marriage and the future it brings, that he's bound to talk about at some point. This is a surefire sign he wants to be your future husband.