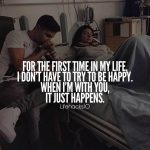 The time has finally come! The guy you have been crushing on for almost a year has finally noticed you and asked you out on a romantic dinner date facing the city's famous skyline. You are feeling very nervous; this may be your first date since your ex-boyfriend broke up with you years ago or this might even be your very first date since ever!
What do you do? What do you order? How do you act? More importantly, what do you wear? You have absolutely no idea what to do on this first date but don't worry, because we have got you covered on that aspect. Here are seven important first date tips to guide you:
1. Never kiss on the first date.
This is not about being easy or being a prude, this is mainly because you want to keep the mystery going for your second date. You need to truly know the guy first before you put your trust on him. Even if this is only a kiss, it is still a pretty big deal, especially for women. You don't let just anybody near your face like that.
If you truly like him, then wait until even the fifth date to consent to that sweet peck on the lips or cheeks, if you're still feeling shy. The point is, make him work for it! That way you can see whether he is really serious about you or just playing around with your feelings.
2. Don't be late and don't be early.
We know you are excited about this but don't go to your date for half an hour or even an hour early! You don't need unnecessary anxiety while waiting around for him to come. Besides, you might make the waiters think you got stood up. Just take your time preparing for the night and a keep a close watch on the time.
Also, don't be late! You want to make a good first impression so don't arrive late hoping for an extravagant welcome. This is one of those cases where being fashionably late will not work out for either your nor your date.
3. Wear a dress that makes you feel comfortable.
Always wear something that you are comfortable with so that you won't have any distractions while you are on your date. You won't need to worry if your skirt keeps sliding up your legs or if your top is poking you on the chest. Dress simply in the cleanest and most comfortable clothes you own.
This is also a chance for your personality to shine. You can definitely tell him about yourself through the clothes that you wear. Some hoop earrings can show your funky side or a sleek red dress can show him that you like to be classic every once in a while.
4. Hype yourself up in the mirror.
Before you go on your date, it's best to hype yourself up in the mirror or give yourself a bit of a pep talk. This is the best way to boost your confidence and you don't want to shy away now, especially when you will be seeing the man of your dreams in less than an hour! Don't forget to remind yourself that you are beautiful and that you are the best.
Whether this date turns out to be great or life throws you another lemon and make this turn out for the worst, at least you are ready to face it head-on. You are sassy, confident, and gorgeous!
5. Avoid sharing your life's story.
You are right there, sitting across from him, and you are both talking and having a good time. This is good so don't sour it up by sharing your life's story or just oversharing about things. If you're going for the awkward funny type, just don't. Nobody wants to see or know that. As previously mentioned, keep the mystery a little to see if he's really interested.
Oversharing also has the tendencies to bore your date, especially if you're the only one who's talking. Give him the chance to talk about the things he likes too. If you're feeling nervous and this is an effect of your nerves, then try your best to hold it in.
6. Don't be a fake one to impress.
Please never be a fake one just to try and impress the guy you're dating. It would like lying to him and lying to yourself because you're not that person that you're trying to put up. If he says he likes hiking, then don't go and say you're a hiker and have gone to this just to get some good points from him.
Remember, lying will not get you anywhere. Yes, you're making him fall in love by being his ideal person, but it's still a fake front. You might probably get caught in the end anyway, so it's just best to come clean in the first place.
7. Be the best version of yourself.
On the other hand, we highly recommend it that you be the best version of yourself as much as possible. Show him how much fun and interesting person you can be without being fake. If you find yourself disagreeing with him on some subjects, then don't be afraid to express your opinions about it, rather than changing your stand just because you want him to like you.
If he likes your personality then that's good because you know he likes you for being you. If he doesn't like it, then it's alright too and there is no need to apologize for being who you are. The important thing is you showed him the best way you could be.
First dates can be a nerve-wracking experience especially for those going on their very first dates ever, but it shouldn't only be napkin-twisting, forehead-sweating all the way. Remember to relax your nerves, take a deep breath, and most importantly, to have fun!
You don't know where this is heading, but that's the best part. It can turn out to something really great or one of the worst experiences of your life, but who knows right? Just keep your fingers crossed!