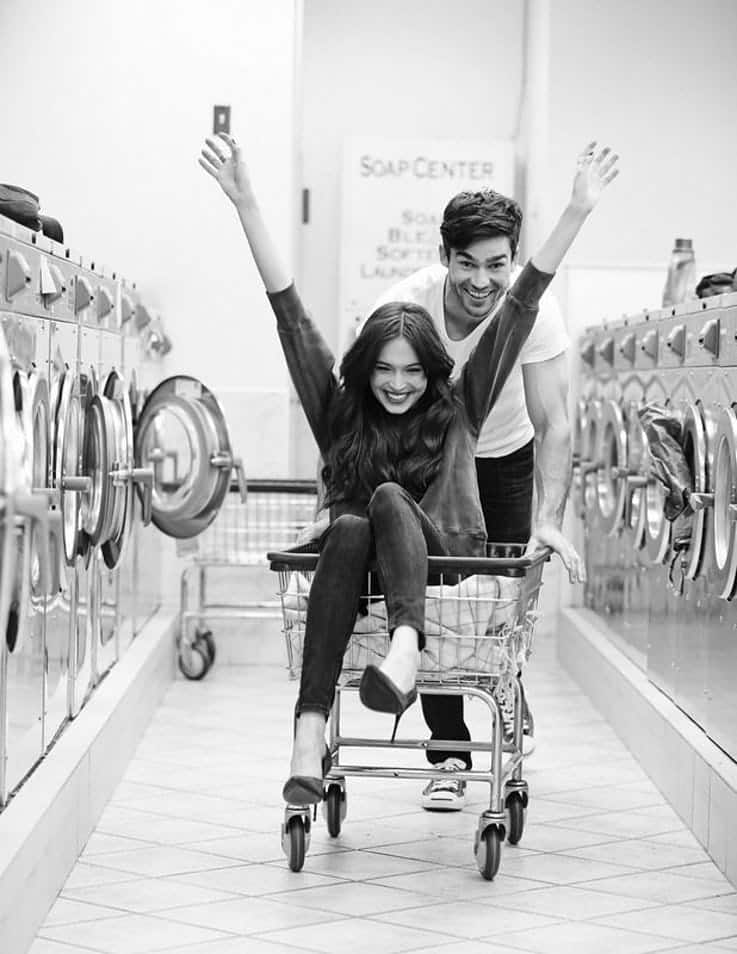 It's a weird world to live in. People worship success, money, and power, and want to be among the elite 1%. Yet once they reach there, all they can talk about is love and how lonely it is at the top.
Isn't that why the world is so obsessed with romantic movies and love songs? And why those who are already successful keep warning others to hold their friends close and their partners closer?
Turns out love truly is the most powerful force in the world, just as Professor Dumbledore said it was!
So here are 25 love quotes from everyone's favorite celebs–both current and those of yore–that are giving everyone hope once again.
From sage wisdom about the importance of loving one's self first to handy tips that can help people improve our relationship with our partners, the following cover all bases on the subject. Or at least, the most important ones.
And right in time for the new year too! Because why just resolve to lose weight and eat healthier? Why not resolve to improve one's love life and find a soulmate in 2019? And if one has found that special person, why not resolve to make the relationship the warmest and happiest?
Continue Scrolling To Keep Reading
Click the button below to start this article in quick view
25

Self Love First
"I'm just a big believer in 'you must love yourself before you can love anybody else,' and I think for me that breeds the most inspired relationships." — Scarlett Johansson
Truer words have not been spoken. After all, it's impossible to love someone when your own heart is a bottomless hole that desperately craves to be loved.
Emptiness cannot fill anyone's cup, you know.
So learn to love yourself first, including those bits that you want to distance yourself from.
24

To Love Is To Let Go
"You know its love when all you want is that person to be happy, even if you're not part of their happiness." — Julia Roberts
Is it hard to let go of someone you love when you know they don't want to stay? Yes.
Is it hard to love someone when they don't feel for you the same way? Yes.
But that's what true love is all about–loving someone so unconditionally that all you want is them to be happy.
23

Be Patient
"Anything worth doing is worth doing slowly." — Mae West
How else will you soak up the experience in all its maddening and wonderful glory?
Besides, we all know what happens to whirlwind romances that throw caution and common sense to the wind.
So take your time when you are in love. You'll stop wasting precious years with the wrong person that way and will enjoy the company of the right one when they come along.
22

To Love Is To Be Brave
"To be brave is to love someone unconditionally, without expecting anything in return." — Madonna
And girl, it is brave. Why else do you think we engage in elaborate conversational sleights of hand when we are talking to the one we have a major crush on? And continue to do so once we are in a relationship?
We don't want to be rejected, that's why! And that's crazy because the fear of rejection stems from the desire to know for sure that we will receive something before we even give our love away.
21

We All Have More Than One Soulmate
"I think you have different soul-mates throughout your life, that your soul needs different things at different times. I do believe in love. I will always believe in love, but my idea has changed from what I've always thought." – Kim Kardashian
Don't be fooled. Kim actually said something very wise here.
Because in spiritual terms, a soulmate is a friend to our soul who comes into our life when we need them to teach us something.
That's why we can find a soulmate anywhere, in a best friend, a teacher, a parent, or a lover.
20

The One Who Is With Us Through Hardships
"Lots of people want to ride with you in the limo. But you want someone who'll help you catch the bus." – Oprah Winfrey
Oprah dropped this pearl of wisdom in an interview with People magazine when she was asked about her relationship with her partner, Stedman Graham.
It instantly reminds of that saying about fair-weather friends and those who are not. After all, the one who truly loves you will be there for you in sickness and in health.
19

To Love Is To Let Our Partner Shine Brighter
"True love is singing karaoke 'Under Pressure' and letting the other person sing the Freddie Mercury part." – Mindy Kaling
Ah, Mindy Kaling! She's just full of zingy wisdom, isn't she? And it's so true.
Because we have all been in enough mic wars in group karaokes to know that the fight for the lead and the most lines to sing is real. Too real.
But jokes apart, Mindy's catchy line reminds us that true love is all about giving.
18

We Gotta Keep Our Hearts Open
"Continue to share your heart with people even if it has been [hurt]." – Amy Poehler
Amy Poehler said this in the middle of her speech at the Harvard University's commencement speech in 2011. And it was both a crisp message and a painful one.
After all, the one who chooses to love also chooses to risk heartbreak. And when that happens, most of us have the tendency to shut down our hearts so we're never vulnerable to such pain again.
17

Love Is Priceless
"A simple 'I love you' means more than money." – Frank Sinatra
Frank Sinatra stole our hearts when he crooned this line in his famous song "Tell Her." It captured the joy we feel when we know we are loved. Maybe that's why they say money can't buy love.
Sure, you will be happy if you owned ten mansions, forty supercars, and enough clothes to never repeat a single outfit for the rest of your life. But that happiness will be fleeting.
It can never compare to the satisfaction of knowing we are loved more than anything else in the world.
16

Go Solo
"If you can't love yourself, how are you gonna love somebody else?" – RuPaul.
Wise people have been suggesting this since time immortal. Love yourself. Love yourself. Love yourself. But their words never have a lasting impact.
I guess that's why everybody needs a little drag in their life! That little extra something to jar us awake and make the wisdom stick.
So thank you, RuPaul. We'll say amen to that!
15

It's A Good Life!
"When you're lucky enough to meet your one person, then life takes a turn for the best. It can't get better than that." – John Krasinski.
Emily Blunt and John Krasinski may not share a lot about their relationship. But when they do, it leaves us with couple goals.
These lines just sum it up. Because he's right! When you are lucky enough to meet the one and be in a loving relationship with them, life can feel like a movie with a guaranteed happy ending, regardless of the hardships life throws your way.
14

Vulnerability Is Strength
"I've changed so much as a person since I've met Ellen. I used to think that the way to be strong was to be tough. I used to think that to be independent was to not need anyone, but she's taught me that the more vulnerable you are and the softer you are, and the more you allow people into your life and into your heart, the happier you are and the more valuable you are to other people. Ellen has completely changed the way I look at life." — Portia de Rossi
13

More Me Time, Please!
"I think that's what is wrong with a lot of relationships if you don't have time to be able to be yourself." – Miley Cyrus
This was one of the things Miley said while on the Zach Sang Show. It was related to a question she was asked about her relationship with Liam Hemsworth. And it's a really good tip.
Just think about it. Isn't giving each other space to do things alone one of the biggest problems faced by many couples?
And the reason why most relationships don't succeed?
So take note of this one. After all, the inability to give space is a big sign of personal insecurity.
12

A Good Sense Of Humor
"I'd bet sense of humor is number one for me. It's certainly what's most attractive and the first thing you notice about someone." – George Clooney.
Clooney said this in an interview with People magazine long before he met his wife, Amal. It was at a time when he was one of the most eligible bachelors in the world who was notorious for having chosen the single life.
Well, Amal definitely must have the best sense of humor in the world if Clooney changed his stance on marriage after meeting her.
11

We Are Not Always Right
"You have to listen to your partner's problems, suggestions and advice, and accept that you're not always right. Conversation is the key to a successful marriage." – Meryl Streep
Meryl Streep said this in an interview with New Zealand's Woman's Weeklymagazine when asked to reveal the facts behind how she and her husband had managed to stay happily married for over 38 years.
Did you read that? Four decades together. So you better remember this.
10

Challenge Each Other
"Relationships are funny. You have to constantly fall in love and challenge each other." – Justin Timberlake
These words might sound light at first, but they have a lot of depth to them. But then again, Justin Timberlake said it. We don't expect anything less from the guy who sang "What Goes Around" and "Mirrors."
So take note of this because all relationships start to fall apart when the couple gets complacent and stops making an effort to show their love and challenge their partner to grow.
9

Can We Be Ourselves Around Them?
"If you can be yourselves around each other, 100% of the time, and they can make your life like no one else can, you'll never have a dull moment together." – Will Smith.
Honesty, trust, and acceptance are the cornerstones of all great and lasting relationships.
And all three require you to be vulnerable with your partner (and vice versa) and let them see who you truly are–the good, the bad, and the ugly.
After all, it's the best feeling in the world when you can be yourself around someone because you know you won't be judged.
8

On A Scale Of 1 To 10
"Jenna's and my thing is checking in with each other all the time, like 'On a scale from 1 to 10, how much do you love me right now?'" – Channing Tatum
They might not be together anymore, but we can still take a leaf out of Channing and Jenna's relationship manual. After all, we bet this habit of checking in on each other must have been one of the reasons why they parted ways amicably without any hoohaa in the media.
7

Unrequited Love Is Not Real Love
"I like to believe that love is a reciprocal thing, that it can't really be felt, truly, by one." – Sean Penn
Oh, the curse of unrequited love!
Everyone has to face it at least once in their life (unless they are extremely lucky to have people falling in line to be with them). And it never feels good. Not even when you tell yourself that you probably deserved better than that because of the way fate prevented the other person from loving you.
Sean's words just happen to be a better balm for the wounded heart.
6

True Love Is Like A Smouldering Coal
"Love is like a friendship caught on fire. In the beginning a flame, very pretty, often hot and fierce, but still only light and flickering. As love grows older, our hearts mature and our love becomes as coals, deep-burning and unquenchable." – Bruce Lee
You have to be a Bruce Lee fan to know that he wasn't just a great martial artist. He was also a very wise individual. After all, love at its core, truly is a friendship ignited with passion and desire.
We just have to keep the flames going until we reach the coal stage where it can sustain itself without the fear of being extinguished by conflicts and tragedies.
5

Give, Give, Give
"Love has nothing to do with what you are expecting to get, only with what you are expecting to give – which is everything." – Katharine Hepburn
That's why they say no one can match the love a mother feels for her child. And also why it's incredibly foolish to expect your partner to love you unconditionally from the get-go.
The truth is, most of us are too immature to love anyone unconditionally.
We fear rejection, have many insecurities, and have a lot of baggage to deal with. But that shouldn't stop us from learning to give.
It's all about the practice.
4

It's Okay To Be Imperfect
"Dax helped me learn that I don't have it all figured out. Sometimes that's the greatest gift someone can give you." – Kristen Bell
Truly it is. Don't we all dream of being accepted completely for who we are? To have someone tell us that it's okay to fail and make bad decisions? To know that there's nothing wrong with being flawed and imperfect?
But you don't have to wait for someone else to tell you that. You can learn it first and be that someone for your bae.
3

The Scent Of Love
"The best smell in the world is that man that you love." — Jennifer Aniston
Too true—it is! And the best feeling in the world is being enveloped tightly in his arms as you snuggle your nose into the crook of his neck.
So if you are in a relationship, drop everything right now and go give your boo a tight hug.
Unless of course, you are reading this at work. Then do it first thing when you get back home. And when you do, tell him you absolutely love the way he smells.
2

Can We Be Vulnerable?
"The vulnerability of opening your heart fully and deeply to another is [intense], but at a point in my 50s, I realized that I had to step up to the plate." — Jane Fonda
It's never too late to learn to love truly and fully. And never too late to realize that you cannot experience the ecstasy and satisfaction of being loved fully without exposing yourself to the risk of devastating heartbreak.
So can you be vulnerable? And find strength in that?
1

Love Makes Us Invincible
"Meeting John really changed my life. When I feel the support that I have from him, I feel invincible. There's someone behind you on your good days and someone in front of you on your bad days." – Emily Blunt
When someone loves you truly, they will be by your side when you are unhappy, angry, and terrified, just as much as they will laugh and have fun with you on the good days.
That's why love makes us strong.
It lets us know that someone will always have our back no matter what.