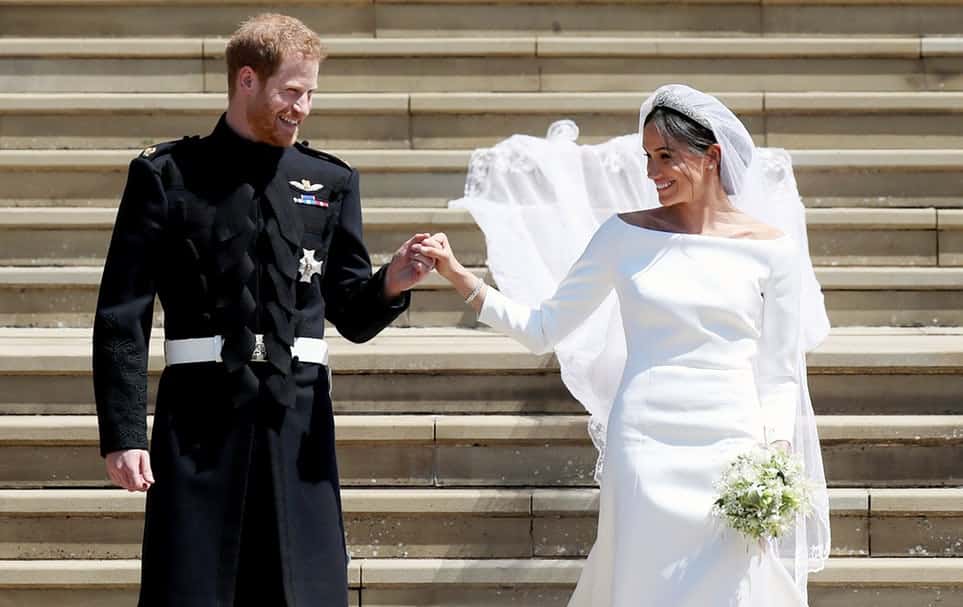 In some ways the relationship between Prince Harry and his wife Meghan Markle seems like a total paradox. They're easily one of the most recognizable couples in the world who are constantly scrutinized and covered in the media, but they're also quite a private and low key couple. So although almost everyone is familiar with the story of their romance, marriage, and impending parenthood, there are still some little tidbits about their relationship that they've managed to keep mostly out of the public eye. So what are some of the cutest details of their relationship that you might not know about?
10

They Actually Met On A Blind Date
Or at least as blind as a blind date can be when it's a meeting between one of the most recognizable men in the world and a successful actress. But once the pair went public with their romance Harry admitted that he wasn't familiar with Meghan's work when they met, although presumably Meghan couldn't say the same about Harry.
The couple actually initially met at a private club in London called Soho House, and although you might think Meghan would have been the one to feel intimidated she said that the idea of meeting royalty didn't make her nervous since Americans aren't that familiar with the royal family.
9

They Were Set Up By A Mutual Friend
It's always fun to play six degrees of separation (or as some of you might prefer to call it, six degrees of Kevin Bacon), but we've got to wonder who exactly connected the Prince of England with an American actress living on the other side of the world. And while one might presume that these two public figures were drawn together by another famous face, both Harry and Meghan have refused to comment on who exactly it was that introduced them to each other. The most popular suspect for the introduction Harry's longtime friend Violet Von Westenholz, but we'll probably never know for sure.
8

Harry Instantly Knew She Was The One

n nearly every fairy tale or Disney movie in history it's the normal girl who instantly falls in love with the prince of her dreams, but when it came to Harry and Meghan things went in the opposite direction.

When the pair announced their engagement Harry enthusiastically proclaimed that he knew that Meghan was the right woman for him the moment that he met her, and by all accounts it only took a few dates for the couple to realize that they wanted to be together for the long haul (and presumably Harry's desire to sweep her off her feet helped things along).
7

They Waited A While Before Going Public

Although both Meghan and Harry agree that they knew they were a perfect match from the very start of their relationship, they decided to keep things extra private for the first few months of their romance. It's an understandable decision considering how intensely the media began to follow the pair after the finally did decide to go public, but that wasn't necessarily the only reason they kept things a secret. The stress of being under scrutiny is something that they were both familiar with, but the ability to get to know one another without the world watching was some precious time for them.
6

Harry Wanted To Protect Her From The Media

The news of Meghan and Harry's relationship eventually did leak out to the public, but the couple didn't actually officially confirm their budding romance to the world until Harry made a public statement expressing his disappointment in the treatment towards his girlfriend. In the statement Harry said that he was concerned for Meghan's safety and thought the way she was being treated was entirely unfair, and the fact that she was dating the prince of England didn't mean that she was fair game to the press. Afterwards Meghan herself said that she was surprised by the reaction and not prepared to deal with it.
5

The Proposal Was Surprisingly Low Key

When a literal prince is about to ask the woman he loves to become his princess you might imagine an elaborate proposal that is the kind of thing you'd only ever see in the movies, but when Prince Harry decided to propose to Meghan he did so in a shockingly quiet and low key manner. The couple was just spending a relaxing night at home in their shared cottage when Harry decided to get down on one knee and pop the question. And if the rumors are to be believed they were actually making dinner a the time, baking a chicken to be exact.
4

Meghan Needed The Approval Of The Queen, And She Got It
Unsurprisingly, the royal family and it's role in the United Kingdom is strongly outlined in rules and traditions that often times go back centuries. One of these rules (that is presumably more of a tradition now more than anything) is that the current monarch has to officially consent to any royal marriages, and if they don't approve of the match they can personally veto the engagement. And surprisingly, since the queen is the head of state she could technically even declare a marriage invalid if she chose, but luckily Miss Markle managed to charm Queen Elizabeth from the moment they met.
3

Meghan Gets Her Very Own Coat Of Arms For Becoming Royalty

The English Royal family seems to be very into pomp and circumstance, so it may come as little surprise that when Meghan Markle joined the Windsor family she was treated to her very own coat of arms. But while a coat of arms may be an expected part of becoming a duchess, the content of her heraldry is definitely unusual among the English royal family.

Meghan's coat of arms is very detailed with a lot of significant symbolism for her personally, but the strongest influence on its design seems to be her status as a native of sunny and gorgeous California.
2

Their Third Date Was A Trip To Africa

Meghan and Harry actually seem like an extremely down to earth and low key couple, so it could be easy to assume that their relationship has always been down to earth and low key too. However, they're still a TV star and a royal. Because Prince Harry apparently likes to go big or go home, he decided to invite Meghan on a camping trip to Botswana with him for their third date, and she accepted. Both of them describe the trip as a magical experience where they got to know each other in complete solitude in one of the most beautiful places in the world.
1

They Love Sentimental Jewelry

You might think that the Duke and Duchess of Sussex are all about the royal jewelry that has been the envy of the world for centuries, but Harry and Meghan actually like to keep things a bit sweeter and more personal. After things started getting serious between Meghan and Harry Meghan actually started sporting a simple gold ring with an H on it, and when Harry decided that he wanted to pop the question he not only helped in the design of her engagement ring, he included some of the jewels that belonged to his late mother Diana in it as well.