Zodiac Sign
This Week's Powerful Cosmic Events Give Closure To A Rather Difficult Decade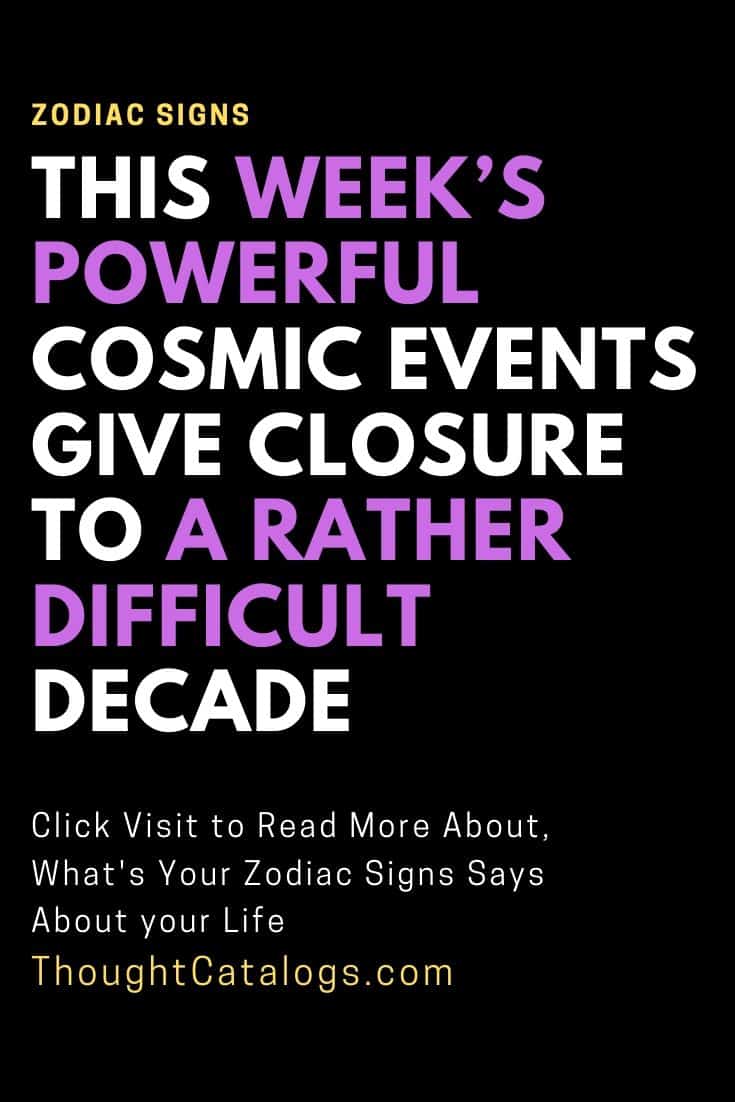 December is almost coming to an end. We are moving to the last week of December, waiting for Christmas Eve, Christmas and finally the New Year.
As we edge towards New Year, you can feel the energies of the past subsiding and the truth becoming more visual in your mind's eye. You will feel the hectic life situations that you have gone past and slowly exhaustion will take over you.
However, you will understand that you are on the right path as of now. You will be facing new things on that path – and a few obstacles too. But don't worry if you enter a blind alley – if one door closes, know that another door will open. You might just have to go through a challenging time exploring the dark to find the open door.
There are a few cosmic events taking place as we move to the end of the year. There is going to be a Solar Eclipse/New Moon happening on 26th December.
Mercury will enter Capricorn on 28th December. Interesting energies will be coming your way. Most of them will be positive no doubt. You will feel well-prepared to face the new year as you make your way to 2020. Luck is going to be on your side.
The Solstice Portal is still open but is going to close itself. We need to get things done fast before it closes and there will be a few challenges down the line.
Some might make you made but you have to tread strongly down this path. While something might drive you mad and you might feel like you are at the end of the road, it is not going to be something that you cannot resolve.
The solar eclipse will be in conjunction with Jupiter and hence is a bringer of joy and optimism. It will bring opportunities for you to grow spiritually and professionally.
You will be full of enthusiasm and now is the time when you can spread your optimistic wings and expand to grow in many areas – wealth and relationship. The solar eclipse will be a great time to engage in a new study or go for a travel to a different country.
It will also influence the chief areas of your life like relationships and legal investments. The communion of the solar eclipse with the planet Jupiter brings self-understanding and growth.
The solar eclipse will also make a trine with planet Uranus and it brings surprises and exciting encounters. Your higher self will get in touch with you with increased sparks of insight and intuitions. It's time for a boost in your self-confidence and flamboyance.
You will feel more free and creative during this period. The eclipse is going to make you come out of your comfort zone and do something completely new. Sudden encounters can flower up to form new relationships.
During this period, you can make life changes and slowly flow into the new year with little worries and an amazing reserve of positive energy.
Jupiter will be trining Uranus and it also brings lucky encounters. You will not feel restrained but more adventurous. If you are shy, you might even want to risk a random conversation and look at it as an adventure.
Trust your instincts. If you find your life stagnated, these celestial events are going to bring in a change. So, try learning something new during this phase.
Now, how will Christmas Eve and Christmas turn out to be:
Christmas Eve
During Christmas Eve, the Sun will trine Uranus and it will help us reveal our hidden side. We will become unique in our own way and shine. The Sun trining Uranus brings an intuitive boost which will show through our self-confidence and bring our quirky side out in the open.
You might even take up perception sciences like astrology or physics. So, new academic adventures or inventions are on the way. Move out of your comfort zone and learn something new.
Christmas Day
Although there are no celestial events on this special day, there will be energy shifts happening during this time. We will be charged with the energy of the previous day and there are few major cosmic events scheduled just after Christmas.
So, you will be connecting with the cosmic energy all around you and be present in the spotlight for cosmic action.
So, it's time to prepare yourself for massive cosmic energy transactions during the last week of December.