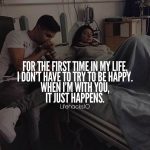 It doesn't matter if we're talking about dating or wedding anniversary here, half a year spent in a relationship or marriage is huge.
Besides being an important milestone, a six month anniversary is also the first anniversary you and your partner are celebrating together, since you didn't celebrate your every month anniversary so far, so you want it to be special.
However, you've wasted all of your romantic ideas on Christmas gifts, birthday gifts, or on Valentine's day surprises, so now you're left completely clueless about what to do and how to celebrate this significant date in the calendar.
You have no present ideas, since you don't want to give your partner something random like a keychain, and you want your perfect gift to be something more personal than the universal funny anniversary card you can buy in every store.
Well, let me tell you something: it doesn't matter whether you buy your partner something they've always wanted, if you make a DIY gift or just take them out on this special night.
What matters is that you've put a lot of thought and effort into celebrating your six month anniversary.
You don't have to get them the best gift in the world and your anniversary surprise doesn't have to cost an entire fortune.
It is just important to show them that you remembered your anniversary date and for them to feel all the strength of your emotions through everything you've got planned for them.
So, if you're looking for ideas for a 6 month anniversary, here are the best ones:
6 Month Anniversary Ideas For Boyfriend And Girlfriend
1. Keep track of their wishlist
When you're trying to plan an amazing anniversary surprise for your loved one and you want to get them the perfect present, the catch is to buy them something they would like.
Well, the problem is that gifting is difficult when you're, for example, looking for anniversary gifts for boyfriend or girlfriend whose taste is seemingly different than yours.
You might as well think that what they consider to be a perfect anniversary gift is foolish, unnecessary or a complete waste of money.
You might think that something else would be more appropriate, but remember—the goal is to make them feel happy, so you can't buy something you would like to get.
Therefore, the best way to get the perfect gift is to start preparing well before the anniversary, so you can make a list of the things your significant other would like to get.
You can keep track of their wish list on Amazon, Ebay or other similar websites or you could just pay attention to the things they've mentioned they would like to have or see.
Trust me—they will be knocked off their feet once they see that you, for example, bought them the piece of clothing they talked about weeks or even months before.
2. Make a scrapbook
However, not all of your anniversary gifts have to be expensive or have a high material value.
In fact, your loved one would probably be happier knowing that you invested time, effort, and energy into putting a smile on their face by making them a DIY anniversary present.
One of the great anniversary surprises would be a handmade diary of your relationship.
Start from the beginning until you reach this six month anniversary.
Get a nice notebook, write "Happy Anniversary" on the cover, and put all of your photos in it.
Sorted them by the dates and months you guys have spent with each other.
It would be great to include some concert or movie tickets for the events you guys attended together.
Write a nice paragraph underneath every memory to remind them of the exact moment you two had an amazing time.
Show them that you remember and cherish every second you spent with them.
3. Write them a love story
Another romantic gift is to write down a love story which revolves around your romance.
You can write it in the form of a contemporary novel, an old-fashioned fairytale or even as a comedy.
The point is to write everything from a third person point of view.
Of course, you and your partner are the main characters whose relationship is the main topic of the story.
If you're creative enough, you can even write about the future and how you imagine it to turn out.
Just don't forget to finish the story with the "and they lived happily ever after" line.
4. Plan six dates for the next six months of your relationship
Naturally, you want this relationship to last, and you hope that it will be the real deal, even though this is just your six month anniversary.
Well, in that case, we have one of the best romantic ideas for you: plan six dates for the next six months of your relationship.
First and foremost, your significant other will be thrilled by the idea that you're so certain of this relationship that you already have the next half of the year planned.
They'll be honored by the fact that you consider your anniversary date so important that you want to celebrate it every single month.
Secondly, you'll have all of your next month anniversary gift ideas covered because this is the best gift your loved one could get from you.
Each one of these six date ideas has to be unique and special if you really want to impress them and knock them off their feet.
However, the trick is not to reveal your date ideas just like that.
Instead, make it an anniversary surprise, and let them spend each month wondering what you have planned for them.
5. Romantic vacation
What is a better way to spend your romantic anniversary than to go on a vacation with your partner—just the two of you?
This doesn't have to be an exotic or expensive destination.
It will be enough for you two to get a chance to spend some time away from your everyday lives and busy schedules.
Nevertheless, if you're not on a budget, you can search for some couples-only hotels which offer romantic activities or you can just ask the hotel service to write things such as "Happy Anniversary" or "I love you" all over your suite.
6. Recreate your first date
Another amazing idea for a wedding or dating anniversary is to recreate the very first date you and your other partner had.
It doesn't matter whether it was a night at the club or you grabbed a cup of coffee in the nearest coffee shop.
Looking at it from this point of view, I'm sure you wouldn't want it any other way, even if you had the chance to change things.
Make this a surprise: don't tell them where you're going, and pick them up at the exact same time you met for the first time.
Make a reservation for the same table you were sitting at, and dress as similarly as possible.
This will remind both of you of the butterflies you felt when you first met and of the chemistry that probably appeared right away.
7. An outdoor movie projection
Going to dinner and the movies to celebrate your dating or wedding anniversary is a classic, and it never goes out of style.
However, if you're looking for ways to step up your game, don't take your partner to the regular cinema.
Instead, organize an outdoor movie projection for just the two of you.
You can rent a projector, and take them to a private place to see the film you have prepared.
Make sure it is something romantic—you don't want to watch an action or horror movie on such a special occasion.
It doesn't matter whether your 6 month anniversary is during the winter—it is an even better opportunity to cuddle up under warm blankets.
8. Go to an amusement park
So, for many, this doesn't exactly sound like the most romantic present idea ever, but if you and your partner are one of those different, adventurous couples who enjoy the excitement and the adrenaline, getting tickets for a themed amusement park is the best anniversary present you could think of.
Besides this being an extremely bonding experience, it will also stick in your memory as one of the days on which you had the most fun.
After all, that is what your relationships is all about, isn't it?
You two aren't just lovers, you're also best friends, and it is excellent if you can have a great time, without a single worry on your mind.
9. Spend the night learning new things about each other
Another amazing anniversary present which will cost you literally nothing is arranging a date night in which you and your partner ask one another some deep, personal questions.
Each one of these questions has just one role—to help you get to know each other better and find out some things you didn't know.
If you think you'll have trouble coming up with innovative and unique questions, you can prepare some beforehand.
Start with lighter, less serious questions which will help you discover some things about each other's childhood, high school years, and so on.
After you're both relaxed, you can proceed to asking one another about your fears, aspirations, hopes, and dreams.
As the icing on the cake, a good idea is to wrap things up with a question game, such as "would you rather," "never have I ever" or "most likely to" questions.
I assure you that your bond will increase incredibly after you open up to each other completely.
Therefore, this is not only one of the best present ideas for your partner, it is also a great gift for your relationship and for its future.
10. Make a bucket list together
When you're looking for ideas for 6 month anniversary, one thing which would probably never go cross your mind is spending the entire evening planning a future together.
Well, that's why we're here: to tell you what an awesome time you'll have doing exactly this.
All you have to do is buy a nice notebook and pens, and you're good to go.
This anniversary gift idea is fully up to you and your partner's imagination.
After you decide whether you'll make a year or, for example, a ten-year plan, the next step is to start writing a bucket list of all the things you want to accomplish, the places you want to visit, and the milestones you want to achieve when it comes to your relationship.
There is only one rule: each item on the list has to be connected to your relationship and your common activities.
11. Write them a love letter or love notes
One thing is for sure: a dream of most women is to receive a love letter from their stronger half.
They've seen it in the movies and old novels, and it is something they have fantasized about since they were little.
So, if you're looking for a Valentine's day present or even a wedding gift for your girlfriend or soon to be wife, you'll never go wrong with this.
If you don't think of yourself as the best writer, don't worry because she'll be happy as long as you put everything you truly feel on the piece of paper.
On the other hand, if you are a girl and you google boyfriend gifts, writing him a love letter is probably not the first thing you had in mind.
Nevertheless, whether they like to admit it or not, the truth is that men also enjoy knowing how loved they actually are, so surprising him with a bunch of love notes or with a heartwarming letter in which you declare your emotions will, without a doubt, make his eyes teary.
12. Make them a music list
Of all the diy gifts you can think of, making your partner a personalized music list is one of the best.
This way, every time they listen to these songs, they'll think of you, even if you're miles apart.
Naturally, you won't put some random music here.
In fact, you should focus on the songs that remind you of them, on those which send a message of love, and especially on those connected to certain moments of your relationship.
Trust me—this will tell them "I love you" louder than any words.
13. Get a portrait of you two together
Another awesome anniversary gift idea is to order a portrait of you two together.
You can hire a skillful artist who will make you pose and feel like you're in a Renaissance painting or you can find someone to draw a portrait based on one of your favorite photos together.
If you want to include your other half in this entire process, take them to an art class, where you'll learn how to paint each other's portraits.
Don't worry—your work doesn't have to look professional as long as it was made with a lot of love and devotion.
Besides, I'm certain that you'll be even more content with this DIY gift, than with something ordered from an artist.
14. Spend a day with family
Even though most romantic anniversary ideas include only the two of you, here is one half year anniversary gift which includes your entire families because what can be more romantic than telling someone: "I love you and I want you to become a part of my life" through this gesture?
If we're talking about a dating anniversary, it is probable that you and your partner still haven't gotten the chance to meet each other's parents, siblings or best friends.
Well, this anniversary date is the best occasion to finally get it out of the way.
On the other hand, if we're talking about a wedding anniversary here, it is more than obvious that you all know one another very well.
However, you can also use this day to spend some quality time with both of your families, regardless.
And you know what the best part is? You won't have to look for anniversary gifts for boyfriend or girlfriend because you'll get tons of great gifts from your closest ones, even if you write down "no gifting" on the invitation for this event.
15. Create a customized bag of candy
Another amazing half year anniversary gift is giving your other half a customized bag of their favorite candy.
You can order a cake with your picture on it, and many stores give you the option to buy handmade candy with your six month anniversary date or names written on it.
If you think that this is not enough but are on a budget, you can add something small, like a personalized keychain with your photos on it or a DIY funny anniversary card just saying "Happy Anniversary".
16. Scavenger hunt
Want to make things especially interesting on this six month anniversary?
Try scavenger hunting for your half year anniversary gifts!
Instead of preparing one, 6 month anniversary gift, prepare several, and hide each one of them all over your apartment or if you have enough time, even all over the city.
Naturally, not each one of these presents has to be expensive: they can be a load of simple things such as fridge magnets, keychains or funny anniversary cards.
After you're done, make your partner a map which will help them find everything you got them.
However, they'll have to find the first six month anniversary gift and only then, will they get instructions regarding the location of the next one.
You can go on the scavenger hunt together and spend the entire day searching for the presents, as long as you will be able to act completely clueless and not help them at all. Let the games begin!
17. Spend a lazy weekend together
In today's busy world, spending an entire weekend with your partner is sadly a true luxury.
Even if you two live together, the truth is that you don't spend a lot of actual quality time together.
Well, find time in your schedules and for this six month anniversary, reserve two days for your romantic partner only.
Yes, it would be best if you two could enjoy a spa retreat, go on a road trip or at least spend the weekend in nature.
However, if you are just hoping for a good rest and are low on cash, you can spend this time indoors.
Turn your phones off, cancel all of your plans, and don't let in any visitors, so you can completely concentrate on one another other, without anyone or anything distracting you.
18. Pretend you're strangers
Remember the butterflies you felt when you first met your partner?
Don't worry—you can have them again in no time.
For just one night, pretend that you're strangers who went out on a blind date or who just met in a bar.
Agree where to meet and approach one another, like you really are not boyfriend and girlfriend.
This is especially great as a wedding anniversary gift.
If you two are married and have already fallen under the pressure of your every day, busy life, a date of this type will definitely spice things up.
19. Spend the day making a DIY project
A thing which will without doubt bond you and your partner even more is spending an entire anniversary day making a project of your own.
You both realizing how great you function as a team will only strengthen your connection and convince you even more than you're meant to be together.
You can, for example, make your own cheese, upcycle a suitcase into a coffee table, use an old mirror to make a serving tray, create a chandelier from used jars, redecorate old shells in the house, make magnets using bottle caps or engage in simple knitting.
Whatever you do, the point is to do it together, combining your forces.
20. Take a dancing class
One of the most romantic gifts for your six month anniversary are dancing lessons for you and your partner.
You can go and learn to dance salsa, tango or some other modern dance; it all depends on your preferences.
Besides these lessons being a great chance for some bonding, they will also be a memorable experience.
You don't have to become professionals, but you'll definitely want to show your new skills the next time you hit the club, a wedding or a fancy party.