Zodiac Sign
This Is How To Make Him Fall In Love With You Based On His Zodiac Sign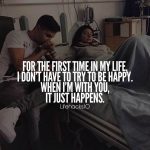 Aries
(March 21st to April 19th)
Aries men get bored really easily. Don't give him everything all at once. Aries are attracted to anything mysterious, so keep a little mystery, and try to make things interesting. Do something different, venture outside of the typical dinner date. Go indoor skydiving, have a picnic in the park, make dating fun and energetic and an Aries can't help but fall in love.
Taurus
(April 20th to May 21st)
Taurus men are kind of clueless. You have to be direct with them, they won't pick up on your gentle arm brush or your friendly touch of their shoulder, if you're interested you have to tell them point blank. If you start dating a Taurus man, be patient. Don't expect him to open up within the first month. He finds it hard to trust romantic partners. The way to this Taurus man's heart is patience and honest communication.
Gemini
(May 22nd to June 21st)
Gemini men want someone with energy that's contagious. They are your typical flirt, so it's not hard to fall for them. They'll be funny, entertaining and charming, but if you want them to fall for you in return, you have to be equally, if not more, entertaining. They want the kind of person they can have fun with while doing absolutely nothing.
Cancer
(June 22nd to July 22nd)
Cancer men usually fall in love with someone who they think will be a good life partner and parent. They are super caring, but they're most likely not going to make the first move, unless you show them you won't reject them. Rejection practically kills the sensitive Cancer man. If you want a Cancer man to fall in love with you, let him know you're there to stay, and take care of him to prove you're capable of nurturing.
Leo
(July 23rd to August 22nd)
Leo men love to be praised. They melt when you compliment them, and they NEED affection from you like they need air. If you want the Leo man to fall in love with you, show him how much he means to you every day. He doesn't need to be the 
center
 of your world, but he wants to know that he's a giant part of it.
Virgo
(August 23rd to September 22nd)
The Virgo man takes a while to settle down. He doesn't just jump into serious relationships. He needs to think about every detail of whatever the two of you have going on to determine whether or not you two should take the next step together. If you want a Virgo man to fall in love with you be patient. He's a little scared of heartbreak, scared enough to let some wonderful people go because of it.
Libra
(September 23rd to October 22nd)
The Libra man appreciates confidence. If you want a Libra man to fall in love with you act like you're the hottest person in the room, be the hottest person in the room. Confidence is what first attracts him, and self-awareness and being comfortable in your own skin is what keeps him interested. Once he settles down with you he'll become an open book.
Scorpio
(October 23rd to November 22nd)
There's no appealing way to phrase it, but the Scorpio man loves the chase. He's super competitive, so he sees dating as a contest. It sucks, but games make him interested. The Scorpio man is the reason everyone hates modern dating. If you want him to fall in love with you, you're going to have to play along.
Sagittarius
(November 23rd to December 21st)
Sagittarius men are explorers. They're always asking questions and searching endlessly to discover answers. They're deep, and they wander both figuratively and literally. If you want a Sagittarius man to fall in love with you give him the space he needs to wander. Do that and he'll definitely come back to you. Encourage his exploration, don't limit it.
Capricorn
(December 22nd to January 20th)
The Capricorn man is extremely serious and determined. When he puts his mind to something, he'll accomplish it. He doesn't exactly prioritize love and dating; career usually comes first for him, but if you want him to fall in love with you, support his ambitions. He won't love someone who 
needs
 him. The Capricorn man can't stand needy.
Aquarius
(January 21st to February 18th)
The Aquarius man is a deep thinker, which means he's often lost in his own thoughts. If you want an Aquarius man to fall in love with you, stimulate him intellectually before you do physically. He falls in love with people slowly because he falls in love with who they are, and it takes a while to learn who someone really is.
Pisces
(February 19th to March 20th)
If you want a Pisces man to fall in love with you, let him romance you. He is the ultimate romantic, and he likes to make his partners feel special, so let him. He's super sensitive and in touch with his emotions, so don't be afraid of being vulnerable with him, he appreciates vulnerability and never takes it for granted.