Love advice
The Top 135 Heart-melting Affection Quotes For Him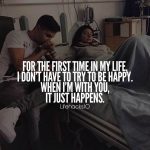 When we love someone, we want to make them feel loved, appreciated and special.
But sometimes it is really hard for us to find the right words to express our love and affection.
After all, love is a beautifully complex emotion which makes it so difficult for us to describe it in words.
If you want to melt his heart by showing how much you love him and how much he means to you, affection quotes for him are the only thing you need!
Romantic love quotes have this vintage touch that never gets outdated and the true value that has been ingrained in every word circulating from generation to generation.
Everything changes but the power of a beautiful and inspiring love quote is eternal.
These sweet love messages will melt your loved one's heart in no time and show them how deeply you care for them—your special person.
The only thing you need to do is pick one of the following best love quotes that you find closest to your heart!
THE TOP 135 HEART-MELTING AFFECTION QUOTES FOR HIM 
1. I love you, and that's the beginning and end of everything. – F. Scott Fitzgerald
2. I love you. I am who I am because of you. You are every reason, every hope, and every dream I've ever had, and no matter what happens to us in the future, every day we are together is the greatest day of my life. I will always be yours. – Nicholas Sparks, The Notebook
3. In all the world, there is no heart for me like yours. In all the world, there is no love for you like mine. –  Maya Angelou
4. He is more myself than I am. Whatever our souls are made of, his and mine are the same. – Emily Brontë
5. The ultimate lesson all of us have to learn is unconditional love, which includes not only others but ourselves as well. –  Elisabeth Kübler-Ross
6. If you were a movie, I'd watch you over and over again. I could watch you every day of my life and never get bored. – Unknown
7. It is not true that love does not have boundaries. In fact, my love for you has created boundaries in your heart so that no one else can come in. I love you. – Unknown
8. If I could have just one wish, I would wish to wake up every day to the sound of your breath on my neck, the warmth of your lips on my cheek, the touch of your fingers on my skin, and the feel of your heart beating with mine… Knowing that I could never find that feeling with anyone other than you. – Courtney Kuchta
9. I cannot imagine a life in your absence. You are like the breathe of air that I need to live, the drop of water in a thirsty desert. I need you like a bird needs the skies to go higher. – Constantine Jake
10.Love is the emblem of eternity; it confounds all notion of time; effaces all memory of a beginning, all fear of an end. – Madame de Staël
11. Your words are my food, your breath my wine. You are everything to me. – Sarah Bernhardt
12.My love for you has no depth, its boundaries are ever-expanding. – Christina White
13.You're the one reason I wake up in the morning, you're the one reason I find a way to smile, you're the one person that can change everything around when it is going bad. Your eyes, your smile, your everything, your laugh, your look in your eyes when you talk to me. It's just everything about you that makes me want you even more. – Unknown
14. One day you will kiss a man you can't breathe without, and find that breath is of little consequence. – Karen Marie Moning
15. If you live to be a hundred, I want to live to be a hundred minus one day so I never have to live without you. – A. A. Milne
16. You know you're in love when you can't fall asleep because reality is finally better than your dreams. – Dr. Seuss
17. I love you without knowing how, or when, or from where. I love you simply, without problems or pride: I love you in this way because I do not know any other way of loving but this, in which there is no I or you, so intimate that your hand upon my chest is my hand, so intimate that when I fall asleep your eyes close. – Pablo Neruda
18. I have a crush on your mind, I fell for your personality, and your looks are just a big bonus. – Nicholas Sparks, The Notebook
19. In you, I have found the love of my life and my best friend. – Unknown
Romantic Quotes For Him
20. I fell in love with you because you loved me when I couldn't love myself. – Unknown
21. Being deeply loved by someone gives you strength, while loving someone deeply gives you courage. – Lao Tzu
22. I got lost in him, and it's the kind of lost that's exactly like being found. – Claire LaZebnik
23. When you realize you want to spend the rest of your life with somebody, you want the rest of your life to start as soon as possible. – Nora Ephron, When Harry Met Sally
24. In my element, I need you. At my best, I crave you. With all my soul I respect you. With every breath I take, I love you. – Toni Payne
25. Give your all to me, I'll give my all to you. You're my end and my beginning. – John Legend
26. And so let us always meet each other with a smile, for the smile is the beginning of love. – Mother Teresa
27. A woman knows the face of the man she loves as a sailor knows the open sea. – Honore de Balzac
28. We waste time looking for the perfect lover, instead of creating the perfect love. – Tom Robbins
29. The course of true love never did run smooth. – William Shakespeare
30. Love is a game that two can play and both win. – Eva Gabor
31. The heart wants what it wants. There's no logic to these things. You meet someone and you fall in love and that's that. – Woody Allen
32. A dream you dream alone is only a dream. A dream you dream together is reality. – John Lennon
33. You know it's love when all you want is that person to be happy, even if you're not part of their happiness. – Julia Roberts
34. When two people love each other, they don't look at each other, they look in the same direction. – Ginger Rogers
35. When I saw you, I fell in love. And you smiled because you knew. – Arrigo Boito
36. To be your friend was all I ever wanted; to be your lover was all I ever dreamed. – Valerie Lombardo
37. To the world you may be one person; but to one person you may be the world. – Dr. Seuss
38. I love you because I love you, because it would be impossible not to love you. I love you without question, without calculation, without reason good or bad, faithfully, with all my heart and soul, and every faculty. – Juliette Drouet
39. When I am with you, the only place I want to be is closer. – Ritu Ghatourey
Sweet Love Quotes For Him
40. My love for you is past the mind, beyond my heart, and into my soul. – Boris Kodjoe
41. Each day I love you more, today more than yesterday and less than tomorrow. – Rosemonde Gérard
42. In short I will part with anything for you but you. – Mary Wortley Montagu
43. You're nothing short of my everything. – Ralph Block
44. If only I could kiss and tell you how much I love you, we would be kissing for a lifetime. – Unknown
45. You gave me the greatest gift, the growth of love. It started as a little seed and has grown into a flowering tree. – Carolyn Kleintank
46. My heart is, and always will be, yours. – Jane Austen
47. Your love shines in my heart as sun that shines upon the earth. – Eleanor Di Guillo
48. If I could reach up and hold a star for every time you've made me smile, the entire evening sky would be in the palm of my hand. – Unknown
49. Every step I took since the moment I could walk was a step towards finding you. – Nicholas Sparks, Message in a Bottle
50. If I had my life to live over again, I'd find you sooner. – Kobi Yamada
51. It was a million tiny little things that, when you added them all up, they meant we were supposed to be together… and I knew it. – Nora Ephron, Sleepless in Seattle
52. The spaces between our fingers were created so that another person's fingers could fill them in. – Unknown
53. I swear I couldn't love you more than I do right now, and yet I know I will tomorrow. – Leo Christopher
54. Absence is to love as wind is to fire; it extinguishes the small and kindles the great. – Roger de Bussy-Rabutin
55. I no longer believed in the idea of soul mates, or love at first sight. But I was beginning to believe that a very few times in your life, if you were lucky, you might meet someone who was exactly right for you. Not because he was perfect, or because you were, but because your combined flaws were arranged in a way that allowed two separate beings to hinge together. – Lisa Kleypas, Blue-Eyed Devil
56. I saw that you were perfect, and so I loved you. Then I saw that you were not perfect and I loved you even more. – Angelita Lim
57. I hope you don't mind that I put down in words how wonderful life is while you're in the world. – Elton John/Bernie Taupin
58. There is only one happiness in life, to love and be loved. – George Sand
59. I never saw so sweet a face. As that I stood before. My heart has left its dwelling place. And can return no more. – John Clare
60. I love thee to the depth and breadth and height my soul can reach. – Elizabeth Barrett Browning
61. Though still in bed, my thoughts go out to you, my Immortal Beloved, Be calm – love me – today – yesterday – what tearful longings for you – you – you – my life – my all – farewell. Oh continue to love me – never misjudge the most faithful heart of your beloved. Ever thine, ever mine, ever ours. – Beethoven
62. The regret of my life is that I have not said 'I love you' often enough. – Yoko Ono
63. If I did anything right in my life, it was when I gave my heart to you. – Unknown
64. Let the world stop turning, let the sun stop burning, let them tell me love's not worth going through. If it all falls apart, I will know deep in my heart, the only dream that mattered had come true… In this life I was loved by you. – Mike Reid/Allen Shamblin
65. And when you smile, the whole world stops and stares for a while, 'cause you're amazing, just the way you are. – Bruno Mars
66. We were given: Two hands to hold. Two legs to walk. Two eyes to see. Two ears to listen. But why only one heart? Because the other was given to someone else. For us to find. – Lauren Child
67. As we grow older together, as we continue to change with age, there is one thing that will never change… I will always keep falling in love with you. – Karen Clodfelder
68. I love you without reason and that is reason enough. – Unknown
69. If I know what love is, it is because of you. – Hermann Hesse
70. I love you –  those three words have my life in them. – Alexandrea.
71. You're the one I talk about all the time, the one I can't stop thinking about. The one that can make me laugh when I don't even want to smile, the one that can make me feel better in 2.2 seconds. It's you that I'm crazy about. – Unknown
72. Poets often describe love as an emotion that we can't control, one that overwhelms logic and common sense. That's what it's like for me. I didn't plan on falling in love with you, and I doubt that you planned on falling in love with me. But once we met, it was clear that neither of us could control what was happening to us. We fell in love, despite our differences, and once we did, something rare and beautiful was created. For me, love like that has happened only once, and that's why every minute we spent together has been seared in my memory. I'll never forget a single moment of it. – Nicholas Sparks, The Notebook
73. I love that you are my person and I am yours, that whatever door we come to, we will open it together. – A.R. Asher
74. Love understands love; it needs no talk. – Francis Ridley Havergal
75. Love stretches your heart and makes you big inside. – Margaret Walker
76. Love brings to life whatever is dead around us. – Franz Rosenzweig
77. In your smile I see something more beautiful than the stars. – Beth Revis
78. You are my heart, my life, my entire existence. – Julie Kagawa, The Iron Queen
79. May you live as long as you wish and love as long as you live. – Robert A. Heinlein
80. Absence sharpens love, presence strengthens it. – Thomas Fuller
Cute Love Quotes For Him
81.If you are not too long, I will wait for you all my life. – Oscar Wilde
82. One is loved because one is loved. No reason is needed for loving. – Paulo Coelho, The Alchemist
83. Love is the greatest gift that God has given us. It's free. – Taraji P. Henson
84. And remember, the truth that once was spoken: To love another person is to see the face of God. – Victor Hugo
85. I wonder if you know how I truly feel and how happy my heart is when we are together? I would count the ways, but I would run out of time because I am sure one lifetime wouldn't be enough. – Unknown
86. All of the great love stories have one thing in common, you have to go against the odds to get there. – Unknown
87. I was pleasantly surprised the first time I came here and again so the next time and the next. I found that I was looking forward to it. In fact, it would be fair to say that since my return home, I have hated everything in London except these hours with you. – Cassandra Clare, Clockwork Prince
88. You can talk with someone for years, every day, and still, it won't mean as much as what you can have when you sit in front of someone, not saying a word, yet you feel that person with your heart, you feel like you have known the person for forever… connections are made with the heart, not the tongue. – C. JoyBell C.
89. In French, you don't say I miss you. You say, "Tu me manques," which means 'you are missing from me.' I love that. – Unknown
90. If I only had one wish left, I want it to be YOU for the rest of my life. I cannot imagine my life without you. You are like sugar in my coffee, icing on my cake, and an apple to my pie. We are always the best combination. – Unknown
91. There is only one kind of love, but there are a thousand imitations. – François de La Rochefoucauld
92. Some people go through life without meeting their soulmate but I am glad I get to meet you and enjoy the rest of my life with you. – Unknown
93. It's good to know I am holding the hand of the right person even as I go through life because being with the right partner is as important as choosing a career. – Unknown
94. When I am upset you are there to cheer me up. Not a day goes by that you failed at making me smile. I cannot imagine my life without you. You are the only person I wanted to spend the rest of my life. – Unknown
95. I may not be your first love, first kiss, first sight, or first date but I just want to be your last everything. – Unknown
96. You make me complete. You make me smile when I have no reason to. When everything in my life is going wrong, I call you and you make everything better. I love you so much, I didn't know what love meant until I met you. – Unknown
97. Being in love with you makes every morning worth getting up for. Good morning, my Love! – Unknown
98. Love arrives / and in its train come ecstasies / old memories of pleasure / ancient histories of pain. / Yet if we are bold, / love strikes away the chains of fear / from our souls. / We are weaned from our timidity / In the flush of love's light / we dare be brave / And suddenly we see / that love costs all we are / and will ever be. / Yet it is only love / which sets us free. – Maya Angelou, Touched by an Angel
99. Thank you, my love, for always making me feel like the most beautiful woman in the world. – Unknown
100. And suddenly, all the love songs were about you. – Unknown
101. From that moment that you came into my life, I knew right then that you will stay with me until the end of time, I love you! – Unknown
102. You're always the first and the last thing on this heart of mine. No matter where I go, or what I do, I'm thinking of you. – Dierks Bentley
103. A kiss is a lovely trick, designed by nature, to stop speech when words become superfluous. – Ingrid Bergman
104. Love is something eternal; the aspect may change, but not the essence. – Vincent Van Gogh
105. I love you as one loves certain dark things, secretly, between the shadow and the soul. – Pablo Neruda
106. I seem to have loved you in numberless forms, numberless times, in life after life, in age after age forever. – Rabindranath Tagore
107. In your smile I see something more beautiful than the stars. – Beth Revis
108. My love for you is past the mind, beyond my heart, and into my soul. – Boris Kodjoe
109. There is always some madness in love. But there is also always some reason in madness. – Friedrich Nietzsche
110. That's what it feels like when you touch me. Like millions of tiny universes being born and then dying in the space between, being born and then dying in the space between your finger and my skin. Sometimes I forget. – Iain Thomas, I Wrote This For You
Inspirational Quotes For Him
111. Love is when you meet someone who tells you something new about yourself. – Andre Breton
112. To love and be loved is to feel the sun from both sides. – David Viscott
113. The first duty of love is to listen. – Paul Tillich
114. At the touch of love everyone becomes a poet. – Plato
115. If you find someone you love in your life, then hang on to that love. – Princess Diana
116. Love is the flower you've got to let grow. – John Lennon
117. Love has reasons which reason cannot understand. – Blaise Pascal
118. To fear love is to fear life, and those who fear life are already three parts dead. – Bertrand Russell
119. Love is a friendship set to music. – Joseph Campbell
120. Love cures people – both the ones who give it and the ones who receive it. – Karl A. Menninger
121. Love is a sacred reserve of energy; it is like the blood of spiritual evolution. – Pierre Teilhard de Chardin
122. Love is the magician that pulls a man out of his own hat. – Ben Hecht
123. Love takes up where knowledge leaves off. – Thomas Aquinas
124. Passion is momentary; love is enduring. – John Wooden
125. Who loves, raves. – Lord Byron
126. If it is your time, love will track you down like a cruise missile. – Lynda Barry
127. Love is stronger than justice. – Sting
128. There is never a time or place for true love. It happens accidentally, in a heartbeat, in a single flashing, throbbing moment. – Sarah Dessen
129. You may not be her first, her last, or her only. She loved before she may love again. But if she loves you now, what else matters? She's not perfect—you aren't either, and the two of you may never be perfect together but if she can make you laugh, cause you to think twice, and admit to being human and making mistakes, hold onto her and give her the most you can. She may not be thinking about you every second of the day, but she will give you a part of her that she knows you can break—her heart. So don't hurt her, don't change her, don't analyze and don't expect more than she can give. Smile when she makes you happy, let her know when she makes you mad, and miss her when she's not there. – Bob Marley
130. You don't love someone because they're perfect, you love them in spite of the fact that they're not. – Jodi Picoult, My Sister's Keeper
131. We're all a little weird. And life is a little weird. And when we find someone whose weirdness is compatible with ours, we join up with them and fall into mutually satisfying weirdness—and call it love—true love. – Robert Fulghum, True Love
132. So it's not gonna be easy. It's going to be really hard; we're gonna have to work at this everyday, but I want to do that because I want you. I want all of you, forever, everyday. You and me… everyday. – Nicholas Sparks, The Notebook
133. 'Tis better to have loved and lost than never to have loved at all. – Alfred Lord Tennyson
134. When we love, we always strive to become better than we are. When we strive to become better than we are, everything around us becomes better too. – Paulo Coelho
135. Where there is love there is life. – Mahatma Gandhi
Final Thoughts
Love is, indeed, a magical feeling that has the power of enlightening our soul and opening our eyes to see things in a different, more beautiful light.
Love is the most inspiring force in the entire universe and finding the right words to express what you really feel is not an easy task.
But the quotes above have done a great job and they are the closest to describing the sheer power of selfless love and affection.
I truly hope these romantic and cute quotes will enrich and strengthen your love and make your loved one feel truly special and blessed to have you in their life!