Zodiac Sign
The 2 Iconic Movie Wedding Dresses She's Meant To Wear According to Zodiac Sign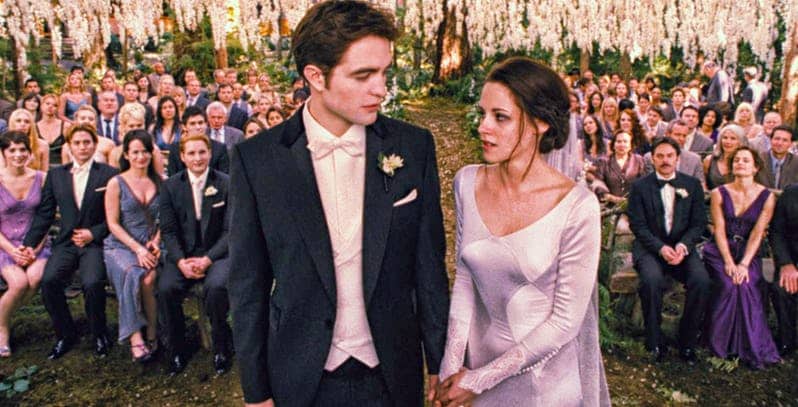 Most of us dream about the fairytale romance and the fairytale wedding that accompanies it. We fantasize about the guy, the venue, the cake, and, of course, the dress. In fact, the dress may be the most important part, at least when it comes to imagining it.
After all, we do have numerous wedding dress shopping shows where we can get ideas or gloat over how our taste is miles better that the unfortunate souls who picked out some over-the-top tulle creation.
Wedding dress shopping can be the most stressful or wonderful experience of wedding planning, depending on where you're going, who you're with and what you have in mind.
While we may have thought about what we'll wear to say "I do," it could have changed over the years, depending on the style of the day, the weddings we've already been to, what the celebs are wearing, what movies we've seen…and our astrological sign?
Let's take a moment to look at those last two. Movies often inform our idea of what it means to fall in love and get married, especially if our experience with real relationships is somewhat limited. If Rachel McAdams can looks amazing in one dress and have her happily ever after, maybe that's the style we'll turn to when imagining our own fairytale ending. Using the stars – both movie and star sign – we've determined the two iconic wedding dresses you were meant to wear.
24 

Cancer: Amanda Seyfried, Mamma Mia!

Ruled by the moon and known for their desire to embrace the traditional over the modern – especially when it comes to romance – Cancer is a child of the water. She loves looks that are all about romance and feel light and airy. Being restricted isn't part of her wedding day plans!

Amanda Seyfried's bridal style in 2008's Mamma Mia! is perfect for the water baby Cancer, thanks to its sweetheart neckline (could any other neckline even sound as romantic?), frothy tiered skirt and blue detailing. Wearing this look to a beach or island wedding would be ideal for this romantic and emotional sign.
23 

Cancer: Dakota Johnson, Fifty Shades Freed

The Fifty Shades franchise might not be the most romantic film series, despite its best efforts, but there's no denying that the dress Dakota Johnson wore for her on-screen nuptials is a total dream!

Designed by the famed Monique Lhuillier, the gown is deemed memorable by Elle, and rightly so. It's fit for a storybook romance, which encapsulates Cancer's feelings about love.

The illusion back, the flattering fit-and-flare silhouette, the trail of covered buttons and the intricate lace and tulle make for an absolutely gorgeous dress and one that any Cancer would look an absolute vision in on their own journey down the aisle.
22 

Leo: Sarah Jessica Parker, Sex and the City

Leo always wants all eyes on her, and who knows about catching your gaze with fashion better than Carrie Bradshaw herself? Played by Sarah Jessica Parker in the feature film version of Sex and the City, Carrie was only donning this look for a photo shoot rather than an actual wedding, but the bold fashion-forward gown is definitely all dramatic and all Leo.

Architectural and sculpted with a gigantic skirt, this Vivienne Westwood creation was accessorized with other big names, specifically Christian Dior Swarovski-crystal embellished shoes! You might not be able to afford the names, Leo, but the look is totally you!
21 

Leo: Jennifer Lawrence, The Hunger Games: Catching Fire

Another leading lady who didn't get married in her dress, Jennifer Lawrence (as Katniss Everdeen) had the help of her designer Cinna when she stepped onto the stage in this gorgeous wedding gown that truly knew what it meant to make an entrance.

The bold design was fitting for the Hunger Games' Capitol setting, with an organza corset under a metal cage and a poufy skirt. Of course, it truly became worthy of Leo status when, upon spinning, the dress catches fire and turns into a much edgier black number!
20 

Virgo: Lily James, Cinderella

Another sign who is more traditional when it comes to relationships – and fashion – you won't likely spot a Virgo walking down the aisle in some garish, voluminous creation. This sign prefers more minimalist designs and, even though their wedding will have all eyes on them, being in the spotlight isn't usually their thing.

This intricate dress worn by Lily James as the eponymous heroine in 2015's Cinderella is modest, thanks to its high neckline, long sleeves and floor-length skirt, but the details are what really make it a standout gown. Virgo is drawn to nature, and a beautiful echo of this is found in the hand-painted flowers that are sprinkled across the skirt and along the bodice.
19 

Virgo: Kristen Stewart, The Twilight Saga: Breaking Dawn, Part 1

This wedding gown may have long sleeves and a full-length skirt again, but trust us that it's anything but boring! As Bella Swan, Kristen Stewart finally got to exchange vows with her then real-life boyfriend Robert Pattinson as Edward Cullen in a Carolina Herrera creation that gives us serious wedding envy.

Made of crepe satin and French Chantilly lace, the modest gown had a surprise sheer back with intricate lace and button details, which would be perfect on a perfectionistic and detail-oriented Virgo bride.

Vogue reports that the dress had 152 buttons on the back and took over six months to produce!
18 

Libra: Rachel McAdams, The Vow

Rachel McAdams makes her second appearance on our list, this time in a wedding gown that any Libra would love to wear on her trip down the aisle! This sign loves anything hyper-feminine and beautiful, and what better way to embrace that than in a frothy pink number that's sweet, flirty and fun?

In 2012's The Vow as Paige, McAdams got to wear a colourful wedding frock again, this time one that had a strapless neckline, ruched waist and embroidered petals on the short skirt. Ruled by Venus, Libra is all about the pretty details, so this dress is a definite winner!
17 

Libra: Julia Roberts, Runaway Bride

In Runaway Bride, there were a few wedding dresses that actress Julia Roberts wore (and ran away in). This gorgeous off-the-shoulder number has the distinction of being the one she actually made it down the aisle in – and the ideal choice for the romantic and loving Libra!

The dress is definitely of the time (the movie was released in 1999), but we think the details and silhouette are still very current. The sweet neckline, the full skirt and lacework – it's all on par with the feminine and traditional aesthetic that Libra finds herself so drawn to.
16 

SCORPIO: Clémence Poésy, Harry Potter and the Deathly Hallows: Part 1

Scorpio is never ashamed of being a little darker when it comes to their personal relationships. They thrive in the more mysterious parts of life and, while they certainly have a soft spot for romance and love, at their wedding they might prefer something a little more true to their edgy nature.

This black-and-white gown worn by Clémence Poésy in the 2010 Harry Potterinstallment features a pair of embroidered black phoenixes on the bodice that form the silhouette of a heart. LDN Fashion reports that French designer Jany Temime claimed the animal was a purposeful choice because, "like love, it is eternal".
15 

SCORPIO: Nicole Kidman, Moulin Rouge!

There are astrological signs who prefer to be modest rather than bold. Scorpio is not one of those. Instead, this Water sign likes to embrace their natural sensual appeal, even when it comes to something as refined as a wedding.

Worn by Nicole Kidman as the character of Satine in 2001's Moulin Rouge!, this curve-hugging strapless dress was bejeweled and worn with a bib necklace as well as an intricate headpiece, Hello Giggles reports.

While it might have been difficult for Kidman to breathe in the figure-hugging number, wearing something tight to show off their assets is a classic Scorpio move.
14 

Sagittarius: Keira Knightley, Love, Actually

The astrological sign afflicted with a severe case of wanderlust, it takes an awful lot for a Sagittarius to finally settle down but, when they do, we recommend a wedding dress like the one worn by Keira Knightley in Love, Actually.

The long-sleeved, feather-adorned dress was playful and unique, which is something that's at the top of a Sag girl's list when it comes to picking a gown. Other signs may not be able to pull off something so whimsical and quirky, but it's totally in keeping with the individualist vibe of a Sagittarius!
13 

Sagittarius: Jennifer Aniston, Marley & Me

Obviously the most memorable part of the 2008 film Marley & Me is the sad story of an adorable dog, but can we take a moment to discuss how gorgeous this gown was on Jennifer Aniston? As part of their winter wedding, the actress's character wore a floor-length satin wedding dress by Florida designer Carolina Boulton, as The Skinny Stiletto reports. It was accessorized with a fringed shawl to combat the elements.

Like many a Sag's style, this gown is loose and flowy, emulating this Fire sign's penchant for movement and grace in their clothing choices.
12 

Capricorn: Jennifer Lopez, The Wedding Planner

Anyone who knows a Capricorn knows that they are fans of tradition, which is why weddings are a must when a relationship becomes serious. Capricorn isn't the type to dress too boldly, and will more likely opt for a modest style on their big day. A perfect example: Jennifer Lopez's demure look with boat-neck top and pencil skirt for a no-frills courthouse wedding in 2001's The Wedding Planner. This sign doesn't do fussy and genuinely abhors excess, so something sleek is ideal, because it's all about quality over quantity for these Earth signs.
11 

Capricorn: Claire Danes, Romeo + Juliet

While Claire Danes getting married in a spur-of-the-moment secret ceremony in the 1996 film is decidedly un-Capricorn-like, her choice in wedding dress certainly was! Sticking with director Baz Luhrmann's desire to modernize the Shakespearean classic, this simple white silk wedding dress gets all the bang for its buck in the delicate details.

While there are feminine elements (check the embroidered flowers on the gloves, which is perfect for the Earth sign), there is a decidedly masculine appeal to this look, thanks to its sleek lines and covered buttons. Perfectly functional for the Cap bride!
10 

Aquarius: Carey Mulligan, The Great Gatsby

It seems that flapper styles basically came to be thanks to those born under Aquarius, because these love children are all about relaxed shapes and antique styles. They hate to ever be wasteful, being so eco-friendly and focused on their humanitarian efforts, and so a vintage dress like the one worn by Carey Mulligan in The Great Gatsby is perfect.

With Art Deco fringe, beading and a headdress that wouldn't look out of place in 2018, we know that the independent Aquarius would feel glam in this look.
9 

Aquarius: Brigitte Bardot, Two Weeks in September

Progressive, original, unique: three words that happen to describe Aquarius just so happen to also describe this fantastically different wedding gown in the 1967 French film Two Weeks in September.

Worn by international pinup girl Brigitte Bardot, this long-sleeved dress with marabou feathers was designed by Tanine Autré for Bardot's character, as Vogue reports. You can see how its details could have served as inspiration for the afore-mentioned Keira Knightley in Love, Actually! Another vintage creation, it makes finding the "something old" as part of the wedding tradition that much easier.
8 

Pisces: Rose Byrne, I Give It A Year

A sign that adores the water more than their Water counterparts, Pisces is all about the romance when it comes to their wedding, and love in general. They're the type to have imagined their wedding and what they'll wear since they were children and, while that vision may have changed over the years, we bet that some of the characteristics have remained the same.

While the movie may not be that memorable, 2013's I Give It A Year did give us this Gatsby-inspired creation on actress Rose Byrne. With delicate beading, sheer sleeves and a satin belt, this look is undeniably feminine and suitably romantic for dreamy Pisces.
7 

Pisces: Uma Thurman, Volume 2

While Uma Thurman's wedding in the second installment of Kill Bill was more notorious thanks to the bloodbath, we have to comment on this wedding dress that is equal parts retro and modern, thanks to its empire waist and long bell sleeves.

While flowy dresses might be the norm for many Pisces brides, this shorter look with intricate lacework is just as gorgeous. Plus, the shorter length would allow for this fish to wade in the water along the shore after saying, "I do".
6 

Aries: Diana Rigg, On Her Majesty's Secret Service

The name Diana Rigg might not be familiar to those reading this, but check out Olenna (from Game of Thrones fame) in her prime as a Bond girl – and the only Bond girl to have married the secret agent, as New York Post reports.

Aries is a tomboy at heart and loves to be the leader, and what better way to do that than in a semi-sheer jumpsuit with flower detailing? Aries is fearless in all aspects of her life, and her wedding is no different. She knows how to put all eyes on her and wouldn't be caught in something as plain as a long, white, frothy ball gown!
5 

Aries: Rachel McAdams, About Time

We're not saying that Aries has to exclusively don pantsuits, jumpsuits or separates when they're walking down the aisle, but the Fire sign is more prone to picking bolder choices for their big day. Without sacrificing her femininity, Rachel McAdams did just that in the 2013 movie About Time.

Dressing McAdams in a fiery red colour, designer Verity Hawkes expressed the exact mentality an Aries would have when wedding dress shopping by explaining her choice:

"I didn't want her to look like she had spent any time in 'wedding dress fittings,'"

Hawkes said, as reported by On Screen Style. "The wedding needed to have a thrown-together, joyous, and makeshift feel – nothing overly considered or planned."
4 

Taurus: Audrey Hepburn, Funny Face

Elegant and chic, Audrey Hepburn is serving up some classic bridal looks in the Givenchy creation from 1957's Funny Face. As a sign, Taurus is known for preferring the more traditional aspects of life, especially when it comes to marriage and family. They are also incredibly sensual and pleasure-driven, which is why the tea-length of this gown, coupled with the nipped-in waist, full skirt and Sabrina neckline are altogether sophisticated and ultra-feminine.

The way the dress bounces around her legs creates a playful style,The Wedding Secret reports.

Finished with a full-length veil, it's no wonder that this look is one of the most iconic bridal looks in movie history!
3 

Taurus: Emmy Rossum, The Phantom of the Opera

While Audrey Hepburn was a little more modest in her wedding attire – although no less breathtaking – Emmy Rossum was giving us some serious drama in her lace-tiered gown from the 2004 film The Phantom of the Opera.

With just a few tantalizing glimpses of skin thanks to a lower neckline and sleeves that slip off the shoulder, the Taurus girl would also like this balanced with a little more modesty, which we see in the full skirt, the long length and the yards of intricately-constructed material.
2 

Gemini: Cameron Diaz, What Happens In Vegas

Look, let's be honest: a Gemini girl, who is known for her sociable nature and flights of fancy, could just as likely elope as she might throw a huge wedding bash with all of her friends! Really, it depends on what twin is in the driver's seat that day.

For that reason, Cameron Diaz's unconventional and slapdash bridal style in the comedy What Happens in Vegas is perfect! Totally casual, it was fitting for the kind of vibe a Vegas wedding gives, and, when accessorized with a serious veil and layered pearl necklaces, it is definitely a look that appeals to the Gemini woman's whimsical sensibility – and her complete inability to settle on one thing!
1 

Gemini: Julie Andrews, The Sound of Music

A retro look from the 1960's classic The Sound of Music, Julie Andrews has transformed her singing nun into something extra chic, thanks to a timeless blend of masculine silhouettes to feminine outfits in a way that any Gemini bride would be envious of.

The high collar and structured waist are a little reminiscent of a classically tailored that looks right at home during the film's era (it was set in the 1940s), while the full skirt, full-length veil, and leafy crown are definitely hyper-feminine.

Gemini, with her changing nature and the dual personalities of masculine and feminine in her corner, would look incredible in a gown like this that blends both together seamlessly.