Zodiac Sign
Short Love Quotes: 287 Inspiring Sayings For Him And Her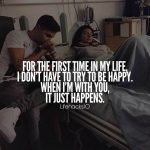 Looking for the right words to express your feelings to your partner? I'm happy to present you with the ultimate list of short love quotes for him and her!
Oh, love. Loving someone with all of our hearts feels as natural as breathing air, but when it comes to showing it with actions, few of us have that natural, inborn talent to convert our feelings into words and our words into love.
Many of us have been hurt in love, and when that happens, we become a little bit reserved.
With time, we lose the sense of our emotional side.
Also, many of us struggle with finding the right words at a given moment because of constant overthinking that we will fail at it.
If you want to become the master of romantic sayings filled with love or you just want to remind yourself of those heartwarming sensations, then short love quotes are everything you need and more!
But, don't let the title confuse you. Even though short, their messages are utterly powerful and inspirational.
They are perfect for surprising your loved one in terms of gifts, wedding vows, toast, romantic dinners, and more.
Whatever you choose, one thing is sure: Short love quotes can be applied in multiple events, and their impact stays forever!
SHORT LOVE QUOTES: 287 INSPIRING SAYINGS FOR HIM AND HER
"Love Is…" Quotes For Him And Her
1. "Love is when the other person's happiness is more important than your own." – H. Jackson Brown, Jr.
2. "Life is the flower for which love is the honey." – Victor Hugo
3. "To love and be loved is to feel the sun from both sides." – David Viscott
4. "Love's greatest gift is its ability to make everything it touches sacred." – Barbara de Angelis
5. "Love is the crowning grace of humanity, the holiest right of the soul, the golden link which binds us." – Petrarch
6. "It was love at first sight, at last sight, at ever and ever sight." – Vladimir Nabokov
7. "You can't blame gravity for falling in love." – Albert Einstein
8. "We are born of love; Love is our mother." – Rumi
9. "Love isn't something you find. Love is something that finds you." – Loretta Young
10. "Sometimes the heart sees what is invisible to the eye." – H. Jackson Brown, Jr.
11. "True love is eternal, infinite, and always like itself." – Honore de Balzac
12. "Let us always meet each other with smile, for the smile is the beginning of love." – Mother Teresa
13. "If I know what love is, it is because of you." – Hermann Hesse
14. "A woman knows the face of the man she loves as a sailor knows the open sea." – Honore de Balzac
15. "I look at you and see the rest of my life in front of my eyes."  – Unknown
16. "Love is friendship that has caught fire. […] It settles for less than perfection and makes allowances for human weaknesses." – Ann Landers
17. "I love you. I am at rest with you. I have come home." – Dorothy L. Sayers
18. "Love is when he gives you a piece of your soul, that you never knew was missing." – Torquato Tasso
19. "Immature love says: 'I love you because I need you.' Mature love says 'I need you because I love you.' " – Erich Fromm
20. "Love makes your soul crawl out from its hiding place." – Zora Neale Hurston
21. "Love is the magician that pulls man out of his own hat." – Ben Hecht
22. "A flower cannot blossom without sunshine, and man cannot live without love." – Max Muller
23. "We love but once, for once only are we perfectly equipped for loving." – Cyril Connolly
24. "Love is an act of endless forgiveness, a tender look which becomes a habit." – Peter Ustinov
25. "Love is like a friendship caught on fire. As love grows older, our hearts mature and our love becomes as coals, deep-burning and unquenchable." – Bruce Lee
26. "A new command I give you: Love one another. As I have loved you, so you must love one another." – Jesus Christ
27. "Love is like a beautiful flower which I may not touch, but whose fragrance makes the garden a place of delight just the same." – Helen Keller
28. "Suddenly we see that love costs all we are, and will ever be. Yet it is only love which sets us free." – Maya Angelou
29. "I would rather spend one lifetime with you than face all the ages of this world alone." – J.R.R. Tolkien
30. "Love takes off masks that we fear we cannot live without and know we cannot live within." – James Baldwin
31. "Love is a force more formidable than any other. It is invisible – it cannot be seen or measured, yet it is powerful enough to transform you in a moment, and offer you more joy than any material possession could." – Barbara de Angelis
32. "I have found the paradox, that if you love until it hurts, there can be no more hurt, only more love." – Mother Teresa
33. "Love is life. And if you miss love, you miss life." – Leo Buscaglia
34. "The sweetest of all sounds is that of the voice of the woman we love." – Jean de la Bruyere
35. "The most powerful weapon on earth is the human soul on fire." – Ferdinand Foch
Being In Love Quotes For Him And Her
36. "The most important thing in life is to learn how to give out love, and to let it come in." – Morrie Schwartz
37. "A kiss is a lovely trick designed by nature to stop speech when words become superfluous." – Ingrid Bergman
38. "There is no limit to the power of loving." – John Morton
39. "Love possesses not nor will it be possessed, for love is sufficient unto love." – Khalil Gibran
40. "Love is when you meet someone who tells you something new about yourself." – Andre Breton
41. "Love is never wrong." – Melissa Etheridge
42. "We love the things we love for what they are." – Robert Frost
43. "Being in love with you makes every day an interesting one." – Unknown
44. "I love you a lottle, it's like a little but a lot." – Unknown
45. "Speak low, if you speak love." – William Shakespeare
46. "If you love it enough, anything will talk with you." – George Washington Carver
47. "Where there is love, there is life." – Mahatma Gandhi
48. "Love comforteth like sunshine after rain." – William Shakespeare
49. "Love will find a way through paths where wolves fear to prey." – Lord Byron
50. "Loving you never was an option – it was necessity." – Unknown
51. "A man is already halfway in love with any woman who listens to him." – Brendan Francis
52. "Your love is all I need to feel complete." – Unknown
53. "There is more pleasure in loving than in being beloved." – Thomas Fuller
54. "If music be the food of love, play on." – William Shakespeare
55. "Stand by your man. Give him two arms to cling to and something warm to come to." – Tammy Wynette
56. "Love all, trust a few, do wrong to none." – William Shakespeare
57. "Time doesn't matter; love is forever." – Unknown
58. "Unable are the loved to die, for love is immortality." – Emily Dickinson
59. "Love is a better master than duty." – Albert Einstein
60. "What is love? It is the morning and the evening star." – Sinclair Lewis
61. "We love because it's the only true adventure." – Nikki Giovanni
62. "Every love story is beautiful, but ours is my favorite." – Unknown
63. "We accept the love we think we deserve." – Stephen Chbosky
64. "Love harder than any pain you've ever felt." – Unknown
65. "Love loves to love love." – James Joyce
66. "Love is friendship set on fire." – Jeremy Taylor
67. "I have found that if you love life, life will love you back." – Arthur Rubinstein
68. "Tis better to have loved and lost, than never to have loved at all." – Alfred Tennyson
69. "First love is only a little foolishness and a lot of curiosity." – George Bernard Shaw
70. "Love's gift cannot be given, it waits to be accepted." – Rabindranath Tagore
Love Quotes For Him And Her
71. "Genuine love involves not only passion, but also commitment and wisdom." – Unknown
72. "When love is at its best, one loves so much that he cannot forget." – Helen Hunt Jackson
73. "It is the time you have wasted for your rose that makes your rose so important." – Antoine de Saint-Exupéry
74. "Love is a trap. When it appears, we see only its light, not its shadows." – Paulo Coehlo
75. "Love is an energy which exists of itself. It is its own value." – Thornton Wilder
76. "Loving you is both my biggest weakness and greatest strength." – Unknown
77. "You're like the love of my dreams but better. You're real." – Unknown
78. "You're kinda, sorta, basically, pretty much always on my mind." – Unknown
79. "Your hand is the only one I ever need to hold." – Unknown
80. "You know you're in love when you can't fall asleep because the reality is finally better than your dreams." – Dr. Seuss
81. "When we love, we see the infinite in the finite. We find the Creator in the creation." – Eliphas Levi
82. "I look at you and see the rest of my life in front of my eyes." – Unknown
83. "When we are in love we seem to ourselves quite different from what we were before." – Blaise Pascal
84. "I am like a flower, which cannot live without the sun: I also cannot live without your love." – Unknown
85."To love is to return to a home we never left, to remember who we are." – Sam Keen
86. "The greatest happiness of life is the conviction that we are loved; loved for ourselves, or rather, loved in spite of ourselves." – Victor Hugo
87. "Tell me who you love and I'll tell you who you are." – Creole Proverb
88. "And remember, as it was written, to love another person is to see the face of God." – Les Miserables
89. "I will share all your sadness to make you cheerful, and all your joy to make you happy. We have one love for two." – Unknown
90. "Love is the great solvent of all difficulties, all problems, all misunderstandings." – White Eagle
91. "The best and most beautiful things in this world cannot be seen or even heard but must be felt with the heart." – Helen Keller
92. "And in the end, the love you take is equal to the love you make." – Paul McCartney
93. "Love and magic have a great deal in common. They enrich the soul, delight the heart. And they both take practice." – Nora Roberts
94. "When love is not madness, it is not love." – Pedro Calderon de la Barca
95. "I love it that you make me feel like we are the only two people in the world. Perhaps that is because you truly are my world." – Unknown
96. "Love in its essence is spiritual fire." – Seneca
97. "You turn my heart to jelly, my mind to mush and my skin melts. It's amazing that I don't dissolve in your hands." – Unknown
98. "Don't brood. Get on with living and loving. You don't have forever." – Leo Buscaglia
99. "Love is so short, forgetting is so long." – Pablo Neruda
100. "There is no need to say anything. Look into my eyes and you will see my soul and it will show you my love for you." – Unknown
101. "To love is nothing. To be loved is something. But to love and be loved, that's everything." – T. Tolis
102. "I have only one weakness and one strength: it's my love for you. Love is friendship set on fire." – Jeremy Taylor
103. "In order to be happy oneself it is necessary to make at least one other person happy." – Theodor Reik
104. "I swear I couldn't love you more than I do right now, and yet I know I will tomorrow." – Leo Christopher
105. "You don't love someone because they're perfect, you love them in spite of the fact that they're not." – Jodi Picoult
Boyfriend And Girlfriend In Love Quotes
106. "I would rather spend one lifetime with you than face all the ages of this world alone." – Lord of The Rings
107. "It is not a lack of love, but a lack of friendship that makes unhappy marriages." – Friedrich Nietzsche
108. "At the touch of love everyone becomes a poet." – Plato
109. "Pleasure of love lasts but a moment. Pain of love lasts a lifetime." – Bette Davis
110. "Love is like war: easy to begin but very hard to stop." – H. L. Mencken
111. "We are shaped and fashioned by those we love." – Geothe
112. "You have bewitched me body and soul, and I love, I love, I love you." – Love & Prejudice
113. "One word frees us of all the weight and pain of life: That word is love." – Sophocles
114. "I wish I could turn back the clock. I'd find you sooner and love you longer." Unknown
115. "The greatest thing you'll ever learn is to love and be loved in return." – Natalie Cole
116. "The only thing we never get enough of is love; and the only thing we never give enough of is love." – Henry Miller
117. "All you need is love. But a little chocolate now and then doesn't hurt." – Charles Schulz
118. "There is a madness in loving you, a lack of reason that makes it feel so flawless." – Leo Christopher
119. "All of me loves all of you." – John Legend
120. "I am going to need an oxygen tank if you keep taking my breath away." – Unknown
121. "I will never stop asking you to marry me, so that you always know that I love you as much as the day I first asked." – Unknown
122. "Thank you for taking care of me, for inspiring me, for believing in me, for encouraging me and, above all, for loving me." – Unknown
123. "There is no remedy for love but to love more." – Henry David Thoreau
124. "Do you love me because I am beautiful, or am I beautiful because you love me?" – Oscar Hammerstein II
125. "To fall in love is awfully simple, but to fall out of love is simply awful." – Bess Myerson
126. "All love is sweet – given or returned." – Percy Bysshe Shelley
127. "Thinking of you is easy – I do it every day. Missing you is the heartache, that never goes away." – Unknown
128. "Grow old along with me; the best is yet to be." – Robert Browning
129. "Friends show their love in times of trouble, not in happiness." – Euripides
130. "Let the beauty of what you love be what you do." – Rumi
131. "The art of love is largely the art of persistence." – Albert Ellis
132. "I don't need paradise because I found you; I don't need dreams because you've already come true." – Unknown
133. "My whole life I was a puzzle piece waiting to find its other half. Thank you for being my other half and completing me." – Unknown
134. "When I look into your eyes, I see the soul that was made especially for me." – Unknown
135. "My favorite place to be is together with you. Wherever you are is where I want to be." – Unknown
136. "For it was not into my ear you whispered, but into my heart. It was not my lips you kissed, but my soul." – Judy Garland
137. "The only reward for love is the experience of loving." – John le Carré
138. "You are my breath, my love, my very life." – Unknown
139. "May you live as long as you wish and love as long as you live." – Robert A. Heinlein
140. "The best proof of love is trust." – Joyce Brothers
Loving Him And Her Quotes
141. "It is impossible to love and to be wise." – Francis Bacon
142. "The fate of love is that it always seems too little or too much." – Amelia Barr
143. "If you have only one smile in you, give it to the people you love." – Maya Angelou
144. "A flower doesn't love you or hate you; it just exists." – Mike White
145. "I will never stop trying. Because when you find the one, you never give up." – Crazy Stupid Love
146. "I never want to stop making memories with you." — Pierre Jeanty
147. "And in her smile I see something more beautiful than the stars." — Across the Universe, Beth Revis​
148. "I knew the second I met you that there was something about you I needed. Turns out it wasn't something about you at all. It was just you."—​ Jamie McGuire
149. "All that you are is all that I'll ever need." — Ed Sheeran​, "Tenerife Sea"
150. "I love you without knowing how, or when, or from where. I love you simply, without problems or pride: I love you in this way because I don't know any other way of loving." — Pablo Neruda
151. "I love that you are the last person I want to talk to before I go to sleep at night." — When Harry Met Sally
152. "I want all of you, forever, you and me, every day."— The Notebook, Nicholas Sparks
153. "Death cannot stop true love. All it can do is delay it for a while."— The Princess Bride
154. "What do you want? You want the moon? Just say the word and I'll throw a lasso around it and pull it down. Hey. That's a pretty good idea. I'll give you the moon​" — It's A Wonderful Life
155. "I knew it the very first time I touched her. It was like coming home." —​ Sleepless in Seattle
156. "It would be a privilege to have my heart broken by you." — The Fault In Our Stars
157. "It seems right now that all I've ever done in my life is making my way here to you."— The Bridges of Madison County
158. "I love you as one loves certain dark things, secretly, between the shadow and the soul."— Pablo Neruda
159. "Take love, multiply it by infinity and take it to the depths of forever, and you still have only a glimpse of how I feel for you." — Meet Joe Black
160. "Here's looking at you, kid." — Casablanca
161. "He stepped down, trying not to look long at her, as if she were the sun, yet he saw her, like the sun, even without looking." — Anna Karenina
162. "Whatever our souls are made of, his and mine are the same."—​ Wuthering Heights, Emily Bronte
163. "Each time you happen to me all over again." — The Age of Innocence, Edith Wharton
164. "Being deeply loved by someone gives you strength, while loving someone deeply gives you courage." — Lao Tzu
165. "You don't love someone for their looks, or their clothes, or for their fancy car, but because they sing a song only you can hear." — Oscar Wilde
166. "To be fully seen by somebody, then, and be loved anyhow — this is a human offering that can border on miraculous." — Elizabeth Gilbert
167. "Only once in your life, I truly believe, you find someone who can completely turn your world around." — Bob Marley
168. "I think I'd miss you even if we'd never met." — The Wedding Date
169. "I want to do with you what spring does with the cherry trees." ― Pablo Neruda
170. "Maybe…you'll fall in love with me all over again." – Unknown
171. "Hell, I said, "I love you enough now. What do you want to do? Ruin me? "Yes. I want to ruin you." "Good," I said. "That's what I want too." ― A Farewell to Arms, Ernest Hemingway
172. "If you remember me, then I don't care if everyone else forgets." ― Kafka on the Shore, Haruki Murakami
173. "The best thing to hold onto in life is each other." — Audrey Hepburn
174. "So, I love you because the entire universe conspired to help me find you." ― Paulo Coehlo
175. "I love her, and that's the beginning and end of everything." — F. Scott Fitzgerald ​​
Quotes About Love For Him And Her
176. "You may not be her first, her last, or her only. She loved before she may love again. But if she loves you now, what else matters?" — Bob Marley
177. "I hope you don't mind that I put down in words how wonderful life is while you're in the world." — Elton John, "Your Song"
178. "I love you and I like you." — Leslie Knope, Parks & Recreation
179. "All I understood was that she was the girl I sat up every night thinking about and when I'm with her I feel happy to be alive, like I can do anything, even talk to you like this. So that's what I feel is love, when I'm better because she's here." — Boy Meets World
180. "It's like, it's not even real to me. It's like, my life, isn't even real to me, unless you're there, and you're in it, and I'm sharing it with you." — Gilmore Girls
181. "I love you. I knew it the minute I met you. I'm sorry it took so long for me to catch up. I just got stuck." — The Silver Linings Playbook
182. "It's like in that moment the whole universe existed just to bring us together." — Serendipity
183. "I've come here with no expectations, only to profess, now that I am at liberty to do so, that my heart is, and always will be, yours." — Sense and Sensibility, Jane Austen
184. "Love is a friendship set to music." — Joseph Campbell
185. "Since I met you this small town hasn't got room for my big feelings." — "Violently Happy", Bjork
186. "Chemistry is you touching my arm and setting fire to my mind."— Nayyirah Waheed​
187. "I like you very much. Just as you are."— Bridget Jones' Diary
188. "We loved with a love that was more than love." — "Annabel Lee,", Edgar Allen Poe
189. "How odd I can have all this inside me and to you it's just words." — David Foster Wallace
190. "If you were in an accident, I wouldn't stop for red lights." — The West Wing
191. "From the moment I saw her I knew this one was worth the broken heart." ― Atticus
192. "Love is the outreach of self toward completion." – Ralph W. Sockman
193. "I am in you and you in me, mutual in divine love." – William Blake
194. "Love is the flower you've got to let grow." – John Lennon
195. "Love begins by taking care of the closest ones – the ones at home." – Mother Teresa
196. "The course of true love never did run smooth." – William Shakespeare
197. "Life without love is like a tree without blossoms or fruit." – Khalil Gibran
198. "No matter how dark the moment, love and hope are always possible." – George Chakiris
199. "Love is the beauty of the soul."– Saint Augustine
200. "True love is selfless. It is prepared to sacrifice." – Sadhu Vaswani
201. "Love planted a rose, and the world turned sweet." – Katharine Lee Bates
202. "I love you more than my own skin." – Frida Kahlo
203. "Love is flower-like; Friendship is like a sheltering tree." – Samuel Taylor Coleridge
204. "Love does not claim possession but gives freedom." – Rabindranath Tagore
205. "I have found that if you love life, life will love you back." – Arthur Rubinstein
Short Lovely Quotes For Him And Her
206. "When love is at its best, one loves so much that he cannot forget." – Helen Hunt Jackson
207. "Eternity is in love with the productions of time." – William Blake
208. "If thou must love me, let it be for naught except for love's sake only." – Elizabeth Barrett Browning
209. "People confuse ego, lust, insecurity with true love." – Simon Cowell
210. "I love you – I am at rest with you – I have come home." – Dorothy L. Sayers
211. "Love is like a virus. It can happen to anybody at any time." – Maya Angelou
212. "A lot of good love can happen in ten years." – Jim Carrey
213. "Love is not to be purchased, and affection has no price." – St. Jerome
214. "If I love you, I show you I love you every day. Little things, big things." – Dwayne Johnson
215. "There is a woman at the beginning of all great things." – Alphonse de Lamartine
216. "The body of a beautiful woman is not made for love; it is too exquisite." – Henri de Toulouse-Lautrec
217. "To love oneself is the beginning of a lifelong romance." – Oscar Wilde
218. "I love you all too much; it's one of just of my problems." – Herve Villechaize
219. "My love for you is a journey; Starting at forever, and ending at never." – Unknown
220. "I love you – those three words have my life in them." – Unknown
221. "I love your feet because they have wandered over the earth and through the wind and water until they brought you to me." – Pablo Neruda, Your Feet
222. "Some people are worth melting for." – Olaf, Frozen
223. "It is a treasure that is outshined by what it means…eternal romance." —Theresa Ann Moore, "Engagement Ring"
224. "Yours is the light by which my spirit's born: yours is the darkness of my soul's return – you are my sun, my moon, and all my stars." —E.E. Cummings
225. "Hold my hand and we are halfway there; hold my hand and I'll take you there." —Maria, West Side Story
226. "True happiness comes from the joy of deeds well done, the zest of creating things new." —Antoine de Saint-Exupéry
227. "If the sun refused to shine, I would still be loving you. When mountains crumble to the sea, there will still be you and me." —Led Zeppelin, "Thank You"
228. "Love is composed of a single soul inhabiting two bodies." —Aristotle
229. "I love you right up to the moon—and back." —Sam McBratney, Guess How Much I Love You
230. "The ring of fire still burns around you and I, keeping our love hotter than a pepper sprout." —Johnny Cash
Loving Quotes For Him And Her
231. "Where words fail, music speaks." —Hans Christian Andersen
232. "I know by experience that the poets are right: love is eternal." —E.M. Forster
233. "Love must be as much a light as it is a flame." —Henry David Thoreau
234. "And think not that you can direct the course of love, for love, if it finds you worthy, directs your course." —Khalil Gibran, The Prophet
235. "Sweet wonderful you / You make me happy with the things you do. Oh can it be so / This feeling follows me where I go." —Fleetwood Mac, "You Make Loving Fun"
236. "I wish I'd done everything on Earth with you." —F. Scott Fitzgerald, The Great Gatsby
237. "Love is keeping the promise anyway." —John Green, The Fault in Our Stars
238. "More than kisses, letters mingle souls." —John Donne
239. "It's delightful when your imaginations come true, isn't it?" —L.M. Montgomery, Anne of Green Gable
240. "To be fond of dancing was a certain step towards falling in love." —Jane Austen, Pride and Prejudice
241. "The best love is the kind that awakens the soul and makes us reach for more, that plants a fire in our hearts and brings peace to our minds." —Nicholas Sparks, The Notebook
242. "Where your treasure is, there will be your heart also." —Harry Potter and the Deathly Hallows
243. "Love has nothing to do with what you are expecting to get, only with what you are expecting to give—which is everything." —Katharine Hepburn, actress
244. "Deep in my soul I know that I'm your destiny." —Raven-Symoné, "True To Your Heart" from Mulan
245.  "Two hearts can enlighten the whole world." —Sir Kristian Goldmund Aumann
246.  "Hear my soul speak. Of the very instant that I saw you, did my heart fly at your service." —William Shakespeare, The Tempest (Act 3, Scene 1)
247. "I like to believe that love is a reciprocal thing, that it can't really be felt, truly, by one." —Sean Penn, actor
248. "You meet thousands of people and none of them really touch you. And then you meet one person, and your life is changed. Forever."  —Jamie, Love and Other Drugs
249. "I love how she makes me feel, like anything is possible, or like life is worth it." —Tom, (500) Days of Summer
250. "We should love, not fall in love, because everything that falls gets broken." —Taylor Swift
251. "Love love and cherish life. Also, just eat the cake." —Aaron Paul
252. "True love is not a strong, fiery, impetuous passion. It is, on the contrary, an element calm and deep. It looks beyond mere externals, and is attracted by qualities alone. It is wise and discriminating, and its devotion is real and abiding." —Ellen G. White, Christian pioneer
253. "I know no ways to mince it in love, but directly to say 'I love you." —William Shakespeare, Henry V (Act 5, Scene 2)
254. "No matter what challenges might carry us apart, we will always find a way back to each other." —Leo, The Vow
255. "To be brave is to love unconditionally without expecting anything in return." —Madonna
I Love You Quotes For Him And Her
256. "When all my dreams come true, the one I want next to me, it's you." —Lucas, One Tree Hill
257. "True love stories never have endings." —Richard Bach
258. "Most of all, I'm scared of walking out of this room and never feeling the rest of my life the way I feel when I'm with you." —Baby, Dirty Dancing
259. "Love is a canvas furnished by nature and embroidered by the imagination." —Voltaire
260. "I promise you to lay my heart in the palm of your hands. I promise you me."—Meredith Grey, Grey's Anatomy
261. "Your heart is free, have the courage to follow it." —Malcolm Wallace, Braveheart
262. "To live without loving is to not really live." —Molière
263. "Love is a smoke made with the fume of sighs." – William Shakespeare
264. "Love and compassion are necessities, not luxuries. Without them humanity cannot survive." – Dalai Lama
265. "Love doesn't make the world go 'round. Love is what makes the ride worthwhile." – Franklin P. Jones
266. "Lord, grant that I might not so much seek to be loved as to love."- Francis of Assisi
267. "Man must evolve for all human conflict a method which rejects revenge, aggression and retaliation. The foundation of such a method is love." – Martin Luther King, Jr."
268. "We love life, not because we are used to living but because we are used to loving." – Friedrich Nietzsche
269. "Love does not consist in gazing at each other, but in looking outward together in the same direction." – Antoine de Saint-Exupery
270. "Love is an irresistible desire to be irresistibly desired." – Robert Frost
271. "True love is like ghosts, which everyone talks about and few have seen." – Francois de La Rochefoucauld
272. "A gentle heart is tied with an easy thread." – George Herbert
273. "If you can learn to love yourself and all the flaws, you can love other people so much better. And that makes you so happy." – Kristin Chenoweth
274. "Keep love in your heart. A life without it is like a sunless garden when the flowers are dead." – Oscar Wilde
275. "Love is stronger than death." – Robert Fulghum
276. "To good and true love fear is forever affixed." – Francois Rabelais
277. "Love is of all passions the strongest, for it attacks simultaneously the head, the heart and the senses." – Lao Tzu
278. "If you wish to be loved, love." – Seneca
279. "Spread love everywhere you go. Let no one ever come to you without leaving happier." – Mother Teresa
280. "The way to love anything is to realize that it may be lost." – Gilbert K. Chesterton
281. "Love is the only reality and it is not a mere sentiment. It is the ultimate truth that lies at the heart of creation." – Rabindranath Tagore
282. "I have decided to stick with love. Hate is too great a burden to bear." – Martin Luther King, Jr."
283. "Love is a sacred reserve of energy; it is like the blood of spiritual evolution." – Pierre Teilhard de Chardin
284.  "When I fall in love, it will be forever." —Jane Austen, Sense and Sensibility
285. "Love is absolute loyalty. People fade, looks fade, but loyalty never fades. You can depend so much on certain people; you can set your watch by them. And that's love, even if it doesn't seem very exciting." – Sylvester Stallone
286. "Three words. Eight letters. Say it, and I'm yours." – Blair Waldorf, Gossip Girl
287. "You are the last thought in my mind before I drift off to sleep and the first thought when I wake up each morning." – Unknown