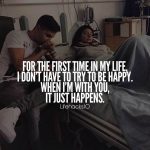 You want to express to your girlfriend how much you care for her and how much she means to you, but you're not exactly one for poetic love declarations? Well, you're in the right place! Here, you will be able to find an array of ideas on how to tell her in the cutest way possible what she means to you, without having to rack your brain.
Words really can make all the difference, and you never know when it might just be what she needs to hear to brighten her day. Saying 'I love you' is always a good idea, but here, you can find a little more creative and more thoughtful ways to express your feelings toward her.
Enjoy reading, and hopefully you'll find these helpful in your quest!
Cute things to say to your girlfriend
1. When I say goodbye to you, I immediately start counting down the hours before I get to see your beautiful smile again.
2. You will never understand how special it makes me feel, getting to wake up to you every single morning. I pray to God it never stops.
3. The reason I keep telling you how much I love you is because I want that to be the last thing you think of before going to bed.
4. All the stars in the sky can't measure up to the beauty that your soul radiates.
5. You are my shoulder to lean on, and being the same for you is all I aspire to be.
6. There is no one in this world I want to share my happiness with more than you.
7. The day I met you will always be my favorite day in the world—until the day you agree to marry me.
8. You are the first thing I want to see when I open my eyes and the last thing I want to lay my eyes on before going to sleep.
9. In this world of temporary people, you made me believe in forever again.
10. When I prayed to God to bless me with someone special, I had no idea how blessed I could actually be.
11. You deserve the world! But since I can't give it to you, having you as my whole world will just have to suffice.
12. You are my dream come true, and I will follow you to the ends of the Earth.
13. You are the kind of person people make movies about. Only, you're real and you're mine. How lucky am I?
14. When I'm with you, it's like the entire world stops, and all that exists is me and you.
15. I love that I can share my pain with you, and you will never judge me. But most of all, I love that I get to share all my happy days with you for as long as I live.
16. Everybody seems to have their lucky charms. But I don't need them. I have you!
17. You are my best friend, my companion and my forever person. I will never stop trying to make you happy, for as long as will let me.
18. The attraction I feel for you goes beyond words. You know how magnets are attracted to metal? That is how my heart feels when it's around you!
19. I love every single thing about you, but what I love the most are those little moments that you don't even think about, but when they're over, that's all you want for the rest of your life. That is how I feel when I'm with you.
20. All love is sweet, but when it's with you, it's sweeter than sugar.
21. Life used to be so dark and gloomy for me, but the day I met you, you brought constant sunshine into my life, and it hasn't left for a minute. Thank you for being the sun to my dark days!
22. Sometimes, I have to pinch myself and remind myself that I am not dreaming. It's just hard to believe that someone as amazing as you are can be real and choose me as the lucky guy who gets to spend his life with you.
23. I could spend my entire days with you, and I could still never get enough of you.
24. Love is knowing that the other person is not perfect, but loving them through their flaws. To me, you are the closest thing to perfection, and every flaw you may think you have is all the more reason that I love you.
25. I don't care what you look like. You could be dressed to the nines or having just woken up, dressed in your pajamas. You are beautiful to me in every shape and form! Never change for anyone. You are amazing the way you are.
26. My mission in life is to show you that you and I are it. That this can work. I want to prove to you that when I say, "I love you", I really mean it, and I want you to feel it every day for the rest of your life. You are my priority, and I will never stop fighting for you.
27. You are my dream come true. And now that you're here, all I want is to grow old side by side, and tell our grandchildren how in love we were, and how in love we still are to this day. I want them to see that real love knows no bounds.
28. Having you in my life means always having somebody I can count on. Even when you're not with me, I know you are always a call away. That is one of many reason why I love you.
29. You have shown me that all my previous heartbreaks and all of the sadness I used to know all too well was what was necessary in order to get to you. And now that I have you, I know my sad days are behind me.
30. I was always told that when I meet the one, I would just know. And for so long, I had no idea, but then I met you, and I knew from the second I saw you. And now I know what they were talking about.
31. I love watching late night tv with you on the couch. I love how you can never watch through an entire movie, and you always fall asleep on my chest. That is one of my favorite things in the world, and I never want those moments to end.
32. Every time I see you, you brighten up my day and increase my motivation.
33. Knowing that I get to see your beautiful soul every day is what gets me through most days. No matter how challenging it might be sometimes, you are always the thing I look forward to seeing the most.
34. You are one of the most beautiful human beings on this Earth. But what stands out even more than your physical beauty is the kindness that you radiate everywhere you go. Your inner beauty is unparalleled.
35. Your beautiful smile makes all of my sadness disappear.
36. Even on the cloudiest days, the sun always shines when I'm with you.
37. You are the most precious thing I've ever had in my life, and I promise I will never take our love for granted.
38. No matter where life takes us, know that you will always be the only one for me.
39. There are so many beautiful people on this planet, but none of them compare to how you make me feel.
40. Before you, I never knew what true love was. I was going through life thinking maybe it just wasn't meant to be for me. But then I met you, and all the stars in the sky aligned. I've found my one. I never want to let you go.
41. You are the only person who understands me without me having to say a word. It's like you're in my head. It's scary how compatible you are with me.
42. You are so magical, and if anyone ever told me I would be so lucky to spend my life with you, I would tell them they were crazy. But here we are. I guess miracles do happen.
43. Every place I go, there is something there that reminds me of you! I guess you're on my mind a lot. Please never leave me because I already cannot imagine life without you.
44. You are easily the best thing that has ever happened to me. With you, I finally feel complete.
45. To the love of my life: I cherish you above all else. I promise to always put a beautiful smile on that radiant face, and I pray to God life never separates us because you are my lucky charm that I am never going to be ready to give away.
46. I used to be afraid to close my eyes because I never knew what I would dream of, but since meeting you, I don't have to be afraid anymore. You are my dream!
47. Do you know how I know this thing we have is real? No matter how horrible of a day I'm having, the second I think of you, there is a smile on my face. I can't help it.
48. I used to be afraid of the idea of forever. But then you walked in and erased all of my fears. Now the only thing on my mind when somebody says 'forever' is you.
49. I hope I can give you everything you want in life. You deserve everything you wish for and more, and I hope I can be the person who makes your dreams come true.
50. When I'm with you, my smile can never fade, and my love can never disappear.
51. You are perfect just the way you are, and I hope you can see that as clearly as I can.
52. When people talk about their biggest accomplishments and things they are most proud of, the only thing I can talk about is you.
53. Since there are no words to express how much I adore you, come here and let me show you with a thousand kisses.
54. When I'm sad, you are my happiness. When I'm weak, you are my strength. When I'm a mess, you're the glue that keeps me together! With you, I can never go wrong, and I will never stop appreciating your kind, selfless heart.
55. Your beauty on the outside is divine, but the beauty inside your heart is what dreams are made of.
56. All the stars in the sky cannot count the ways in which I love you. I could start explaining, but I would never be done talking. Every single day, I discover a new reason to love you.
57. I am so happy that everything in my life has been paving the way toward you. And now that I've found you, I never plan on letting you go.