Zodiac Sign
10 Ways To Satisfy Your Gemini Man Or Boyfriend In B*d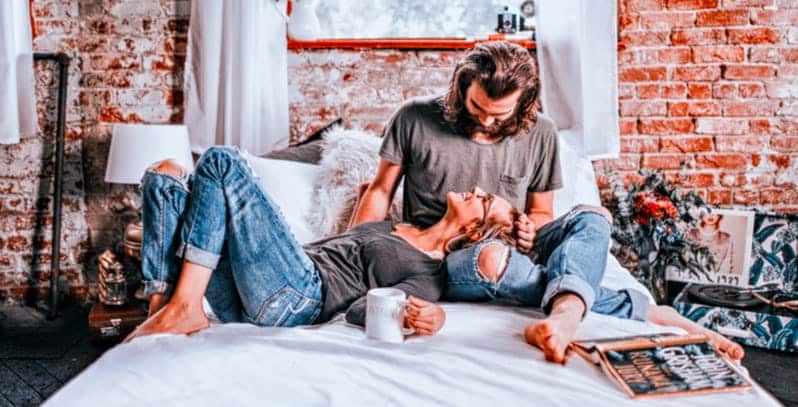 A Gemini man is one of those guys you can't easily resist; he is charismatic, flirty and charming. But if you think you can develop some long-term relationship with him, you can pack your bags and leave now because he is definitely not hubby material. I am not saying he doesn't like women—he likes everything about them. He likes the way they dress up for him, the way they smile to seduce him and all the stories that they have to tell.
I am just saying that a man born under this sign has a restless spirit and that he can't be in one place for a long time. Well, for all of you ladies who don't need a man like this for a long-term relationship but instead for just some fun, here are some proven ways on how you can satisfy a man like this in bed. So stay tuned!
1. He likes it kinky
Gemini people are known for being bored with the same things that happen all the time. So, if you want to satisfy a Gemini man in bed, you will have to go the extra mile. I am not saying that you will have to have a threesome but that may be included as well. He would be very turned on if he saw you making out with another woman, that's for sure. What he likes the most is using different sex toys. He wants you to use them on him so he can experience more new things. He is not ashamed to suggest to you some things that he wants to try even if you may not be okay with them. In the end, no matter how much you want to please him, don't forget that he is not the only one who needs to enjoy sex.
2. Have a sense of humor
This can be a big turn-on for a Gemini man. He simply likes a woman with a sense of humor because even if something awkward happens, she will turn it into a joke. So, if you want to seduce your man in bed, try to be fun. I am sure he will like you even more. You can talk about some funny situations that both of you had and that you can laugh at. It will be easier to move to the next step once the two of you are in a good mood. Try—there is nothing you can lose!
3. Tell him what you like
A Gemini man has one goal and one goal only—to satisfy you! I am not saying that he doesn't want to be pleased but he knows that once he pleases you, that you will do the same for him. He wants you to tell him all that you want him to do to you and he will do it all without a problem. His ego will be boosted if he knows that he satisfied you in bed so he will be able to lie down and enjoy his victory.
4. Diversity is key
A Gemini man likes to experiment with different things in bed so he won't hesitate to ask you to try something new. If you don't like something, he will skip it but that is not a guarantee that you will still be his chick. The catch is that if he doesn't get what he wants from one woman he will just seek it from another one. So, try to please him by trying new things with him but don't forget to enjoy it as well.
5. Surprise him
A man born in this sign likes new things. If the two of you always go to the same places and use the same positions in bed, he won't be so satisfied. So, in order to please him, you can arrange a vacation over the weekend in some village house, far away from others, where you will spend the whole weekend in bed with him. He will see that you are making an effort and he will pay you back in the same way.
6. Sexy lingerie
There isn't a man alive who doesn't like to see his woman wearing something sexy. So, be creative and find out what he wants. Is it lace, silk or maybe a nurse's costume? There are a million possibilities and you just need to find out what your man likes. I bet you will sweep him off his feet when he sees you in black lingerie and high heels and holding a bottle of champagne. Who could resist this?
7. Dirty talk
Most men like dirty talk but a Gemini man especially likes it. He likes when a woman moans and talks dirty while giving him a blowjob or when she tells him what she wants him to do to her. This is a big turn-on for every Gemini man and it can get him going. And the craziest thing is that they don't just listen to women doing it, but they do it themselves. So, the next time you want to be a freak in the sheets, try some dirty talk and when your man is turned on enough, he will talk dirty as well. Who says dirty talk is for women only?
8. Show emotions
Believe it or not, a Gemini man is very emotional when making love. He wants to please his partner but he also wants to form a deeper bond with her. So, just pure sex is not really his thing and he enjoys it better when he actually has feelings for a woman he is sleeping with. So, don't be afraid to show your emotions and to tell him that you love him if you feel that way. It will mean the world to him.
9. Quickie is essential
A Gemini likes to have sex that lasts a long time but he also enjoys quickies in some public places where there is a possibility that someone will see him. In this way his adrenalin gets higher and he can come faster than usual. So, if you want to satisfy him when you are out to dinner, tell him to go to the toilet together and do it there. I bet he will want you even more because of your sense of creativity and your courage to try something new.
10. Talk to him
The bed is not just reserved for action, you can talk there as well if you like. This time I am not saying that you should talk dirty but that you should tell him that you had a nice time with him and that you want to do it again. He likes the feeling that everything is fine with your relationship and that he has found a life partner. This man hears all that you have to say and, like your best friend, he will support you in anything you decide.