Love advice
5 Things I Learned From Loving A Man Who Didn't Love Me Back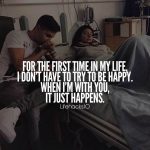 Have you ever loved someone who couldn't or didn't want to give you back the love you gave him, despite all of your efforts and sacrifices? You waste years of your life, expecting that things will eventually change and that he'll finally understand that you are the one.
But after a while, you look the harsh truth directly in the eyes, and you realize that none of this is happening. You realize that he will never love you enough, that you've trapped yourself in this endless circle of unrequited love and that the only option you have is to break things off with this man once for all.
Because this is exactly what I've been through. And it was one of the most painful experiences of my life.
But it also taught me some valuable life lessons and here are 5 of them.
1. You don't always get the amount of love you give
When I was younger, I thought that love was always mutual. I thought that in order for someone to love you, all you have to do is to put enough effort into this person. I thought that if you want someone to love you for real, all you have to do is to give them enough of your love.
But life has taught me differently. The truth is that sometimes, some people won't love you back, no matter how much of yourself you give them and no matter how much you care for them.
My failed relationship has taught me that some people won't love you back, no matter how much you love them. And that is just something you have to deal with, whether you like it or not because there is nothing you can do about it.
2. Some people are incapable of loving
Another thing I've learned from loving a man who didn't give me back his love is that we all have different capacities to feel and that some people are even completely incapable of loving. And when you encounter these people, you can't save them, as much as you want to. It doesn't have to mean that they are emotionally broken. It is just the way they are, and that way is different than yours.
For some, a certain amount of love is more than enough, and it is everything they can give to another person. At the same time, for some, that amount won't be enough because they can give more, and they expect to get more in return.
3. If he treats you like he doesn't love you, believe him
Maybe the most important lesson my heartbreak has taught me is that someone's effort is a reflection of their love for you. For a long time, I was looking for excuses for my ex's behavior. I lied to myself that he was emotionally unavailable or that he loved me in his own special way which he wasn't showing. It took me a while before I realized that this was just me not wanting to accept that this man didn't love me enough.
This might sound harsh, but you can't keep justifying someone and turning your head away from the truth. If someone treats you like they don't give a damn about you, you better believe them because that is the only truth.
4. Never love anyone more than you love yourself
After everything I've been through with my ex boyfriend, I learned that no one deserved me to love him more than I love myself because nobody is more important than myself. I am not saying that I've become selfish. I've just learned to put myself first, to take care of myself and to meet my own needs before anyone else's.
You can't ask for appreciation and respect until you respect and appreciate yourself. You can't ask someone to love you until you learn to love yourself.
When my ex and I parted ways for good, I thought I would never recover from that overwhelming and all-consuming pain. I was convinced that I would spend the rest of my life crying for this guy and that I would never put myself back together.
But guess, what? To my own surprise, I did recover. Against all odds, I survived and I healed.
Everything that went on showed me everything I was capable of. It showed me that life always goes on, even when you think that there is no way out. It showed me that I can't be broken so easily, even when my heart is crushed to million pieces. And most of all, it showed me that I was much stronger than I thought.