Zodiac Sign
14 Smart Ways To Make A Libra Man Fall In Love With You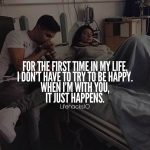 Libra is one of the most loving and sensitive zodiac signs and since it is ruled by the planet Venus, you can rarely see them single. They love to love and be loved and they believe in eternal love. When they fall in love, they fall hard and there isn't a thing they wouldn't do for their significant one. Libras are known to be sweet, sensitive and the one who always goes the extra mile in love relationships. But if you were wondering how to win the heart of that kind of perfect man, worry no more.
Here is a list of the things every Libra man loves the most and if you practice them, you will be the one who will make a Libra man fall in love with you. In the blink of an eye, he will be head over heels in love with you and you can bet that he will do anything to make you feel good and loved. Trust me, a man like this a true keeper!
1. Be confident
It is a known fact that Libra men are attracted to confidence, so if you don't have it, you should work on that. They like to have a partner who feels good in their own skin and who doesn't compete with others to look good. They like girls who are down to earth and any kind of extremism will just push them away. So, just be confident enough and know your worth. Every Libra will recognize that and he will stick to you.
2. Be spontaneous
When you meet a Libra, you will see that they like spontaneity and that they enjoy crazy things. So, when you are with them, you can relax a little bit more and do things that you didn't think you will ever try. They simply like to see that their partner feels good in their own skin and that they are happy with their life.
3. Compliment him
All the astrologist agree that Libra men like to be complimented so that can be your strongest weapon. Compliment him about the things he does because you will boost his ego in that way and he will feel as if he pleases all your needs.
4. Dress elegant
Clothes are quite important in a relationship with a Libra man because he hates short skirts and tops but likes women who dress elegant. Taste is something that has a high price to him and he cherishes women who can dress elegantly and still be seductive.
5. Play hard to get
When you see that a Libra man is interested in you, start a new tactic of seduction. Tell him that you have your own things going on and that you will meet him after. Don't answer immediately when he calls or texts but let him chase you. If he sees you are easy to get, he will lose interest immediately.
6. Don't be clingy
The worst thing that you can do is to be clingy around a Libra man. He loves his freedom the most and if you act all needy, he will lose interest in you. Show him that you are good on your own and that you are having fun even if he is not there. That will show him that you are independent and he will like you even more.
7. Be patient
Libra is known as someone who changes his mind 100 times in a day and in the end, you really don't know what he wants. Be patient because he doesn't know how to act differently. He is trying the best he can to have a normal relationship with you but sometimes he just needs more time to make up his mind. And if you give it to him, he will cherish you more than you think.
8. Be mysterious
You don't need to tell him all about yourself. Keep some things for you only and make sure that he makes some effort to get to know you better. If you tell him all about you at first, you won't be interesting to him and you will just push him away. Be smart and leave some things for yourself only.
9. Keep it simple
When you meet a Libra man, you won't be able to make him open up to you emotionally right away. That's why you should be patient and try to win him over in a different way. Invite him for dinner, light some candles and walk with him in the moonlight. That kind of traditional romance will definitely make him fall for you.
10. Get out of your comfort zone
Don't just stick to the familiar things, but make sure that you try something you thought you would never do. Show him that you ready for some challenges and action and that you are not afraid of dealing with new things in your life. He will admire you and it will make him fall for you. Who wouldn't?
11. Surprise him
Every Libra man likes small surprises. It can be dinner prepared just for him or tickets to his favorite movie. These unexpected happenings will mean a lot to him. If you do this, he will think that you cherish him and that you are wife material. I am sure he will be happy to have someone like you around and he will go the extra mile to keep you as a part of his life.
12. Be kind when you are with him
If you want to make a Libra man fall in love with you, you should be honest and kind. If he sees that you help others who have problems, it will make you perfect in his eyes and he will fall head over heels in love with you. He simply loves good people and it will mean a lot to him to have an honest and good partner like you.
13. Don't pressure him
It is a fact that you can't push any man to do things he is not ready for and you won't be able to that with Libra as well. So, if you see that he is not ready for some things, for example commitment, give him time to make up his mind. If you pressure him to do something as soon as possible, there is a chance he will just walk away.
14. Be thankful
I am sure your Libra does his very best to make you feel good, so you can also try to be kind and thankful to him. Don't forget to tell him that you cherish all his attention and the things he does for you. He will be glad to hear that and you will feel good. And if you continue with that kind of behavior, you might succeed in making a long-term relationship.