Love advice
Shawn Mendes Shares The Details Of His Relationship With Hailey Baldwin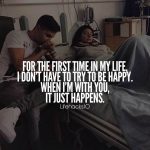 Shawn Mendes finally confirmed that the rumors were true–before Hailey Baldwin became a Bieber, she dated Mendes for a brief time. In an interview with Rolling Stone, Mendes shared a few details about the relationship, admitting that it was all a bit confusing.
Rumors circulated about the model's relationship with the singer when they were seen together at the Met Gala in May. Baldwin arrived at the Gala as Mendes's date, and the two appeared to be very snuggly the entire evening. Several photos from the evening, which Mendes shared on his Instagram, showed Baldwin smiling lovingly at him and laughing with him. At one point, Mendes helped Baldwin adjust her (very cute) dress for photos, which sent fans into a frenzy and sparked countless discussions about their relationship. The couple was also spotted hugging near Mendes's hometown following the Gala, but Mendes insisted in interviews that the two were just good friends, until recently. During an in-depth interview with 
Rolling Stone 
this month, he admitted that he and Baldwin were more than friends at one point. However, he never actually called what they had a relationship, refusing to put any title on it. Instead, he referred to it as "a zone of limbo." Mendes didn't seem to know where he and Baldwin stood. In an earlier interview with 
Cosmopolitan
, when Baldwin started dating Justin Bieber, Mendes admitted that he didn't know anything about their relationship, but he loves them both and called them "really awesome people." Mendes also explained how he felt when Baldwin and Bieber got engaged just one month after she went to the Gala with Mendes. Baldwin unfollowed Mendes on Instagram once she got engaged. Mendes told 
Rolling Stone
 that he understoodwhy she did it, and that he's happy for her and Bieber. He even sent her a nice "Congratulations" text. "She's not just a beautiful person visually, but she's one of the most beautiful hearts I've ever met," he said. Fans speculated that Bieber's verse on DJ Khaled's hit single "No Brainer" took a few jabs at Mendes, saying it's a no-brainer that Baldwin chose Bieber instead. Baldwin, who recently started going by the last name Bieber, hasn't responded to Mendes's comments about the past relationship. She and Bieber have been pretty busy recently settling into their new marriage.