Zodiac Sign
SAGITTARIUS TATTOO: 50+ TATTOO IDEAS FOR WOMEN
Sagittarius lady is magnetic, authentic, fierce, and super energetic. There's no one who can compete with her charm.
She's a fierce woman with a vagabond soul, liberated from all social taboos.
If you're a Sag lady looking for an idea for a Sagittarius tattoo to best represent your strong spirit, keep on reading.
We've collected the most beautiful Sagittarius tattoo ideas to inspire you.
1. Simple and elegant one-word tattoo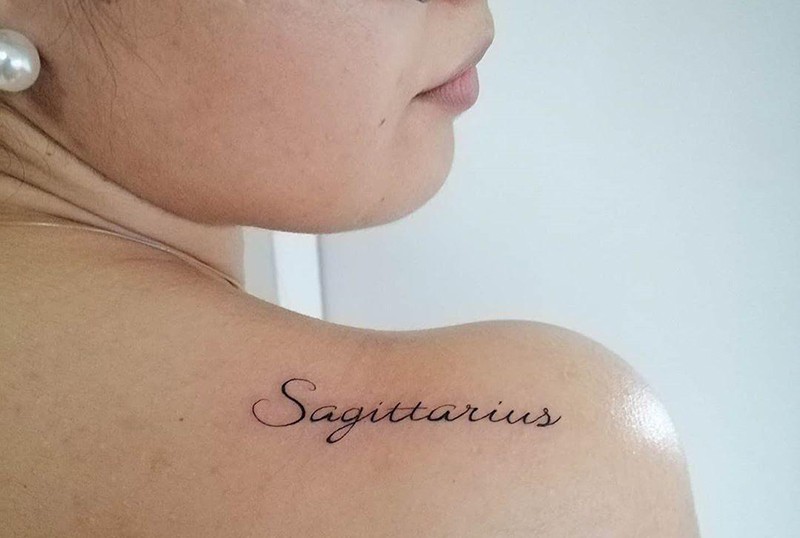 This is a great zodiac sign tattoo for someone who's decided to get their first ever tattoo. It's super simple and easy to hide under work clothes (if necessary).
Elegant and delicate, it will suit any lady.
2. Blue haired girl pulling an arrow tattoo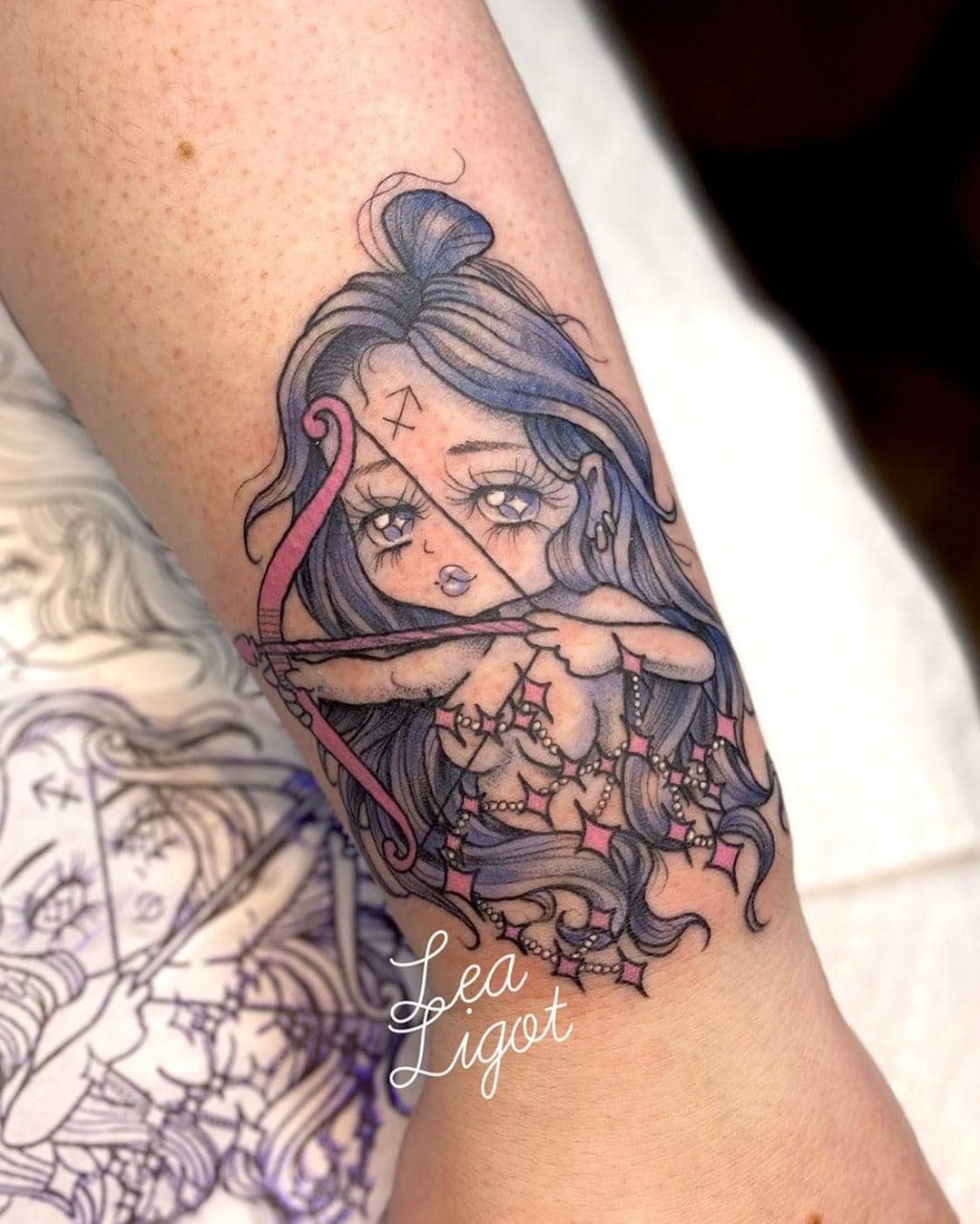 A beautiful archer girl with blue hair is one of the prettiest Sagittarius tattoos ever. It has some color, but not too much, and it's great for someone who's bold but in search of something simple.
3. Centaur constellation and Jupiter symbol arm tattoo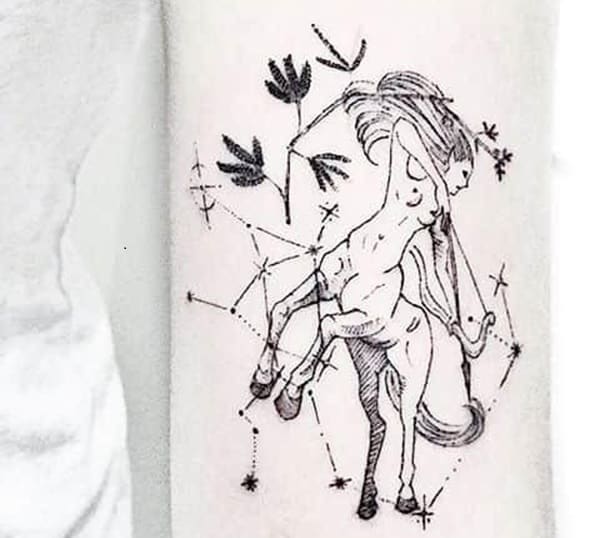 This half human- half horse creature placed perfectly within a Sag constellation with an added Jupiter symbol is complex and yet so simple. It's a great choice for anyone.
4. A Jupiter symbol tattoo on the neck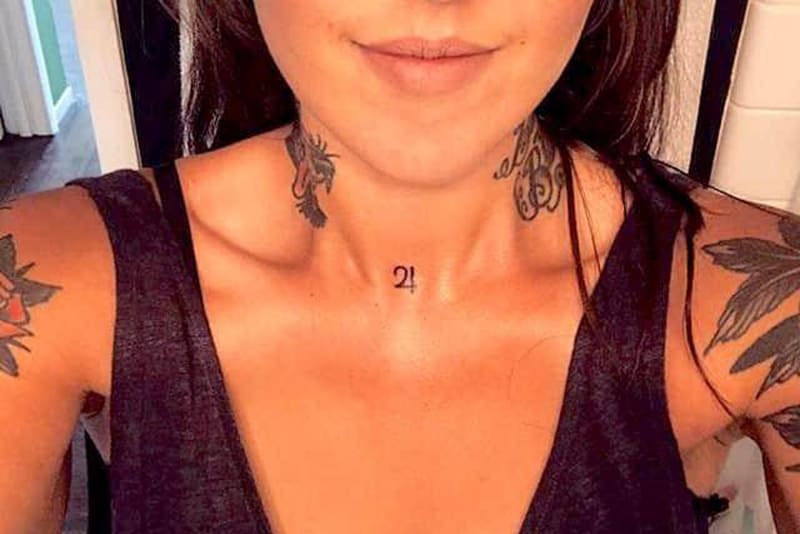 Sweet and small but super effective for anyone looking for something petite but meaningful. It doesn't have to be a sign tattoo to be related to your zodiac.
5. Jupiter and Sagittarius tattoo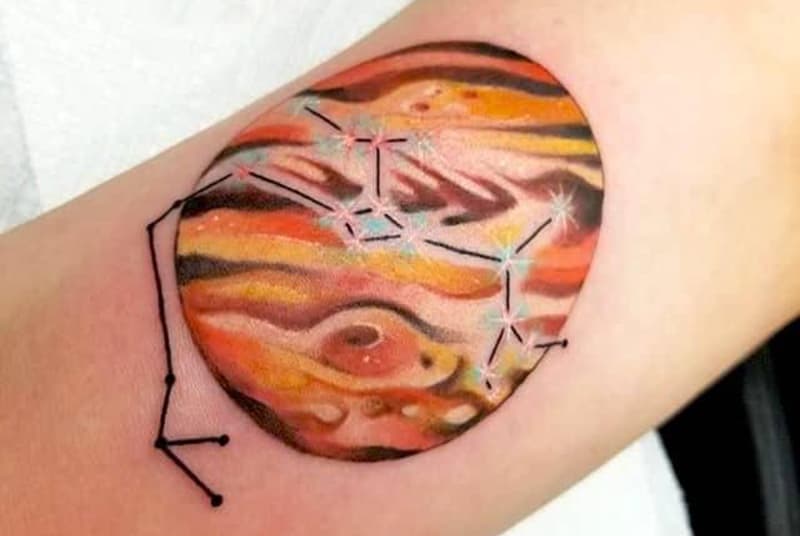 Sag's ruling planet, Jupiter, accessorized by Sag's constellation going through it. In these colors, it's a great option for this fierce fire sign girl.
6. A breathtaking watercolor back tattoo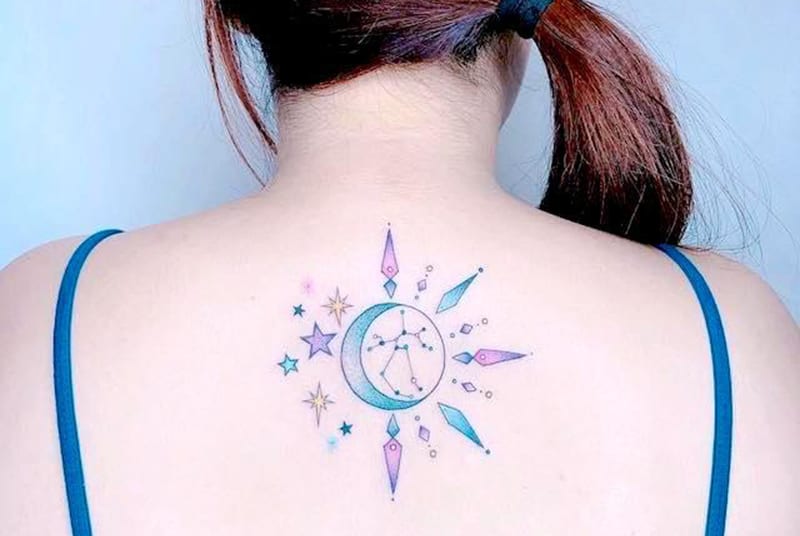 When it comes to zodiac tattoos for women this is one of the prettiest. Its watercolor starry design is truly refreshing.
7. A constellation Sagittarius tattoo
You've gotta love this tattoo if your sun sign is in Sagittarius. The color, the design, the creativity – it's a piece of wonderful body art that anyone would appreciate.
8. Detailed bow and arrow tattoo with tribal symbols
If you're into tribal tattoos but also want something connected to your astrological sign this tribal bow is perfect for you.
9. Floral bow, feathered arrow, and constellation ankle tattoo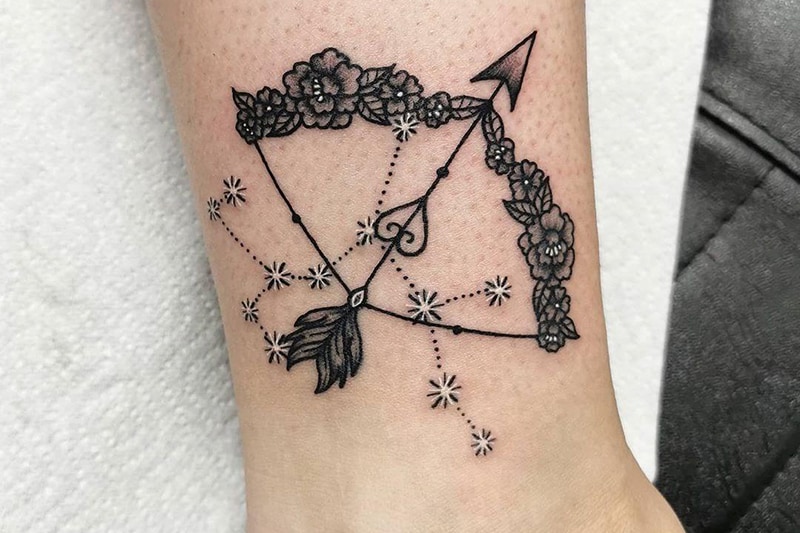 We've got a wonderful ankle tattoo right here. It will give you the charm of a Greek goddess with its floral bow and silver details.
10. Woman shooting an arrow – amazing back of the arm tattoo
A beautiful woman is shooting an arrow, her shirt made out of the stars in Sag's constellation. This is possibly the most subtle, gorgeous astrological sign tattoo out there.
Congrats to this tattoo artist, they sure did a great job.
11. Arrow with angel wings wrist tattoo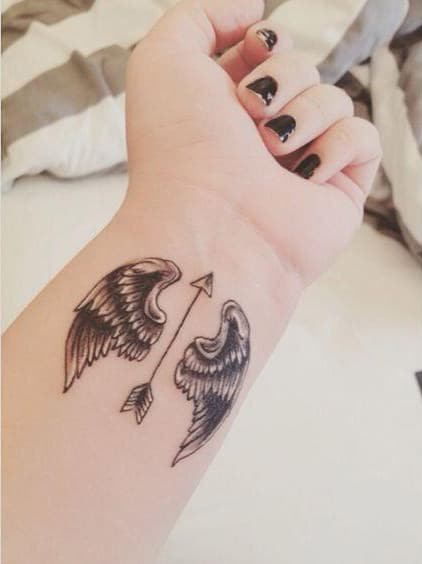 If you're looking for a not-too-obvious zodiac symbol tattoo, this is a great choice for. A simple arrow on your wrist, decorated with angel wings.
12. Arrow with details – zodiac tattoo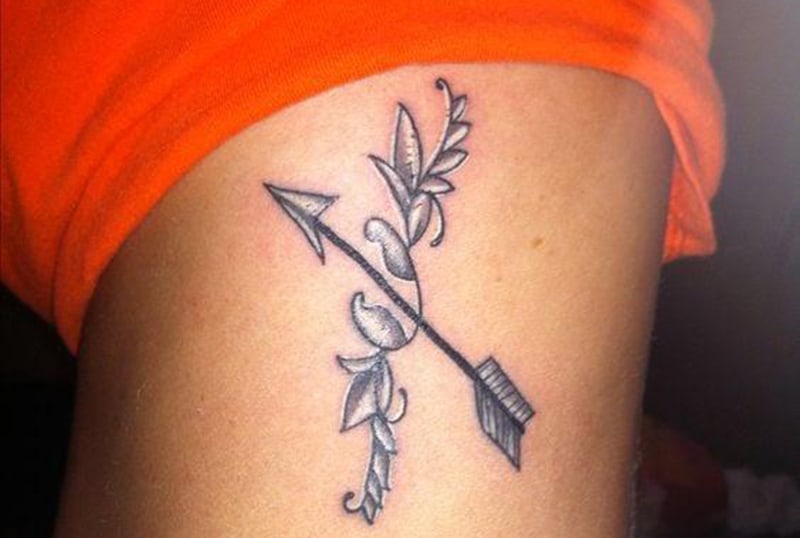 Another subtle Sagittarius zodiac tattoo for someone looking for simplicity. Its location though is not as subtle as its content.
13. Feathered arrow tattoo design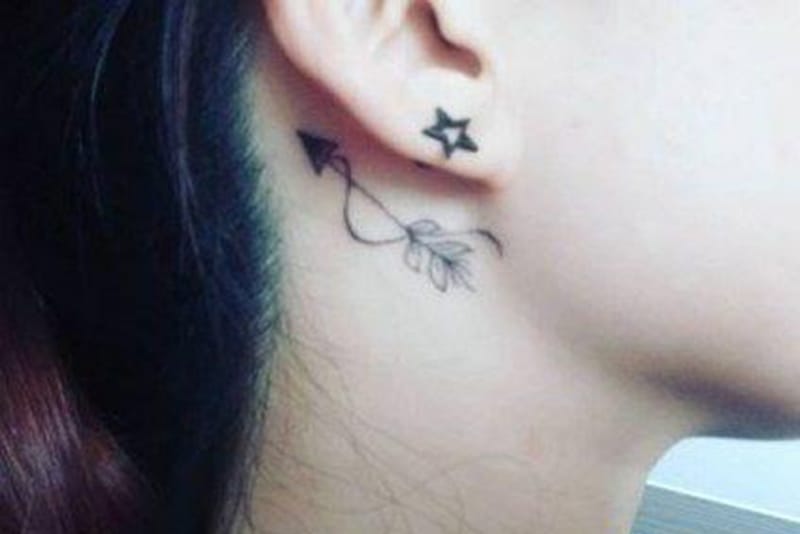 An arrow with feathers behind your ear is a wonderful Sagittarius tattoo idea. It isn't even obvious it's zodiac sign inspired, so that may be a plus for some people – and its location is adorable.
14. Simple word-arrow tattoo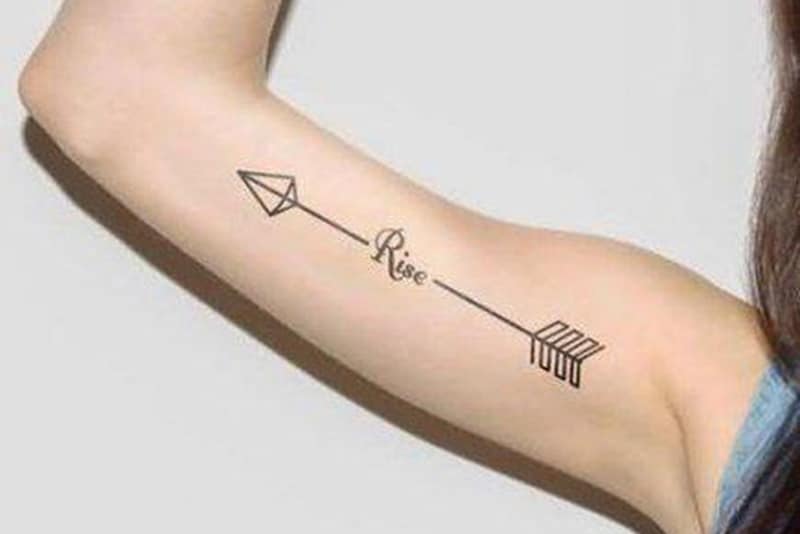 A simple arrow with a word of your choice in the middle of the arrow is super simple, symbolic, and beautiful. It is a truly great Sagittarius tattoo design.
15. Delicate finger zodiac tattoo for girls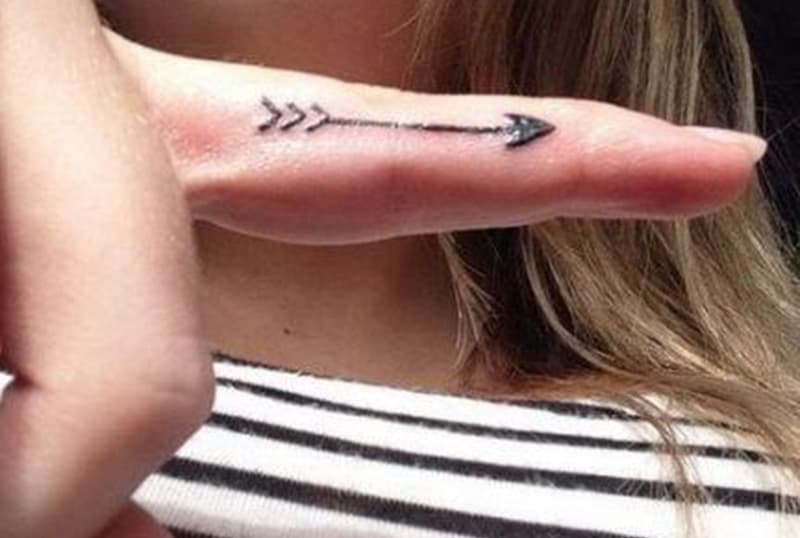 An arrow on the inside of your finger is the cutest little tattoo idea ever. This archer tattoo won't draw too much attention but it's sure to attract someone looking carefully.
16. Watercolor splash arrow inside of the arm tattoo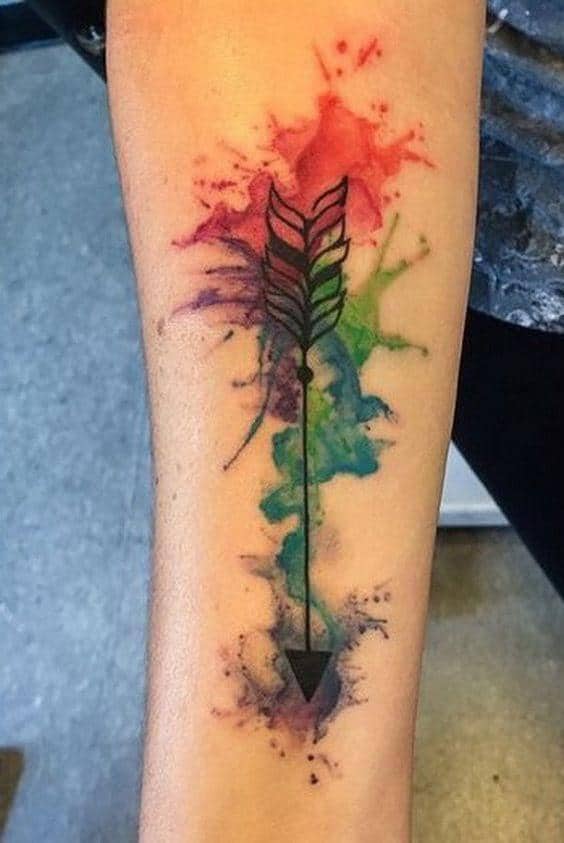 It isn't a sleeve tattoo but it covers a huge portion of your inner arm. It's beautifully colorful and it takes a bold person to carry it off. Who better for this task than a wild Sagittarius girl?!
17. A constellation: Sagittarius girl tattoo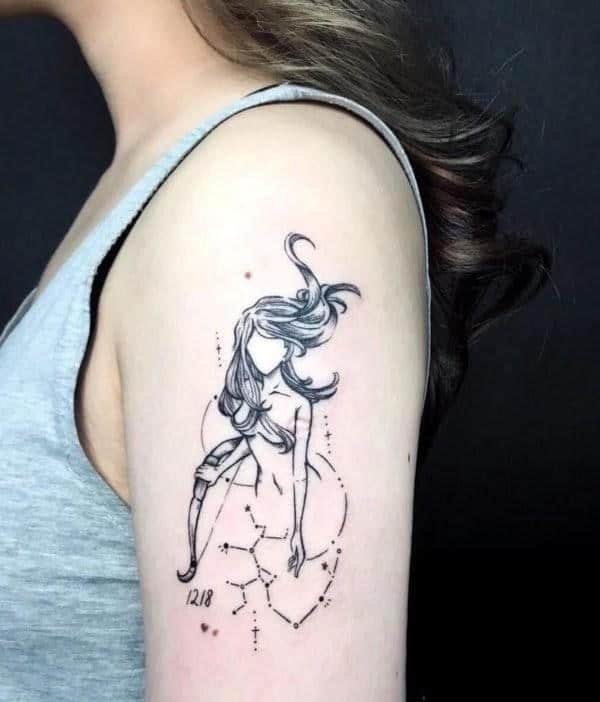 Similar to one of the amazing tattoos we've seen before, this one is a female archer tattoo whose skirt has been sketched by stars in the Sagittarius constellation. Witty and pretty.
18. Large Sagittarius girl bow and arrow wearer tattoo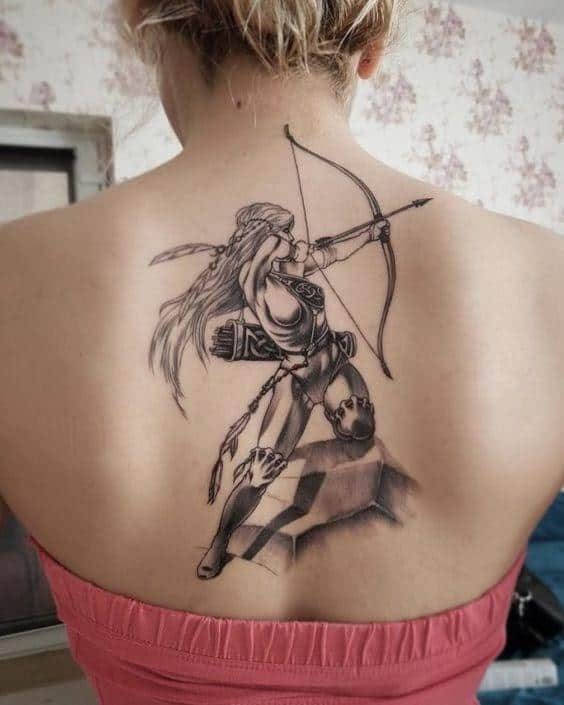 This bow and arrow wearer girl is drawn in beautiful detail. She's strong, she's fierce, she's a true Sag.
It's one of the best Sagittarius tattoo designs in terms of drawing.
A beautiful back tattoo that reaches the nape of the neck is a great choice for someone who really wants to emphasize their astrological sign.
19. A unique small bow and bird tattoo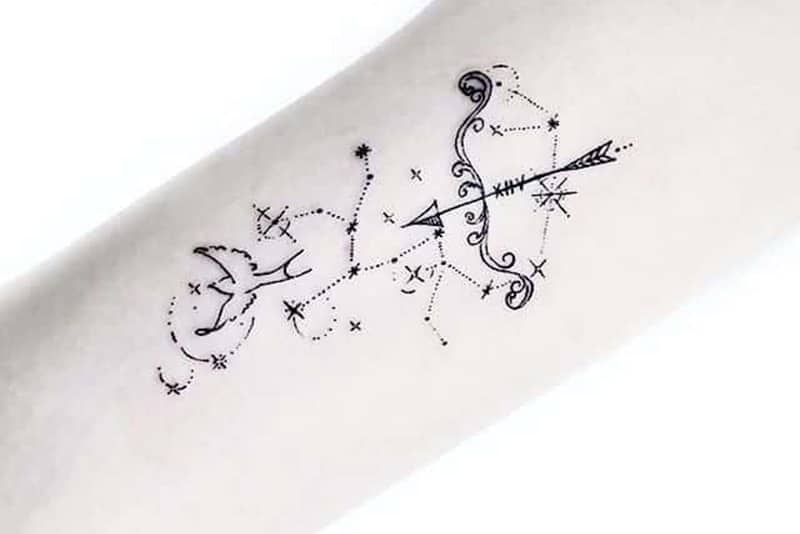 One thing every Sagittarius wants is freedom. This tattoo represents that.
It's a small tattoo of an arrow flying in the same direction as a bird, surrounded by the stars of the Sag constellation of course.
20. A Sagittarius symbol tattoo above the ankle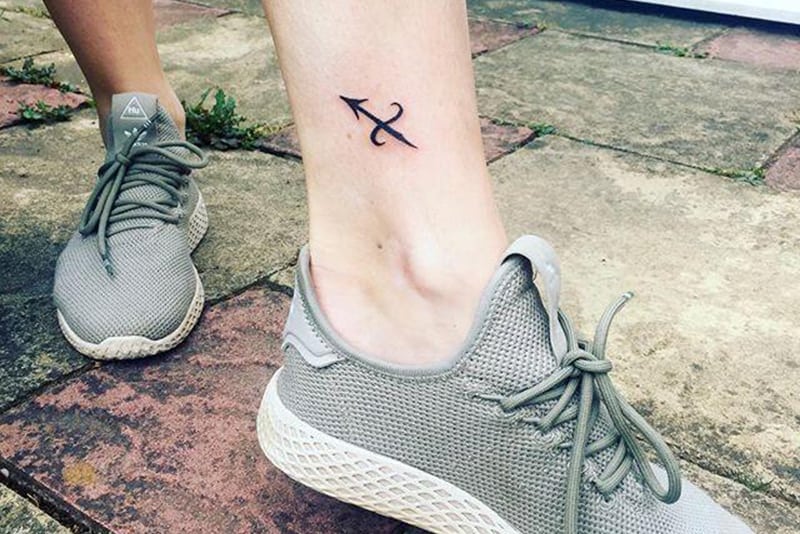 A small Sagittarius symbol above the ankle is a great option for a person looking for a simplest, best Sagittarius tattoo.
21. Delicate Sagittarius constellation chest tattoo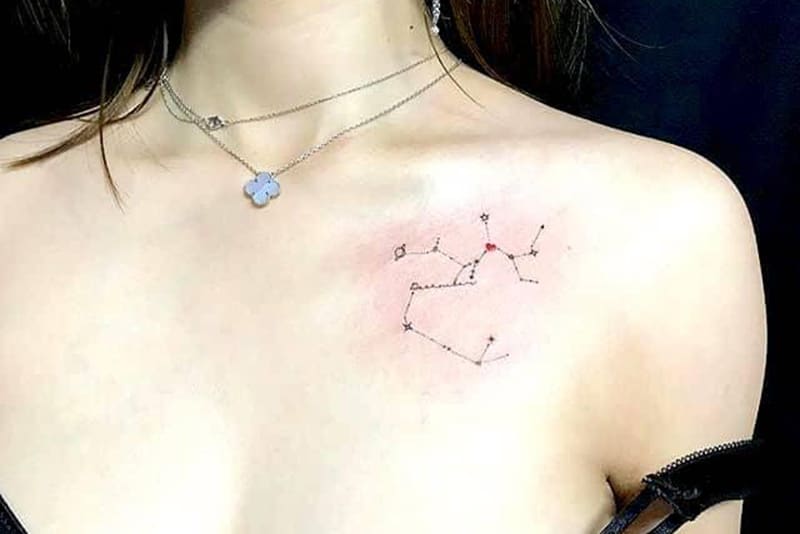 A simple, elegant, ladylike Sagittarius constellation tattoo for your collarbone. Beautiful.
22. Sagittarius and Capricorn couple wrist tattoos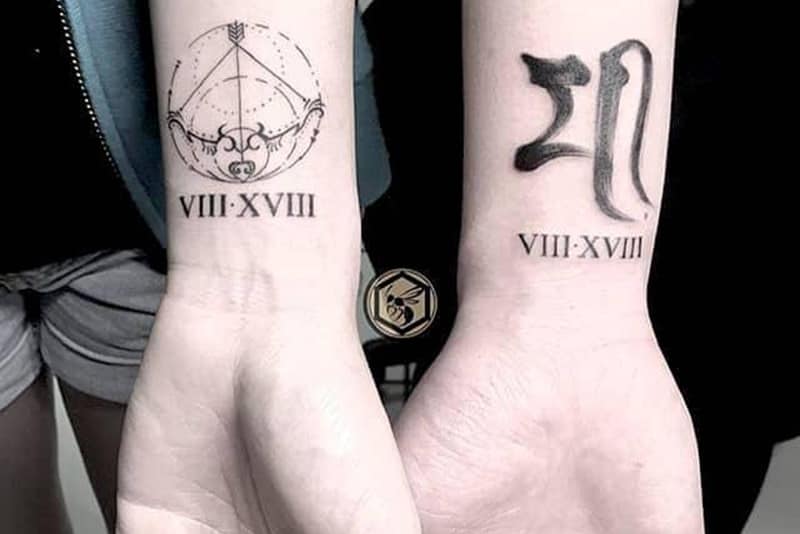 There are many things you can do with this. Maybe your partner is an Aries or a Pisces.
It doesn't matter, this idea is amazing. Go for a combined tattoo with your loved one.
23. Rib tattoo idea for Sagittarius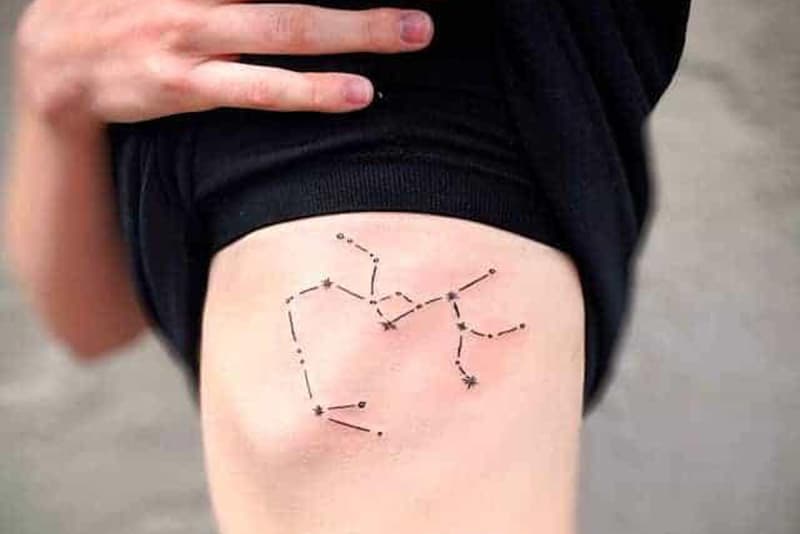 The Sagittarius constellation again, this time on the side of the torso. Lovely.
24. Small tattoos: Sagittarius symbol ankle tattoo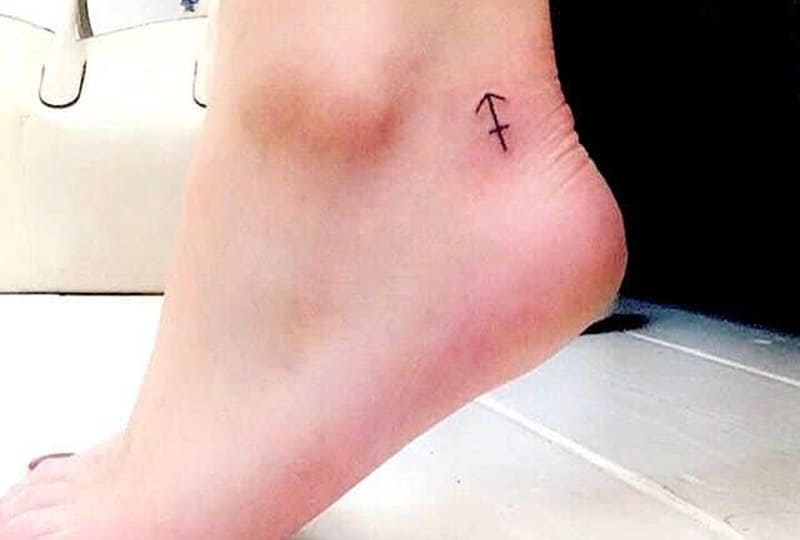 Now, out of all the small tattoos out there, this one must be the smallest. A cute design for your astrological sign.
25. A colorful Sagittarius elephant tattoo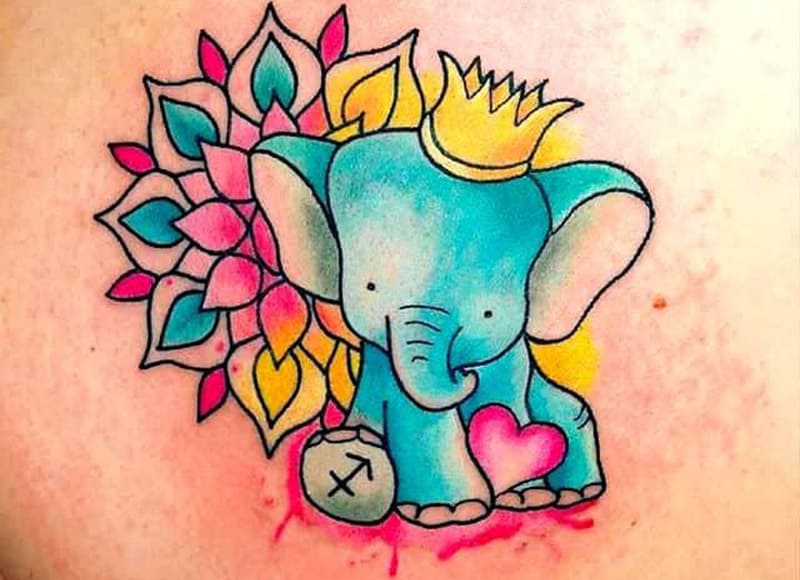 If you are one of those Sag girls who's insane about anything cute, colorful, and child spirited, then this tattoo design idea is an amazing choice for you.
26. Aqua Sagittarius constellation tattoo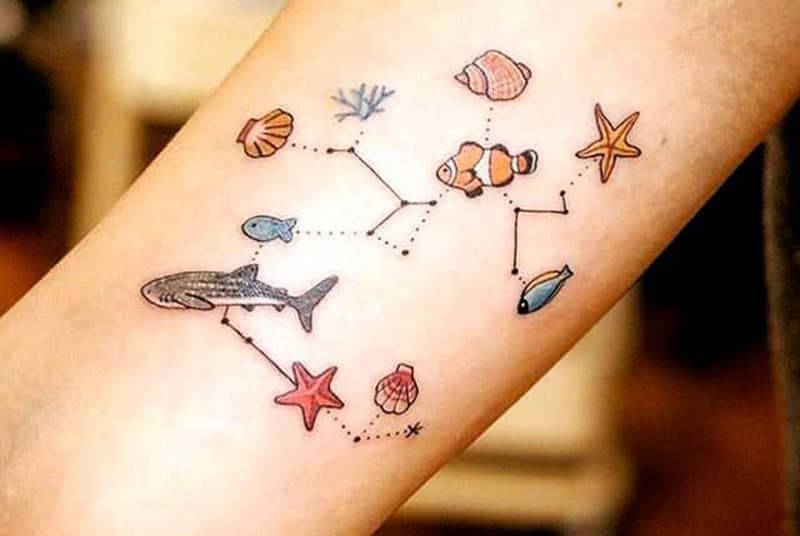 The Sag constellation, but with a twist. Ocean-themed this time, with sea creatures as stars.
27. Sagittarius symbol tattoos for sisters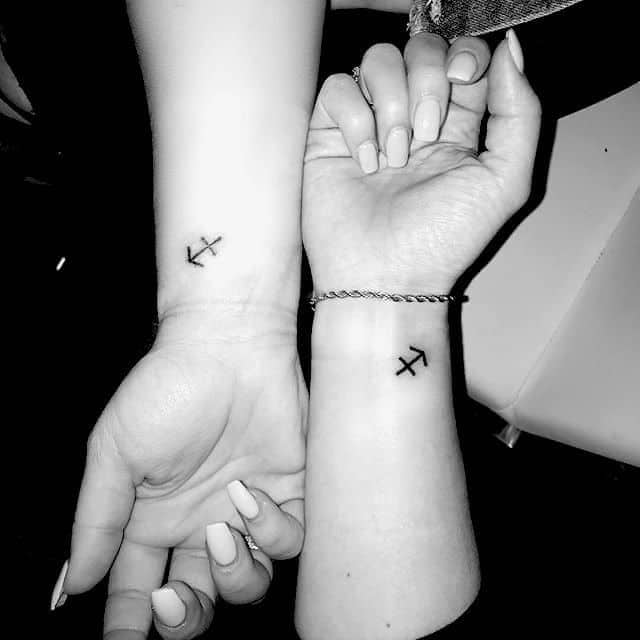 If you have a Sag sister (you're most likely twins), go for a matching, small wrist tattoo.
28. Moon and arrow – a detailed and elegant tattoo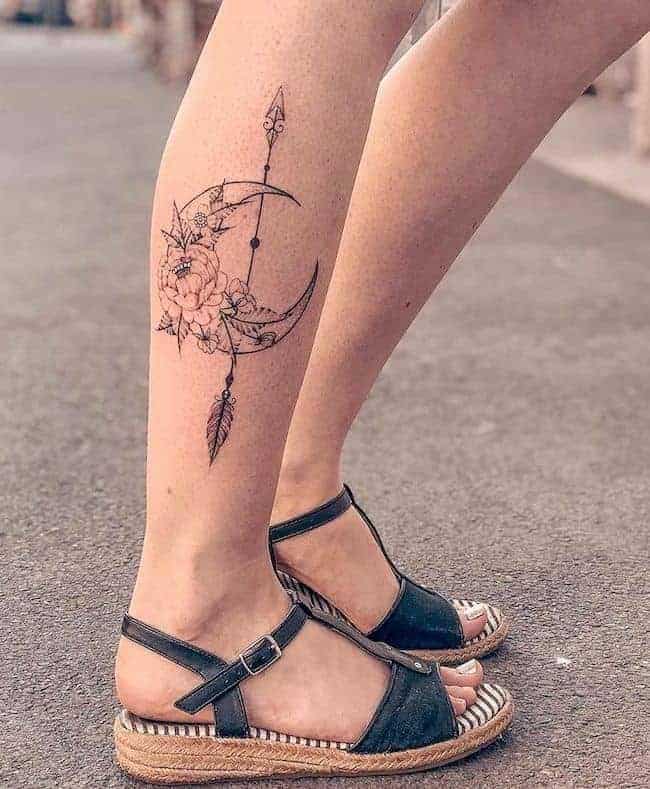 A floral moon shot through with an arrow. This tattoo design idea is well executed.
Tattoo designs like this can go wrong, but if you find the right person to tattoo you that won't be a problem.
29. A small tattoo: arrow tattoo design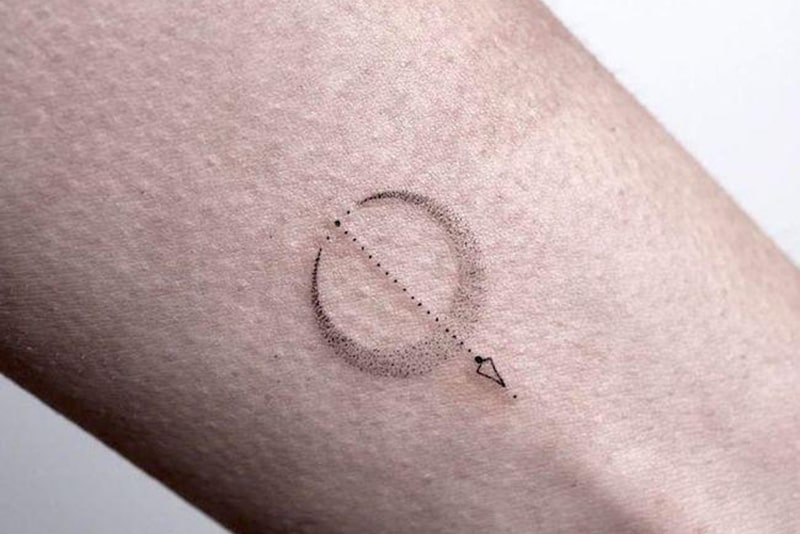 A small arrow circled by a moon, it's a lovely tattoo for your wrist.
30. Bow and arrow with Sagittarius constellation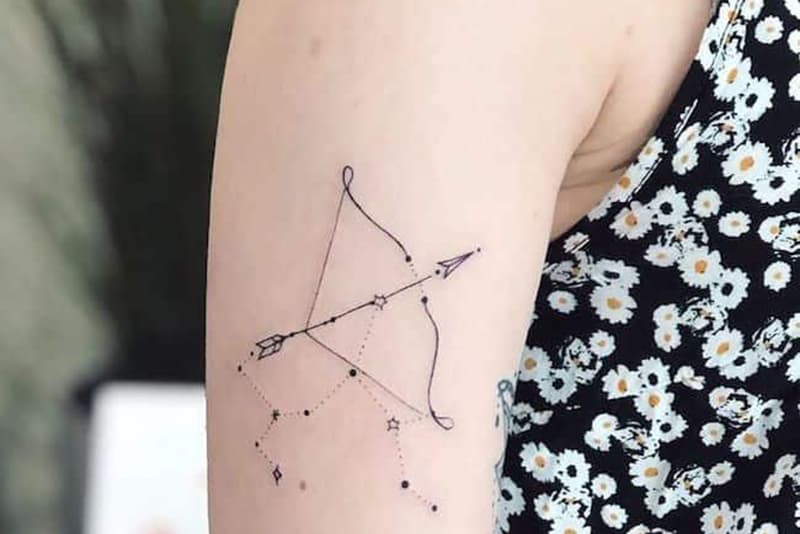 Again, classic archer symbols combined. A bow and arrow tied off with a constellation line.
31. Arrow with a planet symbol tattoo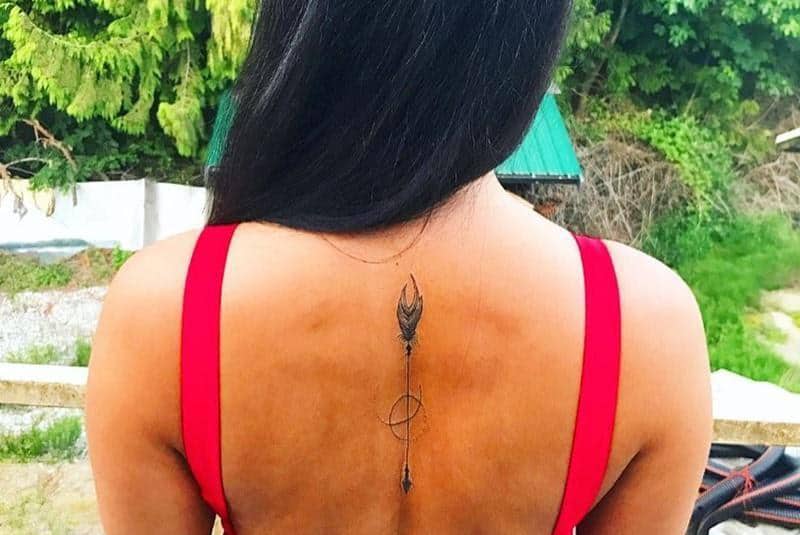 A beautiful spine tattoo for girls – a long arrow with planet symbols. It shows under summer dresses and shirts and it's both seductive and charming.
32. Shaded bow and arrow combined with a quote girl tattoo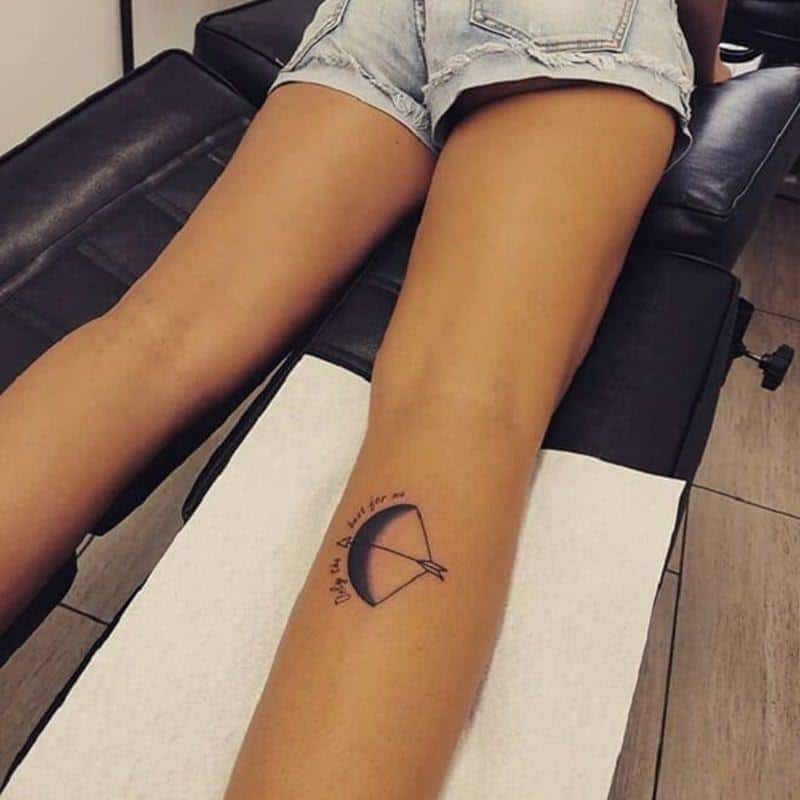 This bow is simple but original. It's shaded black and there's a quote (pick something that resonates with you) on top of it adding to its charm.
Body art doesn't have to be complicated to be beautiful.
33. Sagittarius constellation and Moon symbol tattoo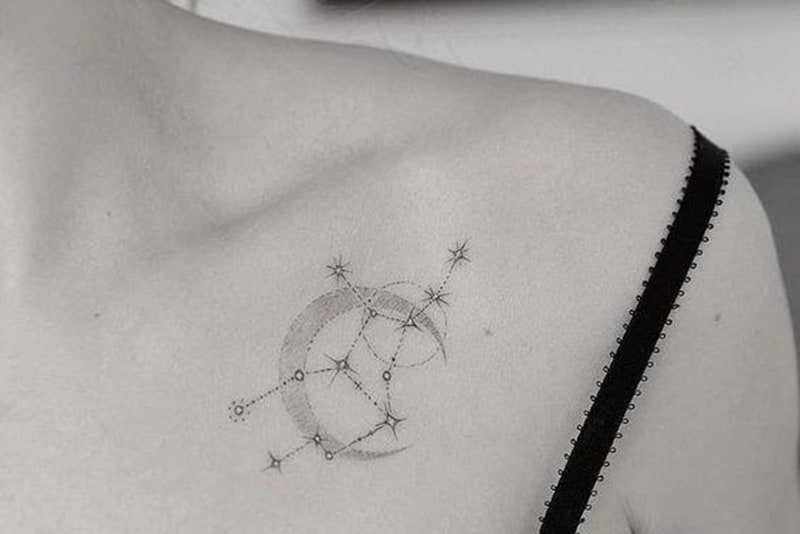 Moon crossing over the Sag constellation. Not the most original but nevertheless beautiful in this particular spot.
Always get a tattoo that works for you, it doesn't need to be something that has never been done before.
34. Styled bow and arrow unique tattoo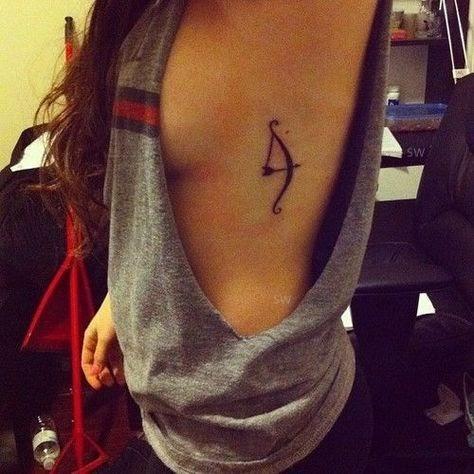 Via tattoo-models.net
The same goes for this tattoo. It might not be wild but it's unique in its simple style.
This is one of the tattoo design ideas that never go out of style.
35.A minimalist bow and arrow tattoo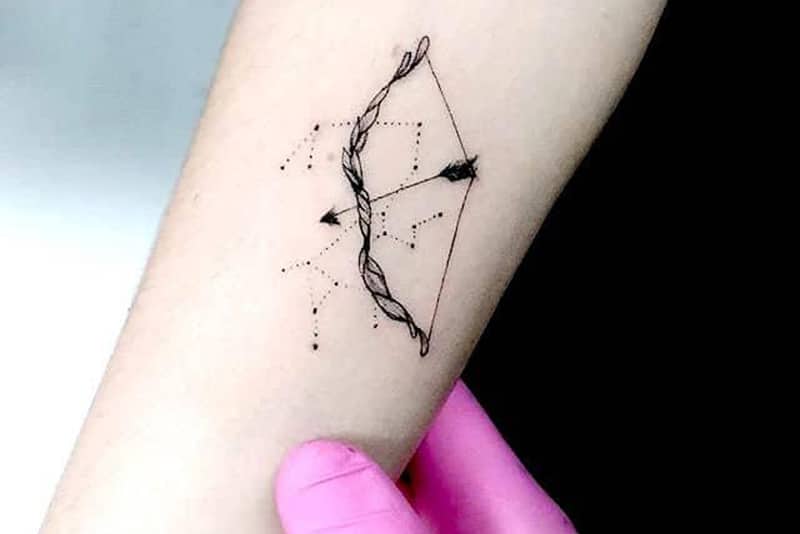 A minimalist tattoo with a beautifully styled bow is sure to work for everyone. This style is a classic in terms of Sagittarius tattoo designs and works at any part of the body.
36. A rose arrow tattoo with stunning details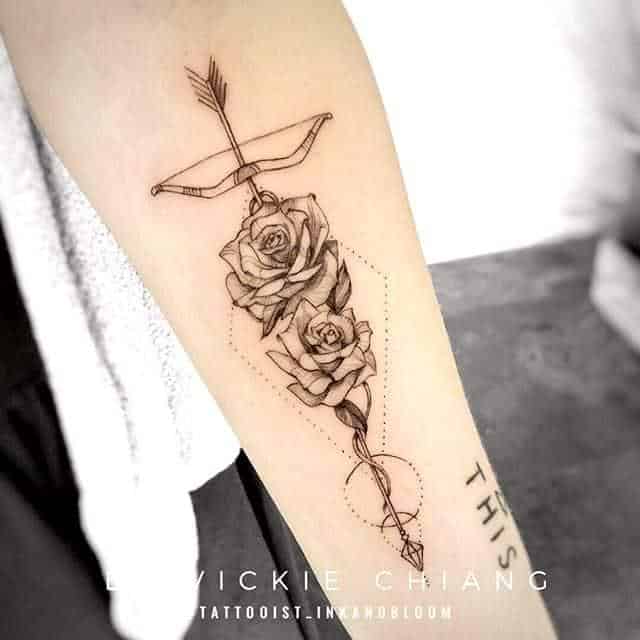 A Sagittarius girl would love something like this. A stunningly beautiful arrow as a symbol of your sun sign.
37. Arrow and bow matching couple tattoos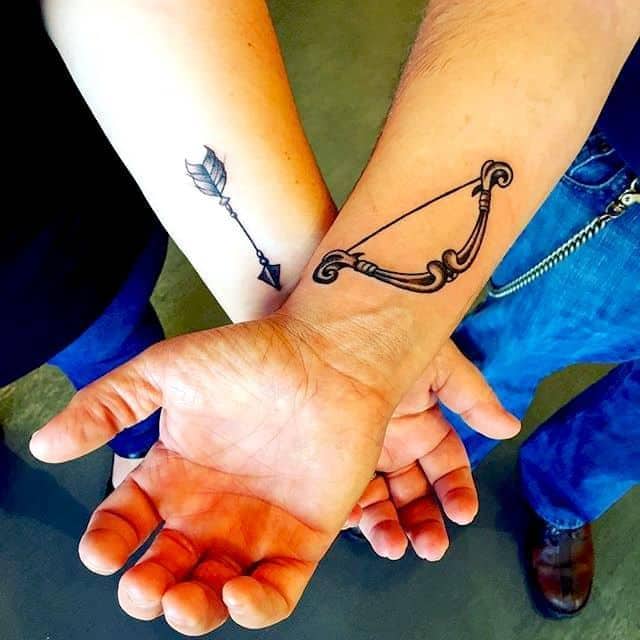 If you and your partner share an astrological sign what better way to celebrate this than with a combined bow on your wrist, arrow on his (or vice versa) tattoo.
38. Cute puzzle piece unique tattoo for Sagittarius
A little blue puzzle that contains both your ruling planet symbol and your sun sign symbol. Adorable.
39. An elegant arrow wrist tattoo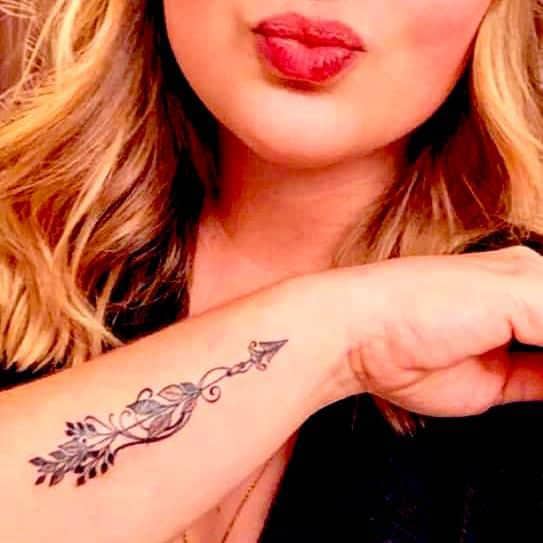 Any girl can pull off this tattoo – a beautiful floral arrow won't go unnoticed.
40. A spine tattoo of a lotus arrow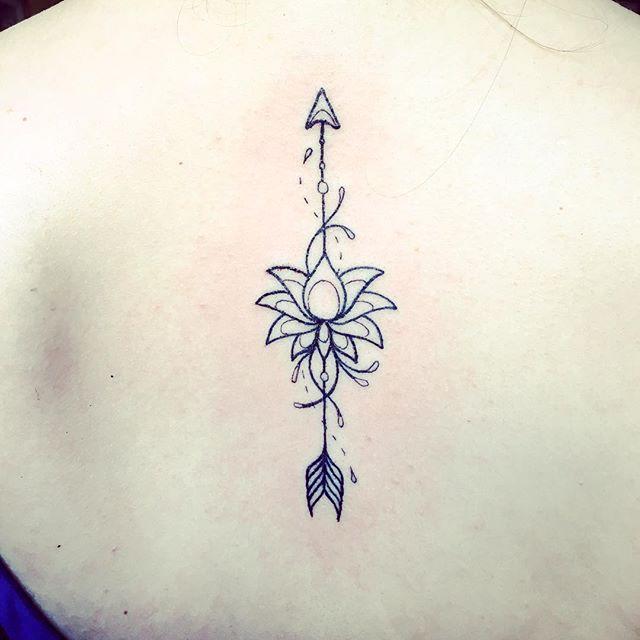 An arrow intertwined with a lotus flower shooting up your spine is one of the loveliest back tattoos there is.
41. A minimalist arrow on the wrist tattoo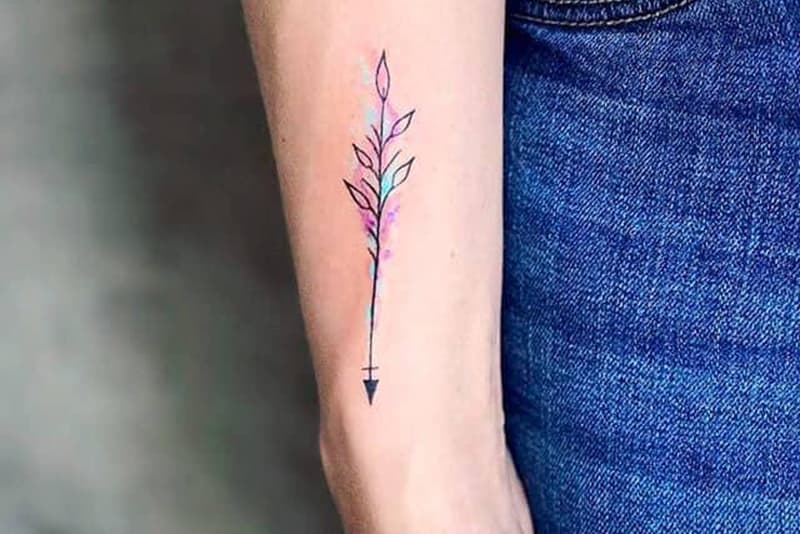 An arrow on your wrist with a small watercolor splash is a super cute tattoo, especially for younger girls looking for something strong but girly.
42. A symmetrical back tattoo of a bow and arrow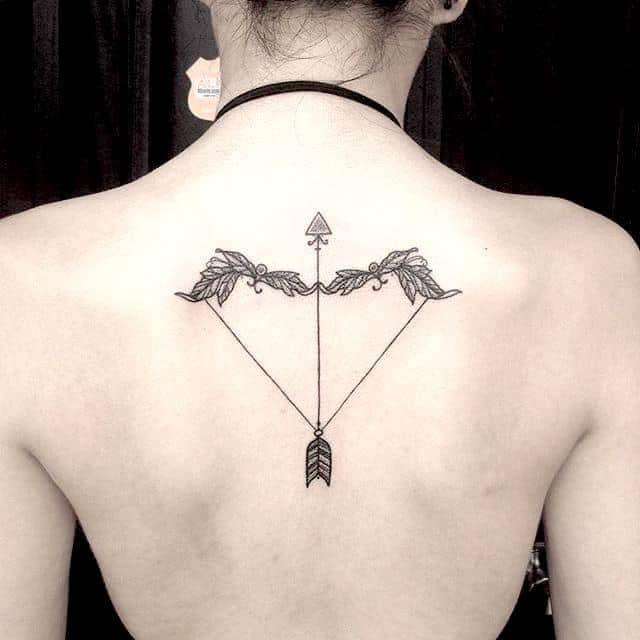 A beautiful back tattoo starting at the nape of your neck and spreading down in its symmetrical glory. Simple, elegant, defined.
43. A between-the-breasts floral bow and arrow tattoo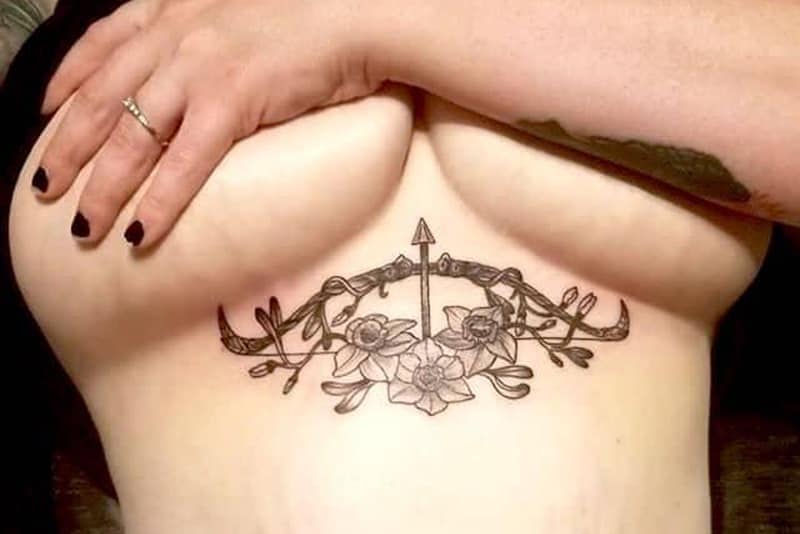 Now this is a bold tattoo that a lot of Sag ladies would like. It's a dominant, fierce tattoo that covers one of the most intimate parts of your body.
44. Zodiac symbol under a starry night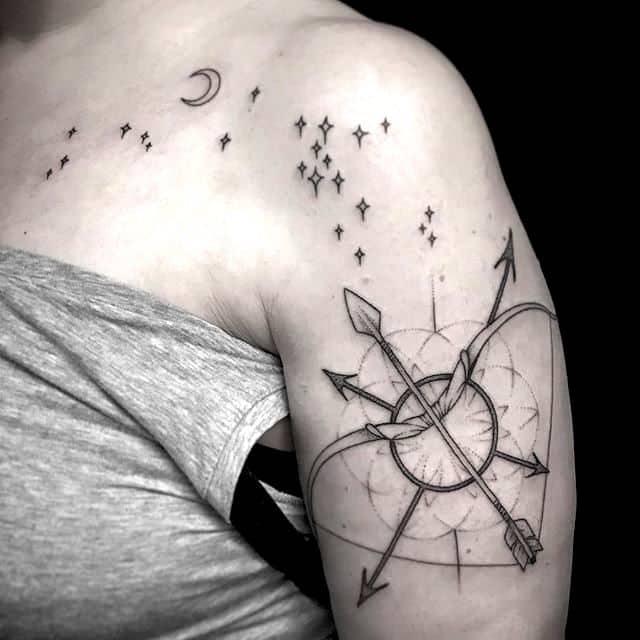 Via Instagram
A glorious Sag symbol topped off with a lovely starry night. This shoulder tattoo isn't for everyone but it sure is beautiful.
45. "Holding my own fate" arm tattoo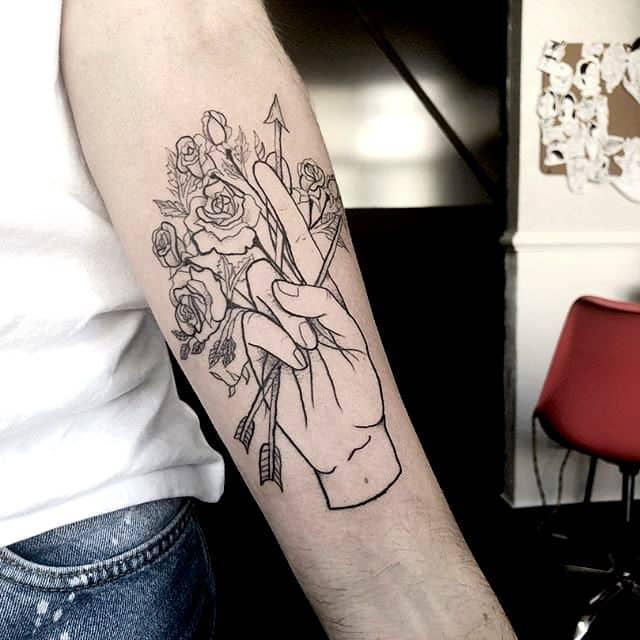 Out of all the tattoos on this list, this Sagittarius tattoo design has the deepest meaning. A hand holding arrows and flowers symbolizes the tattoo wearer holding their fate in their own arms. Stunning.
46. A girly universe and arrow tattoo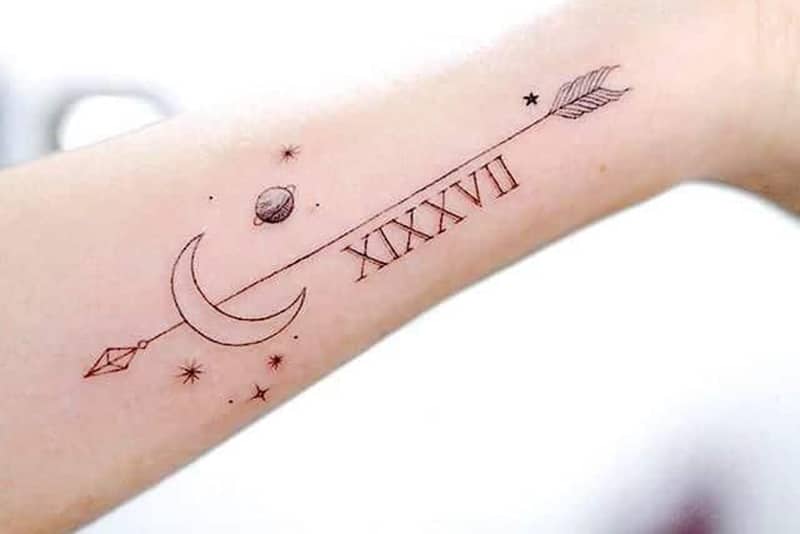 The Universe, Moon, and planets surrounding a long arrow, combined with Roman numbers. A delicate tattoo for any Sag.
47. The warrior girl tribal tattoo
A beautiful warrior girl design in strong black hues, holding arrows. Anyone belonging to this fire sign is sure to love this strong design.
48. Pulling the stars – a creative Sagittarius constellation tattoo
Hands holding stars and moving them as marionettes. A witty symbol of a person being the creator of their own destiny.
49. Shooting for the stars Sagittarius tattoo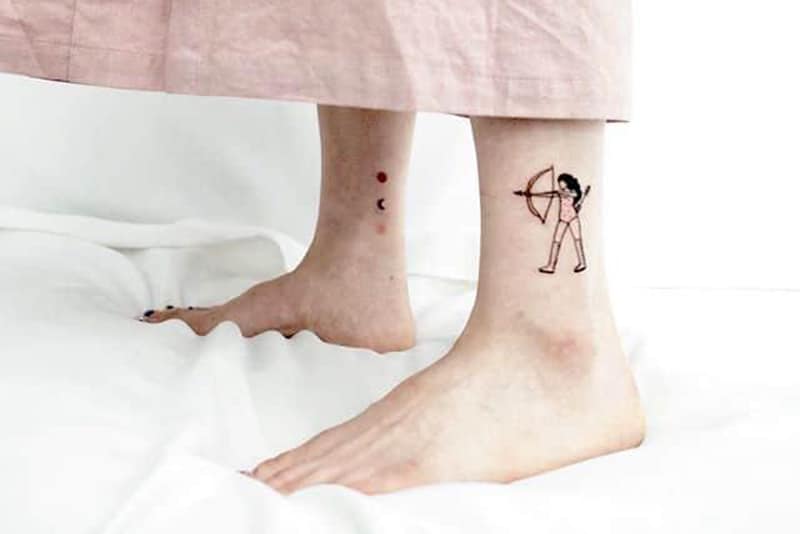 An arrow on one ankle shooting for the stars on another. It's one of the simplest but also one of the best Sagittarius tattoo ideas.
It also carries a lovely symbolic image of.. well, shooting for the stars.
50. "Something is missing" watercolor bow tattoo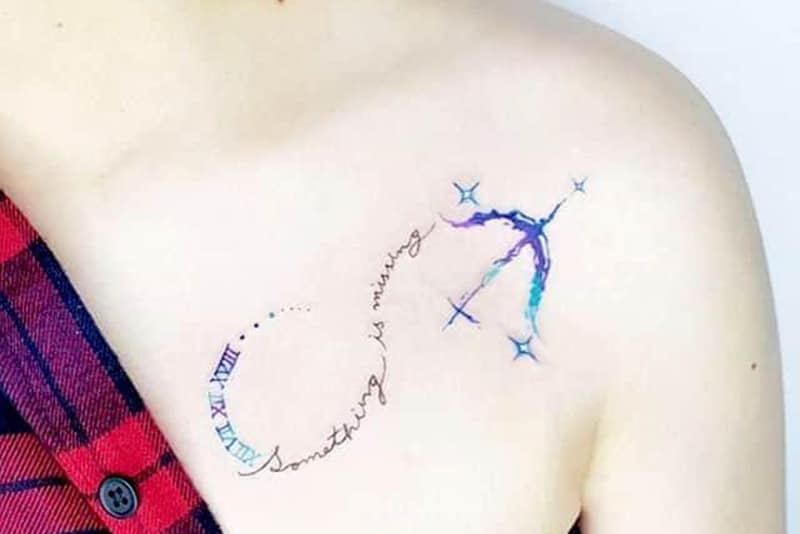 A stunningly beautiful infinity tattoo that says "something is missing" and leaves one part of the infinity sign undone. A bow and arrow are beautifully incorporated into this best tattoo ever.
51. An archery girl tattoo for the mysterious Sagittarius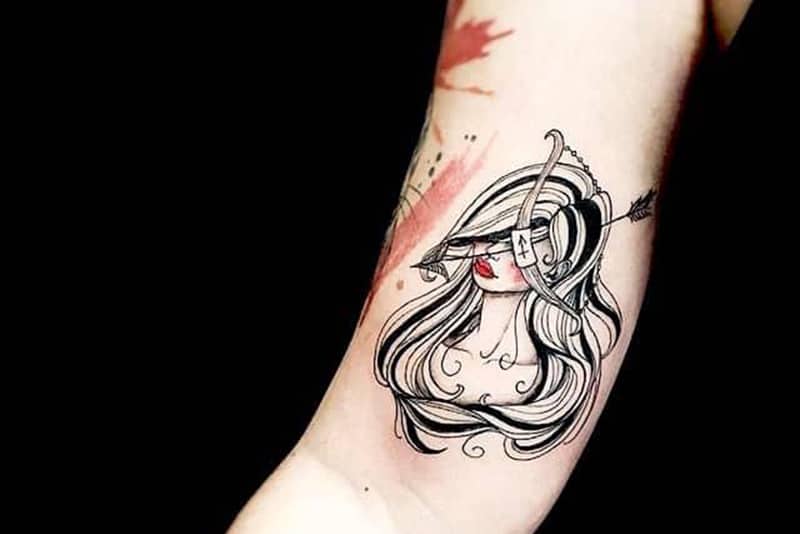 A mysterious archery girl with red lipstick, going for the black and red color combination that almost any Sagittarian would love.
52. Arm Sagittarius tattoo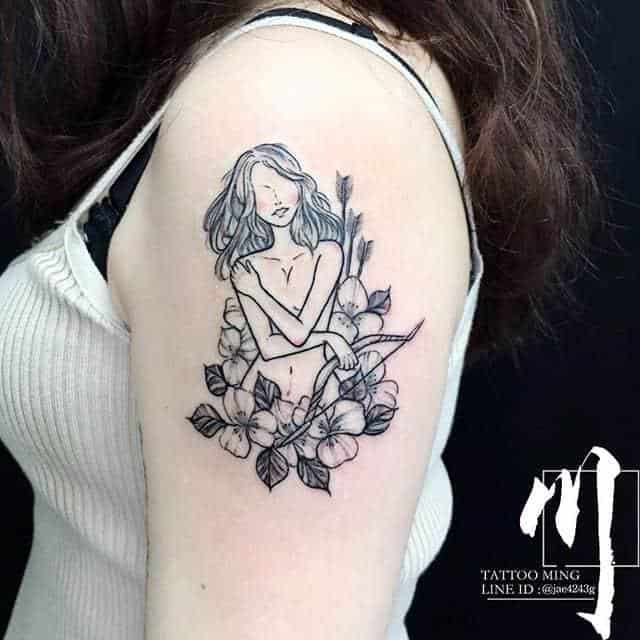 An archer surrounded by flowers. This is a beautiful tattoo for a Sag lady looking for something bigger but still kind of delicate and not too rough.
53. A glittering archer chest tattoo idea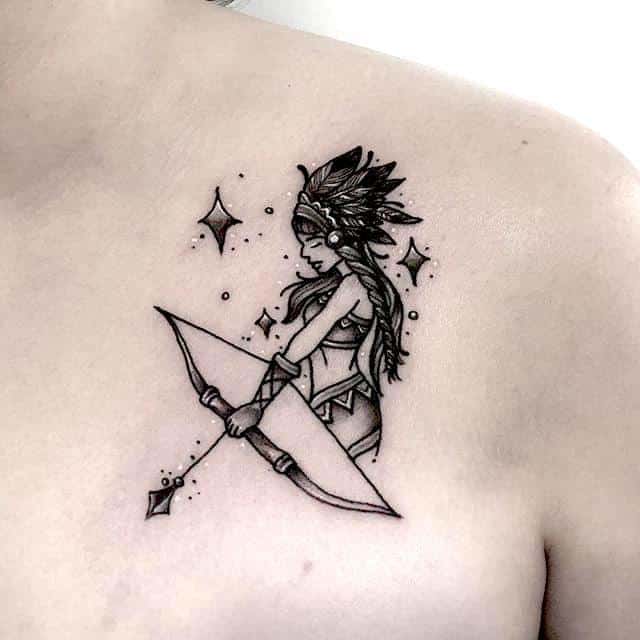 A beautiful tribal tattoo of a native archer shooting for your heart. Symbolic and meaningful, and so well executed.
54. The broken pieces – a unique back tattoo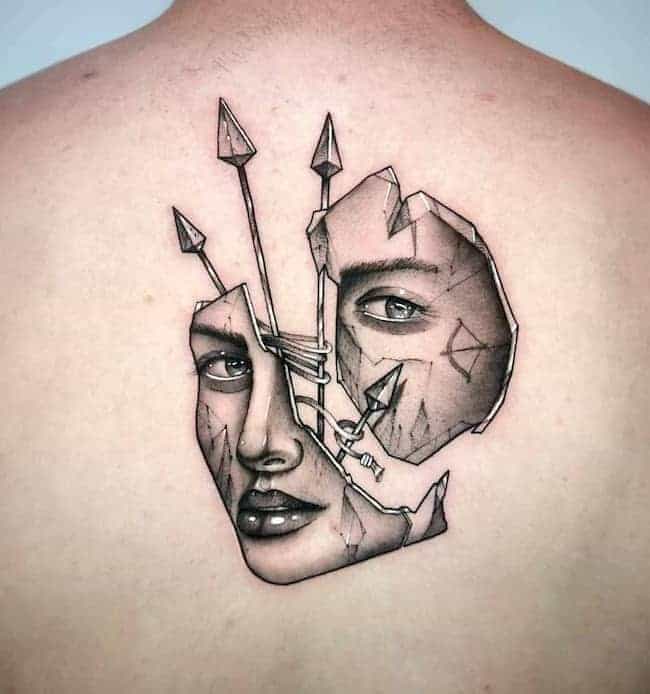 A strong tattoo of a face in pieces that seems to have been held together by arrows. If you're looking for a tattoo with a deep meaning to represent your life and personality, this is the best Sagittarius tattoo to pick.
55. The archer – moon phase Sagittarius tattoo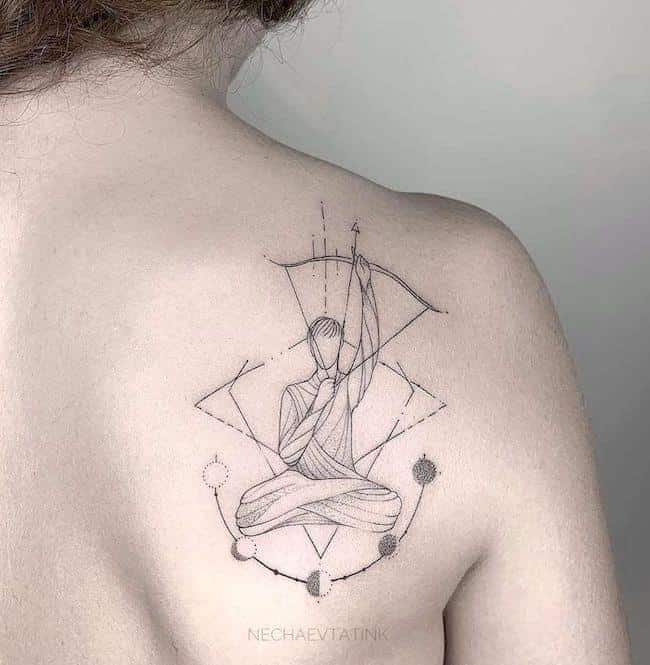 A silhouette of an archer wrapped in a sheet like a monk, shooting for the sky and surrounded by a representation of moon phases is a beautiful astrological, spiritual tattoo for your back.
Picking the best tattoo to show off your Sagittarius zodiac sign is not an easy task. There's a lot of options to choose from.
We've shown you the best ways to go if you decide for something small and symbolic, or if you opt for a large tattoo.
There are many beautiful options to choose from, centaur tattoos, Jupiter symbol tattoos, the Sag constellation, amazingly beautiful lady archers, or a combination of some or even all of them if you're up for it.
Remember to pick something that resonates with you. Your personality and your life. Also, it's incredibly important to find a professional tattoo artist to design a beautiful, unique Sagittarius tattoo for you.