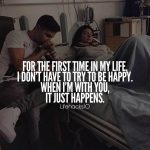 1. He promises he will never judge you
But as soon as you do something that hurts his ego, he will go all sticks and stones toward you. The catch is that he made some promises when he was head over heels in love with you but as soon as he felt threatened he will judge you.
He is ready to even break up with you if you don't do something the way he wants it. But if you judge him for hurting you and acting like an asshole, he will defend himself and he will tell you that judging people isn't nice. He uses double standards and in that way defends himself because he is desperate and he doesn't want to lose you.
2. He promises he will never check out other girls
But at the moment a hot mamasita walks down the street he will just open his mouth and drill while looking at her. Even if he wants, he can't control himself and he is not aware of how stupid he looks while watching her.
He looks like a child who saw a toy he desperately wants and can't take his eyes off of her. There are guys who were practicing this kind of behavior so they can control themselves while in your presence but they will always find ways to check on hot babe that is close to them. It is in their genes and they can't do anything about that.
3. He promises he will never hurt you
Oh my God, if this is not the biggest lie all men say, I don't know what is. Yeah, they are all so in love with us at the beginning and they say they will never hurt us. But as time passes by and you act nicely toward them, they see that you are a good reason and then they start with making things bad.
They start making you troubles and making you feel you are the crazy one. They somehow put all the blame on you and they always look like they didn't do anything bad. But in fact, with their behavior they are just making you fall out of love with them. And sadly, many relationships end up in that way.
4. He promises he will never cheat on you
Remember that hot mamasita from stage 2? Well, some of them will cheat on you with that kind of a woman. The trigger might be problems in your relationship or simply one night out with his guys where he will get drunk and make something stupid.
Some guys cheat on their partner if they are not happy with them and some do it when they are not aware what they are doing. In those moments they are just following their wild instinct and do something they always regret the next morning. So, when a guy promises you he will never cheat on you, don't be so sure about that.
5. He promises he will always love you
When people start love relationship and fall in love with their parents, they can promise anything. That's how your guy will promise you he will love you forever but he is not sure that he can make that promise.
The catch is that most men have the best intention when they say something like this but as the time passes they go through some things that change the way they think. They lose the old spark and some of them fall in love with other people. That's why it is not good to promise something you can't make but I guess some guys really don't pay attention to that.
6. He promises he won't hide things from you
But as time passes he will start hiding his conversations with other women because what he writes is enough for you to break up with him. He takes you for granted thinking you will always be there since you are a good person.
The catch is that all men are super sweet at the beginning of a relationship but later on, they turn into someone you can't recognize. And if you see your guy hiding things from you and not inviting you in his life, trust me, you have nothing to do with him anymore.
7. He promises he won't be jealous
But as soon as he sees you with your guy friend he will start acting like total ass. He will be rough and he will want some explanations. He will go totally mad about things he said he would never judge you for.
The catch is that he sees that you are a real catch and that he is scared that someone else will steal you from him. That's why he cats like that and makes you feel sad because he doesn't trust you. This is maybe one of the most common promises every guy makes but he rarely does it.
8. He promises he will be a better man if you stay with him
There isn't a guy who didn't promise something like this and then broke his promise. Guys often say this after some big fight when you are about to leave them but when they see that you are still hooked on them and that you love them they continue acting like before.
Also, there are women who will forgive you only the first time and then they will dump you. But, on the other hand, there are women who will give second chances all the time and in that way do harm to themselves.
So, when a guy tells you that he will change if you stay with him and if you forgive him, let him show that to you and then accept him back. That is the only way that relationship can function.